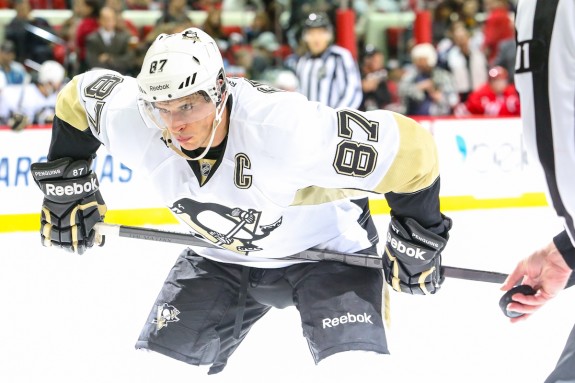 Sidney Crosby should seek a sports psychologist to end his subpar playoff performances of the past few years. He's scored one goal in his last 18 post-season games. The playoffs are about production and Crosby's stat line isn't getting the job done.
It's not for lack of physical attributes or hockey talent. Crosby has a problem between the ears. His focus and confidence take a turn for the worst once the playoffs begin. Crosby must snap out of this mental funk if the Pittsburgh Penguins want to hoist another Stanley Cup.
Crosby can say all of the right things as he did when he was questioned about his performance in the year's playoffs. He said that he was healthy and wasn't hampered by a nagging injury. Regardless Crosby played the worst hockey of his career.
Since the Penguins' season ended, everyone wants to know why Crosby played below his potential. It makes no sense. Crosby has a mantle full of individual awards and a Stanley Cup ring. He's known for his rigorous training on and off of the ice.
Players, coaches, and trainers had the ability to see if Crosby possessed a physical ailment. But nothing leaked out about Crosby hiding an injury of any type. His physical tools were at full throttle, but Crosby appeared to look uninspired and completely lost at times in the 2014 post-season. That's why it's sensible to believe that Crosby has some sort of confidence or mental issue. It's also why he must put his pride aside and seek out a sports psychologist.
The referees call fewer penalties and give more freedom in the post-season, but Crosby has yet to realize this fact. He whines to the referees every time he's on the receiving end of a questionable hit. He should know better than anyone that fewer penalties are called in the playoffs. Instead, Crosby acts as if he's entitled to a power play if he's touched the wrong way.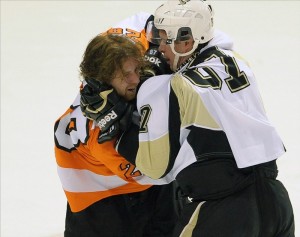 He needs to quit the trash talking as well. This doesn't help Crosby score goals and doesn't portray him as a leader. Crosby's trash talking seems to detract from him and the team focusing on the bigger goal at hand. Yet, Crosby can find something worth talking about when his team gets swept in the 2013 Eastern Conference Finals or blows a 3-1 series lead against the New York Rangers.
Crosby hasn't been able to change by himself. A sports psychologist would help Crosby centralize his focus and ignore what opponents are doing to throw him off of his game. More importantly, a few sessions with a doctor might help Crosby concentrate on winning playoff hockey games, leading his team, and producing like the face of the NHL is supposed to produce in the playoffs.
A sports psychologist worked for Marc-Andre Fleury. Fleury had poor showings in two straight playoff seasons. In this year's playoffs, many fans believed that Fleury was going to crumble after his Game 4 gaffe against the Columbus Blue Jackets. But Fleury thrived when faced with adversity and bounced back to win the next two games. Fleury spent last summer with a sports psychologist and proved a little help from a doctor can improve a player.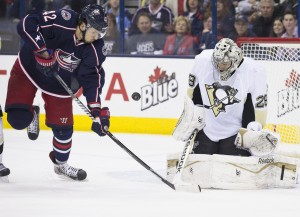 Hockey is supposed to be fun and inspiring, but Crosby made playoff hockey look like torture this year. He must address his issues and get to the root of his problems.
Instead of Crosby wasting his words by talking trash, he should resolve his problems by visiting a sports psychologist. A few sessions, at the very least, should help Crosby do something more positive in the playoffs. The Penguins need their captain to be their best player, not their biggest liability.