General managers are often defined by the boldest of decisions made during their tenures. Bold decisions, both with personnel and coaching, can either lead to a championship or go so terribly wrong that the team feels the negative effects for years. Then there's the curious case of Stan Bowman, Chicago Blackhawks GM, who has overseen two Stanley Cup championship teams, but in doing so has never pulled the trigger on a move that drastically changed the face of his organization.
On Friday the NHL announced, somewhat surprisingly, that the salary cap for the 2014-2015 season would sit at $69 million, a few million below what GMs around the NHL hoped for. Faced with a team only slightly below the cap after Bowman traded winger Brandon Bollig to the Calgary Flames during the NHL Draft this weekend, Bowman's time to be bold might finally have arrived.
Sure, he's done plenty right since taking over the GM spot from Dale Tallon in the summer of 2009.
He has brokered contract extensions for many of the players who make up the Blackhawks' core: Jonathan Toews, Patrick Kane, Duncan Keith, Patrick Sharp, Brent Seabrook and Niklas Hjalmarrsoon.
He's drafted players who have made quick impacts in the NHL: Brandon Saad (2nd round, 2011), Andrew Shaw (5th round, 2011).
And he's added meaningful players via trade without giving up much in return: Nick Leddy (acquired from the Minnesota Wild with Kim Johnsson for perpetually disappointing defenseman Cam Barker in February of 2010), Johnny Oduya (acquired from Winnipeg for a 2013 second round draft pick and a 2013 third round draft pick in February of 2012).
Bowman might finally need to do some dirty work to get Blackhawks comfortably under the salary cap
But none of those decisions are what anyone who follows the Blackhawks closely would call "bold." Extending the contracts of the aforementioned members of the core was a collective no-brainer decision. Drafting good players is never earth-shattering, unless of course you draft a star in the top few picks of the draft, which neither Saad nor Shaw were or are today. And Leddy and Oduya have been complimentary pieces, not star players who you win Stanley Cups because of.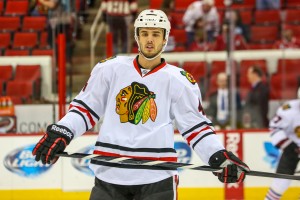 One could argue the boldest decision of Bowman's tenure was choosing Hjlamarsson over 2010 Stanley Cup champion goalie Antti Niemi after the San Jose Sharks signed Hjalmarsson to an offer in the summer of 2010 after the Blackhawks won the Stanley Cup, forced Bowman to match the deal and then signed Niemi after Bowman declined to offer Niemi a contract. While it may have seemed significant on the surface at the time because Bowman only had room for one to keep his team under the salary cap, Niemi was erratic and unpredictable, as evidenced by his .910 save percentage and 2.63 goals-against-average in the 2010 playoffs. Hjlamarsson was solid and steady, everything you ask for from a top-four defenseman. The choice was an easy one, especially when you consider that Bowman had Corey Crawford waiting for his chance behind Niemi.
Enter the present, summer 2014, and Bowman has some serious decisions to make. With 21 players currently on his NHL roster, with an aggregate cap number of $68,229,295, Bowman is left with less than $1 million to fill out the two remaining roster spots prior to opening night.
Teuvo Teravainen isn't going anywhere
One of those roster spots figures to be earmarked for Finish Wunderkind Teuvo Teravainen, the young center who made a cameo appearance at the end of last season for the Blackhawks and led his Finish squad to the the 2014 World Junior Championship by leading the tournament in scoring with 15 points ( 2 goals, 13 assists). Teravainen assisted on all three goals in the gold medal game in Finland's 3-2 victory over Sweden and converted a third period penalty shot to beat Canada in the semifinal.
With Teravainen's entry level deal set at a $894,167 salary cap hit, Bowman finds his team over the cap by $123,462 with one more player to add to the roster. Bowman has already proclaimed Teravainen untouchable in any potential trades.
Patrick Sharp is "available" but crucial to Blackhawks' success
It might finally be time for Bowman to get bold. Rampant rumors during the last couple weeks have Bowman letting teams know that star winger Patrick Sharp is "available." WIth Sharp's $5.9 million cap hit through the 2016-2017 season, his age (he will be 33 in December), and his head-scratching disinterest after the Olympic break last season (11 goals, 21 assists, -10 in 43 games), it's easy to understand why Sharp is seemingly available.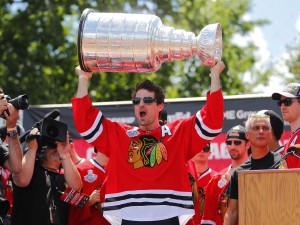 That said, Sharp is a big part of what the Blackhawks do offensively with his speed, quick release and ability to play multiple roles on the power play. There was also speculation that Sharp was playing with some sort of injury in the latter portion of the season and into the playoffs. A healthy Sharp and his versatility is tough to trade away.
But somebody has to go, that much is clear, and while everyone seems to be obsessed with the idea of trading Sharp, it makes more sense for Bowman to look to his group of defensemen.
The Blackhawks' greatest organizational depth is on the blue line, where several youngsters are waiting for their chance to be included in the top seven.
Adam Clendening has waited patiently for his chance to join the big club and is entering the last year of his contract. Clendening, an AHL All Star last season, finished second among AHL defensemen in points with 12 goals and 47 assists.
Klas Dahlbeck, while not as highly touted as Clendening, surprised at Rockford last season, becoming the team's rock on defense while posting an impressive +21 rating. Dahlbeck isn't known for his offensive game, but pairing him with a player like Nick Leddy, who often needs his partner to cover for him when he gets caught on the attack, would be an ideal fit.
Stephen Johns signed his professional contract in April after four years anchoring the blue line at Notre Dame. Johns is a big, nasty, stay-at-home defensemen (6'3", 215 lbs.), which is something the Blackhawks currently lack, aside from Brent Seabrook.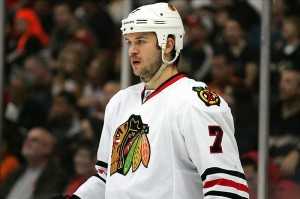 And speaking of Seabrook, this is where Bowman could look to make that bold decision that's managed to elude him in his time as GM. While it might be easier to just dump Johnny Oduya for a mid-round draft pick or low level prospect (which would eliminate $3.75 million of cap space), Bowman could shed salary and most likely get some talent in return for Seabrook.
Seabrook is still relatively young at 29. His salary isn't low by any means at $5.8 million, but it's not unreasonable, especially for a guy with his size and experience. But anyone who watched the Blackhawks closely last season, specifically after the Olympic break, when Seabrook was noticeably affected by not being included on Team Canada, saw a player who looked fatigued and defeated at times, especially when Joel Quenneville paired him with someone other than Duncan Keith.
Despite all that, Seabrook undoubtedly has value, and if Bowman can find a partner desperate for defense and willing to part with younger, cheaper talent, he would have to consider it. A team like the Edmonton Oilers could be a trade partner — lots of offensive talent, $20 million in cap space and not much on the blue line.
The third option would be dealing away Seabrook and Oduya (a little more than $9 million in cap space) and creating a battle between Clendening, Dahlbeck and Johns for two spots.
Bowman has work to do, that much is clear, and his hesitation to do something bold has worked out for the better in the past, but his hand might now be forced, especially when considering the huge money his two stars, Jonathan Toews and Patrick Kane, will command going forward.