In what was an eventful weekend for the newly named Arizona Coyotes general manager Don Maloney when from a mistake to a sure fire win.  He went from buying out their prized free agent acquisition last season in Mike Ribeiro to acquiring a talented young center in Sam Gagner for next to nothing.
These two moves exemplify why Don Maloney is one of the better general managers in the NHL. He admitted as mistake and corrected it and then swiftly acquired a potential top two center for just a sixth round pick.
Unfortunately before there was room for Sam Gagner, Don Maloney had to deal with a difficult situation.
The Mike Ribeiro buyout
In the summer of 2013 the Arizona Coyotes signed Mike Ribeiro to a four year $22 million deal. He was expected to be the number one playmaking center that the Coyotes had been lacking. At the time Coyotes general manager Don Maloney was happy with the signing.
"We are thrilled to sign Mike to a multiyear contract," Maloney said. "Mike is an elite playmaker who has exceptional vision and creativity on the ice. He has tremendous offensive skills with great patience with the puck. Our head coach, Dave Tippett, is very familiar with Mike's game and believes he will be an excellent addition to our hockey club."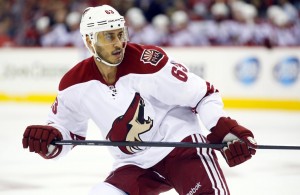 From believing that he had finally acquired a number one center to play alongside team cornerstone Shane Doan to the recent buyout of Mike Ribeiro was a very disappointing development. The buyout was stressed to be due to behavioral issues and not a cost saving move. There were indications of Ribeiro missing practices, showing up late for team meetings and getting into shouting matches with head coach Dave Tippett.
"Mike had some real behavioral issues we felt we could not tolerate going forward," Coyotes general manager Don Maloney said.
It is great to see a team taking a stand with a talented player over these types of issues. It is clear that the Arizona Coyotes place good character in their players above all else. This is an essential message to their younger players.
Sam Gagner and his draft projection
Prior to being drafted sixth overall in the 2007 NHL Draft Sam Gagner was believed to have the skilled and potential to become a first line center in the likeness of Patrick Marleau.
"The two words affiliated with Gagner are hockey and sense. He has an uncanny ability to not just see what's happening on the ice, but to also project what's going to happen. Gagner, who has grown up in a hockey environment under the tutelage of father (and current coach) Dave Gagner, understands the game like few other prospects.  Gagner showed a great deal of leadership on and off the ice and projects to be a solid offensive-minded centre, with a capable understanding of defensive play."
Years with the Edmonton Oilers
When Sam Gagner was drafted in 2007 the Edmonton Oilers had missed the playoffs in the prior season but the season before they had reached the Stanley Cup Finals on the back on Chris Pronger and his MVP calibre playoff.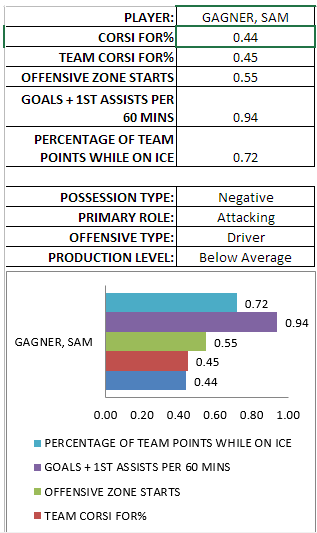 The very next season, as an 18 year old, Sam Gagner was thrust into the NHL. He was given a substantial amount of responsibility for an 18 year old undersized rookie. Then at 5'11" and 190lbs Sam Gagner had a productive rookie season with 49 points in 79 games. Unfortunately the Oilers did not insulate the rookie very well as he spent the majority of the season on a line with fellow rookies Andrew Cogliano and Robert Nilsson.
His first two NHL seasons the Edmonton Oilers would be in contention for a playoff spot finishing with 88 and 85 points respectively. From there it was all downhill for the Oilers. Since that time Edmonton has not finished any higher than 74 points which places them routinely at the bottom of the league. In fact since 2010-11 they have been the NHL's least successful franchise finishing just below the Florida Panthers and Buffalo Sabres.
To go along with this instability on the ice Sam Gagner has also had to deal with five different head coaches in his first seven years in the NHL. The list includes Craig MacTavish (2007-2009), Pat Quinn (2009-2010), Tom Renney (2010-2012), Ralph Krueger (2012-2013) and finally Dallas Eakins (2013-14).
By comparison the Coyotes have only had two head coaches in the same time span starting with Wayne Gretzky from 2007-2009 and then Dave Tippett from 2009 to the present.
Over his seven seasons with the Edmonton Oilers he averaged 69 games played with 14 goals and 28 assists for 42 points. Those are respectable offensive numbers considering the turmoil he endured during his time as an Edmonton Oiler.
Will he succeed in Arizona?
The franchise is excited with the acquisition of Sam Gagner, especially general manager Don Maloney. He was able to get Sam Gagner and bottom six winger B.J. Crombeen out of Tampa Bay for just a sixth round pick.
"We are very pleased to acquire a talented, young center like Sam Gagner," said Maloney. "He has the intelligence, character and skill set we were looking for and we believe he has further growth in his game. We look forward to welcoming Sam to Arizona."
With the news that the Coyotes may let their current free agents walk there will be ample opportunity for Sam Gagner to be a go to offensive contributor. Here is a look at what he Coyotes forward lines may look like next season at this point.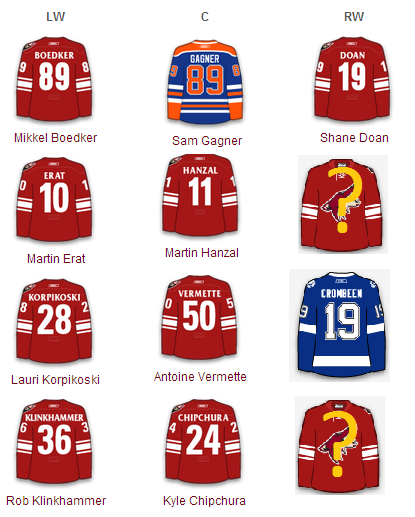 Over the past three seasons he has spent the majority of his time on ice with Ales Hemsky and Taylor Hall on his wings. Both players have better possession numbers   without Sam Gagner than they do with him. His main line mates last season were David Perron and Taylor Hall. Perron finished with 28 goals, 57 points and CF% relative of +2.5%. While Taylor Hall finished with 27 goals, 80 points and a CF% relative of +0.4%.
While he is not a tremendous possession driver Sam Gagner does drive the offense well when he is on the ice. Over he had assists on over 53% of his team's goals while on the ice and points on nearly 72% of the goals while he was on the ice. Since entering the league in 2007 Gagner has had 126 assists 5v5 and 75 or nearly 60% of them have been first assists.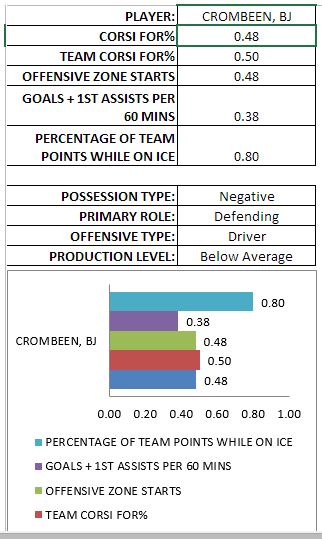 While puck possession players are in season right now, puck possession alone does not guarantee success. An offensive driver is still required in order to create offense once possession has been gained. Sam Gagner will be much better insulated in Arizona having ranked 11th in the NHL since 2010 with 50.3 CF%, while Edmonton was last in the NHL with 45.7 CF% in that same time span.
Final thoughts
In short the Coyotes have replaced a $5.5 million cap hit with a bad attitude in Mike Ribeiro with a younger player and a lower cap hit. Sam Gagner has two years left with a $5 million salary and $4.8 million total cap hit. However it has been indicated that Tampa Bay retained some salary in the Sam Gagner trade and CapGeek currently lists only a $3.2 million cap hit on the Arizona Coyotes for Sam Gagner.
It would appear that the final trade with Tampa Bay was Sam Gagner, B.J. Crombeen and $1.6 million in salary retained for a sixth round pick. Don Maloney should be sending Steve Yzerman Christmas presents from now until the day he is fired.
I cannot see a downside to these moves for the Arizona Coyotes. Bringing a 24 year old playmaking center and moving out a 33 year old bad influence while only giving up money for Ribeiro and a sixth round pick is a good move. B.J. Crombeen is also a good character addition to help fill out the Coyotes bottom six forwards.
Granted signing Ribeiro was Maloney's mistakes but a wise man admits a mistake and fixes it before it is too late. It is also a tremendous sign for long suffering Coyotes fans that ownership spent the money to buy out Mike Ribeiro. They are clearly in this business to create a winner on and off the ice.