It has been an interesting ride for John Hynes since he made his NHL coaching debut in 2015. Like a wooden roller coaster, his past few seasons have been somewhat of a rough ride with some unreliability and a few sudden turns.
He was introduced as the 17th head coach for the New Jersey Devils and was behind the bench for four and a half seasons before his time in the Garden State came to an abrupt end. About 35 days later, Hynes found himself back behind the bench, but this time with the Nashville Predators.  
Success in the AHL
Hynes arrived in the NHL with an impressive resume from his time in the AHL. He spent five seasons with the Wilkes-Barre/Scranton Penguins. He led his team to five straight 40-plus victories and five consecutive playoff appearances. In the 2012-13 and 2013-14 seasons, his team made it to the Eastern Conference Finals.
There is another coach that had proven success before transitioning to the NHL and his name is Herb Brooks. Ever heard of him? Known for being the architect behind the Miracle on Ice, he shifted his focus to the NHL in 1981. He coached the New York Rangers, Minnesota North Stars, Devils and Pittsburgh Penguins. Brooks could not reach success at the NHL level and nothing in his career compared to his historic time in Lake Placid.  
New York Rangers forward Ron Duguay briefly played under Brooks in New York before being traded to the Detroit Red Wings. In a recent interview with the Dr. Hockey Podcast, Duguay made an interesting comment about Brooks. He stated, "He didn't like my style. That's where I feel like his inexperience in handling men hurt him. I think that's where he fell short, knowing how to speak to his players."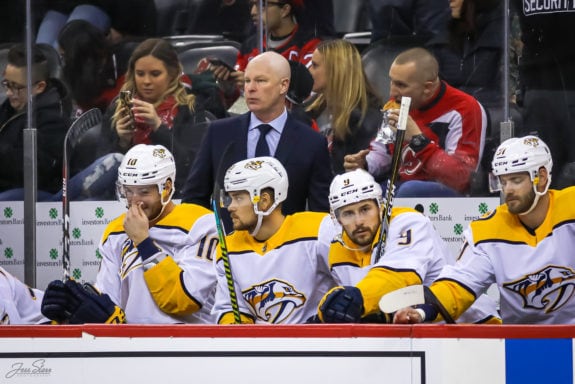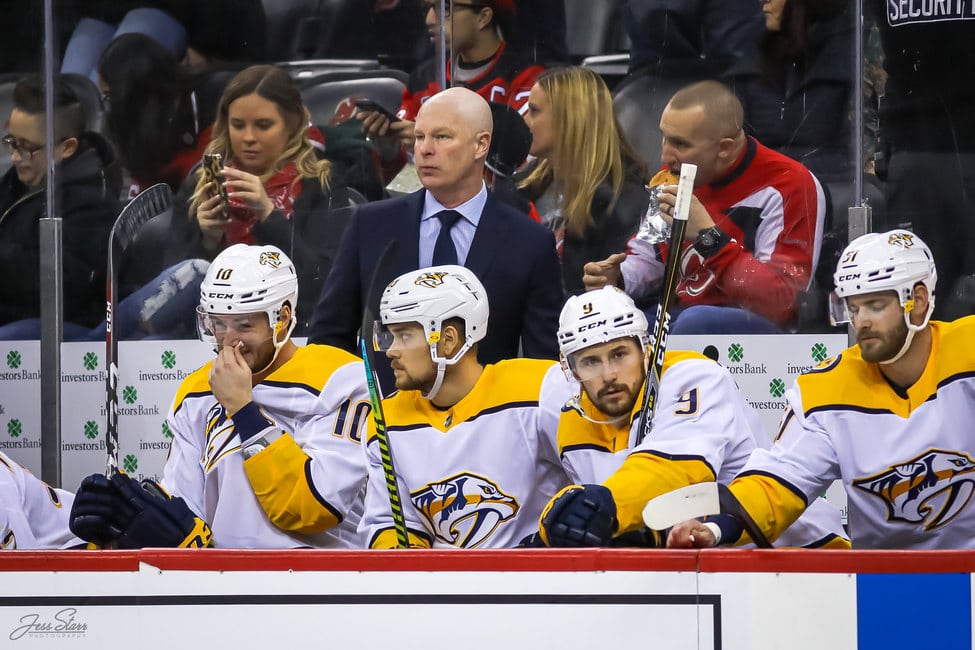 The above quote immediately made me think of Hynes. Is there a miscommunication or misunderstanding between him and his players? The Nashville head coach is known for actively changing his line combinations. Players can start one game on the second line and then be dropped to the fourth, or even be scratched a game or two later.  
Hynes similarly did this during his time in New Jersey. Players considered to be top-six forwards were playing limited minutes on the fourth line or they watched their team from the press box. This brings up the question of how can a player develop chemistry and flow with linemates if they are playing with a revolving door of teammates? Could it be considered setting a player up for failure or a technique to push a player to perform at the next level? 
It is always interesting when a coach juggles lines. Some see it as a sign that the coach does not truly understand the talent on his roster. It is the job of the coaching staff to bring out the best in their players. Sometimes that requires scratching a player for a game or reducing his ice time. However, that seems to be Hynes' bread and butter over the years. 
A Perplexing Time in Nashville
The Predator's roster has talented players including a Norris and Vezina Trophy winner. It is hard to think that a team with Roman Josi, Filip Forsberg, and Ryan Ellis is in the early stages of a rebuild. Something is not clicking for Nashville, and when a team underperforms it is usually the coach who becomes the scapegoat.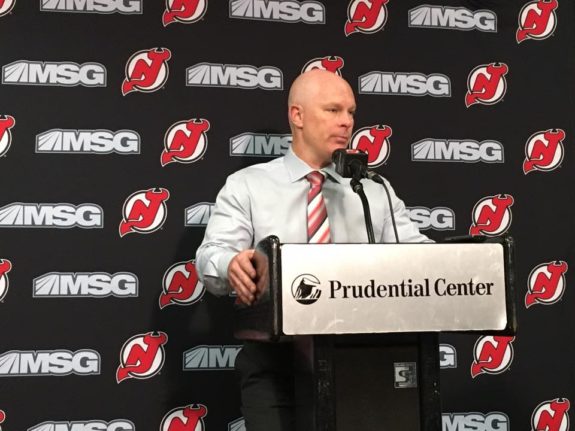 So far Hynes' time in the NHL has been lackluster at best, and he has not found the recipe for success that he had with Wilkes-Barre/Scranton. It seems that fans and media alike are trying to figure out the John Hynes conundrum. He is a coach that finished within the top 10 to receive the Jack Adams trophy twice, even though he only coached one team to a playoff appearance.
He seems to have a great deal of respect in the locker room from past players. This is evident because many of them have good things to say about him. For instance, after he was let from the devils in the 2019-20 season, team captain Andy Greene said, "there's a lot of unfortunate circumstances going on here that we caused. Hynes is a great coach, great person, and he had to get sacrificed because of us in here."
Based on his coaching methods so far it appears fans should strap in because the rocky ride may continue. We can only hope Nashville will soon see the coach who won the Louis A. R. Pieri Memorial Award in 2011, which is awarded to the most outstanding coach. Fingers crossed he can solve his current conundrum before time runs out in this shortened season. John Hynes, you are on the clock.  
---
---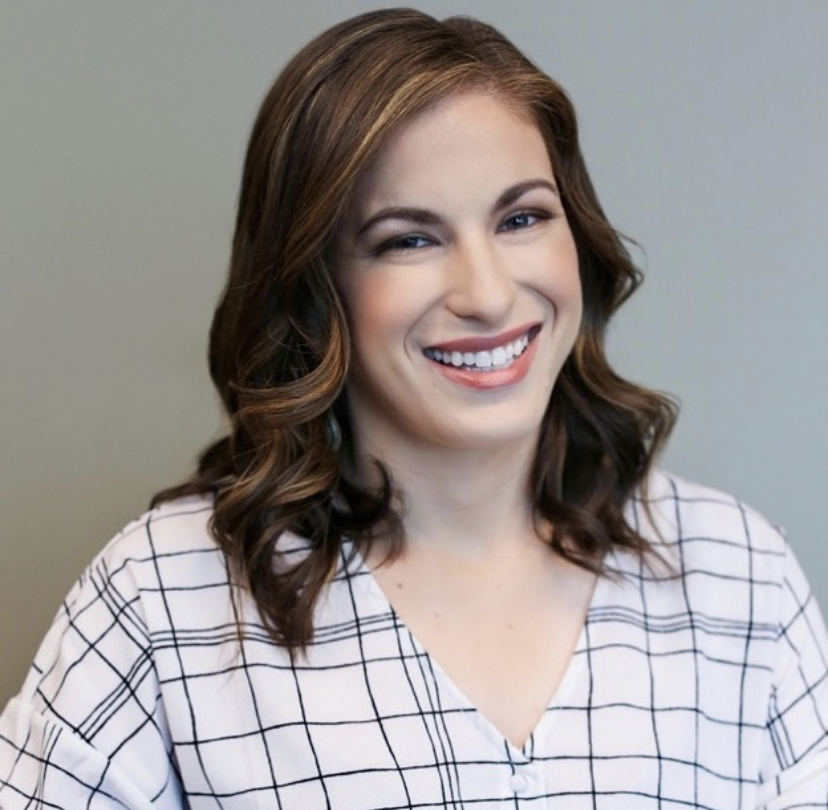 Kristy has been contributing to The Hockey Writers since March of 2021. She is thrilled to be putting her journalism degree to use and is a credentialed correspondent covering the New Jersey Devils. Kristy is also a member of the Professional Hockey Writers Association. You can follow her journey on Twitter @InStilettos_NHL and Instagram SkatingInStilettos.