Just so you are clear where I'm coming from, I believe the Toronto Maple Leafs' fourth line of Jason Spezza, Jimmy Vesey, and Travis Boyd is currently the best fourth line in the NHL. As well, it's a line that's redefining how hockey has come to define the idea of how four lines should be used in a game. 
Related: Maple Leafs Seeing in Spezza What Babcock Never Could
Furthermore, in watching the Maple Leafs play all season, I believe that redefinition both works well and has contributed to the team's success so far.
Hockey Commentators Are Beginning to Notice
During Wednesday night's Sportsnet telecast of the Maple Leafs and Edmonton Oilers' game, the strength of the Maple Leafs' bottom-six was evident. In fact, and hockey commentators noted the quality of the depth players on the Maple Leafs' team. It was a wise insight. From my perspective, having covered the team now for three seasons, this season's roster is deeper – much deeper. In addition, they are playing very different roles than they did.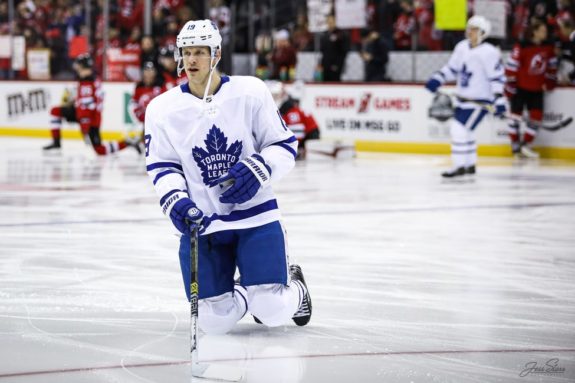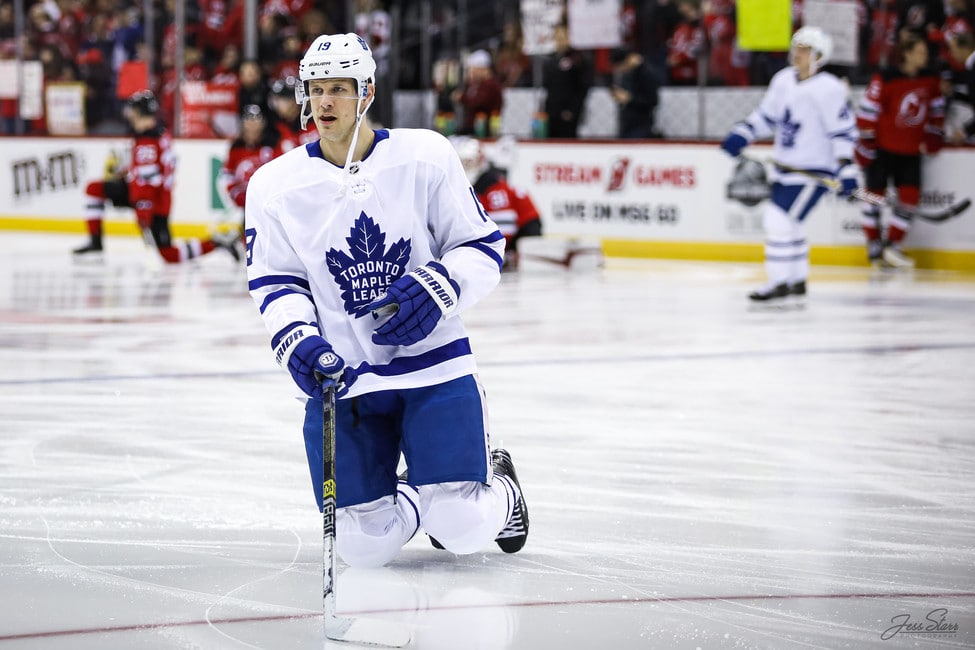 This depth is now being discussed by hockey commentators. I agree: the Maple Leafs' team success rests partly on the strength of the team's bottom six. However, what I haven't heard or read is an analysis of how the Maple Leafs' use of its fourth line might reshape the way hockey is played. 
The Maple Leafs Are Rethinking the Way Lines Could Be Used
Perhaps it's simply good fortune – the organization has been able to sign experienced and talented players like Jason Spezza or Joe Thornton. Or, perhaps it's by design – part of The Shana-Plan. For whatever reason, head coach Sheldon Keefe and general manager Kyle Dubas have designed a team that's made some radical tweaks to the way it plays. (from "The Shana-Plan: A slow patient rebuild of Leafs that will be 'well worth it,'" Kevin McGran, Toronto Star, 04/03/15).
Related: Remembering Toronto Maple Leafs' Glory
The Maple Leafs fourth line is no longer an "energy line." In the recent past, NHL fourth lines were often called "energy lines." The phrase "energy line" had been coined for two reasons.
First, a fourth-line shift gives the team's better and more offensive players a chance to rest – to regain energy. In this philosophy, the fourth line has done its job if nothing bad happens while it's on the ice.
Second, fourth-line play has been conceptualized as engaging a physical brand of hockey that psychologically works toward giving teammates an emotional "energy" boost.
That isn't the way the Maple Leafs have done it this season. Instead, Keefe has made an experienced, highly-competent, and offensively-confident forward Jason Spezza as the line's leader. There Spezza is joined by Jimmy Vesey, who was once seen as a player of great offensive potential but who's now striving to play both strong offensive and defensive hockey at the same time because his line often goes up against the other team's best offensive line. Finally, the third fourth-liner is Travis Boyd, who's another player with some NHL experience, but who's never played regularly game-after-game.
Jason Spezza's Contribution to the Fourth Line
The first thing that's obvious about Spezza is that he's a class act. He has great hockey sense, is team-oriented, is a coach and teacher, and will do whatever it takes to help the Maple Leafs win. Even when he was treated poorly – in my opinion – early last season by former head coach Mike Babcock, he didn't complain publicly. He created no team drama and kept quiet.
Spezza is a good example to his linemates. When a future Hockey Hall of Fame player willingly assumes a small role for the team, the lesson it teaches his partners is that they too should embrace their own small piece of the team's success. That he signed for the NHL league minimum of $700,000 matters. That he wants to win the Stanley Cup also matters.
But Spezza also still has skill. Already this season, he scored a hat trick. And, during Wednesday night's 6-1 win over the Oilers, he added three assists and dominated the faceoff circle, winning 8 and losing only 4 (66.7 percent) of his draws. He makes the fourth line work.
Jimmy Vesey's Contribution to the Fourth Line
On one hand, Vesey's season has been disappointing because he hasn't scored at his usual pace. In fact, when he scored two times in Wednesday's game it broke a 17-game goal-scoring drought. 
Related: Quebec Nordiques – A History of Beer, Brawls, and Van Halen
Vesey doubled his goal total with two well-placed shots in the 6-1 win. For a player with as much scoring history as Vesey experienced in his first three NHL seasons with the New York Rangers – he scored 50 goals in those three seasons, he had seemed stuck in a hole since his last goal on Jan. 22 against these same Oilers.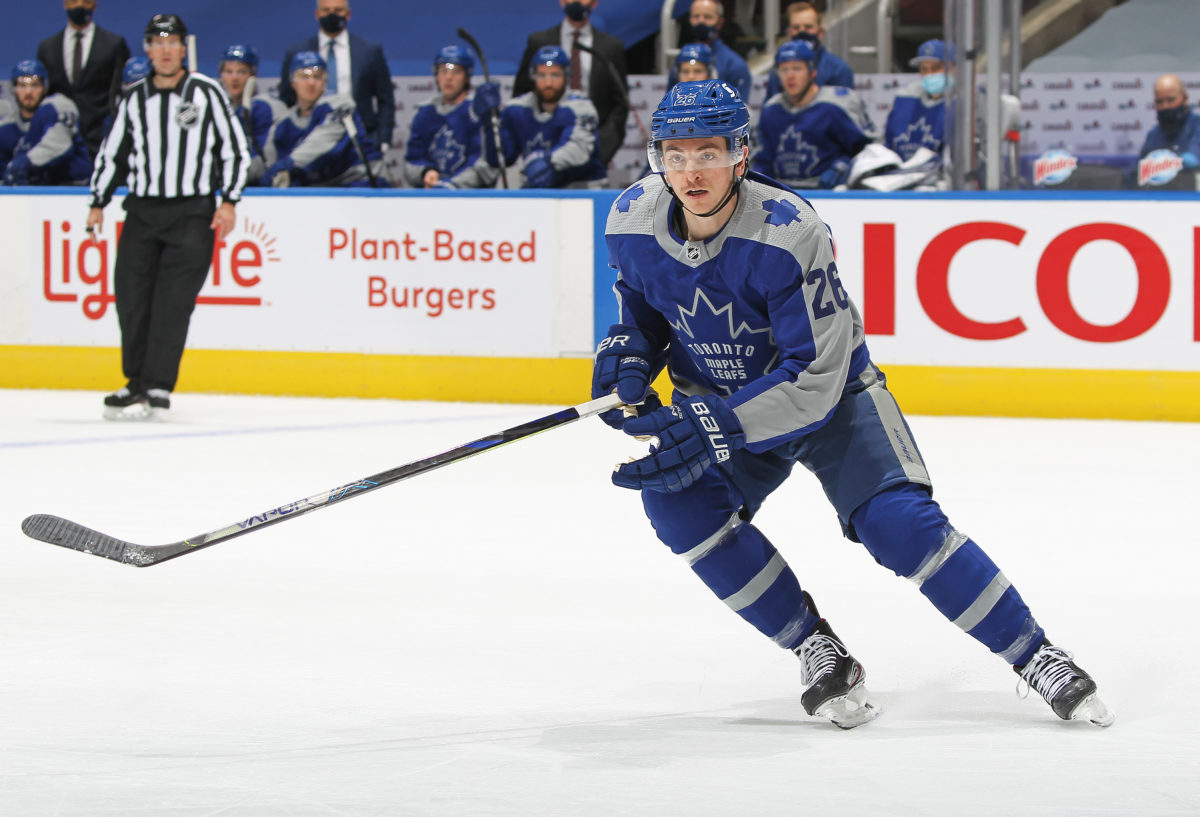 Certainly Keefe hopes Vesey would score more often but noted that, although Vesey hadn't made his mark, "there have been positives (Vesey's defensive play and penalty-killing)."
Keefe did add, "but at the same time, others have come into the lineup and made an impact, especially offensively." (from "Some injured Maple Leafs are expected back versus Oilers," Lance Hornby, Toronto Sun, 27/02/21).
Travis Boyd's Contribution to the Fourth Line
Boyd's offensive production has been a bit of a surprise. However, Spezza has spoken highly of playing with Boyd and the chemistry the two have created on the fourth line. Spezza notes several characteristics that make Boyd easy to play with. Specifically, Spezza believes Boyd has great hockey sense. He goes to the right spots on the ice, is easy to read, and can finish a play because he has a nice offensive touch around the net. 
As a result, the two players have created good chemistry together that helps make the team's fourth line successful. In fact, all three fourth-liners are playing solid defense, helping on the penalty kill, and are playing smart, confident, and experienced hockey.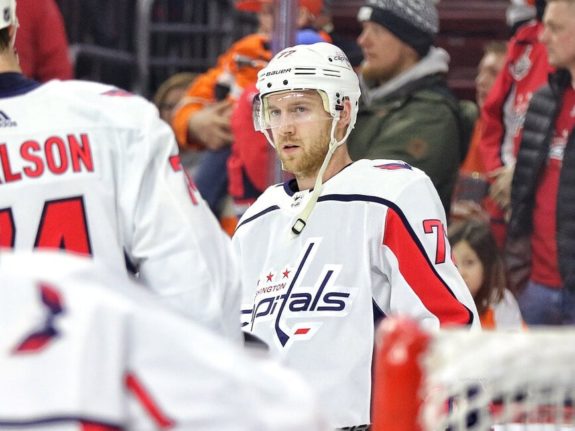 In Wednesday's game, Boyd had two assists. For only skating about 11 minutes per game, he contributes. He now has scored three goals and five assists (for eight points) in 16 games on the season.
A New Way of Thinking the Fourth Line
In total, in Wednesday's 6-1 win over the Oilers, the team's fourth line had seven points. The line is far from being "just" an energy line: it was the line that carried the team. Vesey had two goals; Boyd had two assists; and, Spezza had three assists. The line might not score every time it has the puck, but it has the offensive capabilities to do so. It isn't just hemmed in its own end of the ice.
Although with the limited minutes that line gets, such scoring success won't happen regularly. Still, given the successful play of the Maple Leafs' fourth line, the team has started to re-define how a hockey team's four lines could be constructed.
Related: Toronto Maple Leafs Become Chapter in Jimmy Vesey's Puzzling Career
No longer must the fourth line be an "energy line" whose success is defined because it safely takes time off the clock so the team's top players can rest before their next shift. Instead, the current Maple Leafs' fourth line contributes offensive scoring and good defense to the team's depth. It often makes the other team's first line play in its defensive zone.
The fourth-line players Keefe utilizes have helped the team rethink the contributions four lines can make. As a result, the team's success stems – in part – from the fact that its lineup now has four lines that all contribute to the team's success.
---
---
The Old Prof (Jim Parsons, Sr.) taught for more than 40 years in the Faculty of Education at the University of Alberta. He's a Canadian boy, who has two degrees from the University of Kentucky and a doctorate from the University of Texas. He is now retired on Vancouver Island, where he lives with his family. His hobbies include playing with his hockey cards and simply being a sports fan – hockey, the Toronto Raptors, and CFL football (thinks Ricky Ray personifies how a professional athlete should act).
If you wonder why he doesn't use his real name, it's because his son – who's also Jim Parsons – wrote for The Hockey Writers first and asked Jim Sr. to use another name so readers wouldn't confuse their work.
Because Jim Sr. had worked in China, he adopted the Mandarin word for teacher (老師). The first character lǎo (老) means "old," and the second character shī (師) means "teacher." The literal translation of lǎoshī is "old teacher." That became his pen name. Today, other than writing for The Hockey Writers, he teaches graduate students research design at several Canadian universities.
He looks forward to sharing his insights about the Toronto Maple Leafs and about how sports engages life more fully. His Twitter address is https://twitter.com/TheOldProf