The seemingly inevitable has apparently become official: Carolina Hurricanes' defenseman Joni Pitkanen will not be ready for the start of the season. He will undergo a CT scan on Thursday to determine the extent of the progress, but all signs point to him still being on the mend.
Joni will have CT Scans this week. Rutherford said docs told hin it was more like a "car accident injury than a sports one"

— Chantel McCabe (@chantel_mccabe) September 3, 2013
Not only is Pitkanen's injury a blow to a defense that finished third-worst in goals against last year, but also one that will hurt the team's transition into offensive chances. With Jamie McBain now in Buffalo, the Hurricanes' production from the blueline will be nearly non-existent. Andrej Sekara, Tim Gleason, Justin Faulk, Jay Harrison and Mike Komisarek combined for just 10 goals last year, with Faulk scoring half of those. If it weren't for Harrison's breakout 2011-2012–an aberration–the totals wouldn't be any different the previous year.
For a team that has a general lack of creativity among their forwards, Pitkanen's absence could pose a significant problem.
"We'll look at what our options are for a possible replacement for Joni, if he's out a long time," General manager Jim Rutherford said. "We don't know how long it's going to be that he'll be out. Will it be a couple of weeks, a month, a half a year, a whole year? I don't know."
Rutherford could look to the trade wire, but the budget appears to be tight in both real dollars and assets. The 'Canes can't afford to keep gutting the system. His affinity over the years for dealing late-round picks for marginal players has left them with a shallow prospect pool.
And with the team approaching the cap–Faulk and Jiri Tlusty are due new deals this offseason–the money might not be there.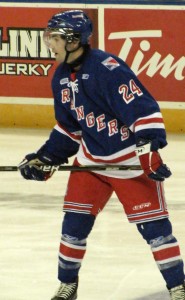 Enter Ryan Murphy. Last year, the 20-year-old made his NHL debut recording a -4 rating and 0 points in 4 games. Not inspiring numbers, but not unlike Faulk's first few games. Murphy was going to be given every opportunity to make the 'Canes this fall, and now it seems almost a necessity that he gets a long look.
While the two are different players, expectations will be similar. Murphy may get protected minutes at first, but should Pitkanen's injury last into the winter, he may have to take on an even bigger role.
Murphy's modest deal–just under $1 million without bonuses–gives the team the flexibility that a trade or signing wouldn't. With many fans still clamoring for another third line forward, that option could still be on the table.
Expecting Murphy to jump from Kitchener to Carolina may be a leap, but it's one that makes the most sense. If he does begin the year as Pitkanen's replacement, it doesn't preclude Rutherford from making other moves should the trial run not work out.