Corey Pronman's Top 100 Prospect List threw cold water on the Canucks' hype train. No reasonable person in Vancouver believes the team has enough young stars to make a playoff run yet. However, only four Canucks skaters made it into Pronman's run-down in mid-August. Most concerning, is 2017 5th overall pick Elias Pettersson makes the list as late as 48.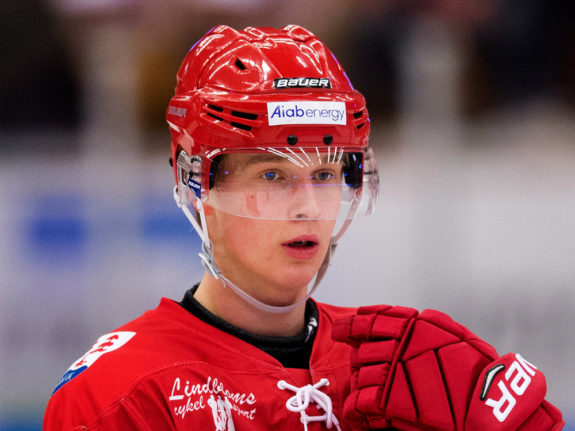 This low estimation might be due to uncertainty over Pettersson's position. When drafted, Pettersson was billed as a potentially elite playmaking centre, with comparisons to Nicklas Backstrom. Since the draft, however, this projection has proved troublesome. On inspection, Pettersson has barely played at centre in the past few months.
At the WJSS, Pettersson only played centre in one game, spending time on the wing for the other matches. In the pan-Europe Champions' Hockey League, he played on the wing repeatedly for Växjö Lakers – the SHL team with which he will spend next season. The priority is minutes, but this situation is not ideal. Come 2018, the Canucks could well be getting a talented playmaker, albeit one more comfortable playing out wide.
It is likely that Pettersson will become a very useful forward for the Canucks. But whether he fulfils their urgent need at centre is debatable. If he is the next elite Canucks winger, who, if anyone, will be playing in the faceoff circle in the coming years?
Can Horvat Do It Alone?
Regardless of whether Pettersson pans out, the Canucks hope that Bo Horvat will hold down a top-six position for the foreseeable future. Since breaking into the lineup in 2014, Horvat has progressed at pace, notching 52 points in 81 games last season.
He is still stuck below Henrik Sedin, and sometimes Brandon Sutter, on the depth chart, but this makes his production all the more impressive. Right now, Horvat scores at around the level of a second line centre, a decent return for a team looking to rebuild with youth.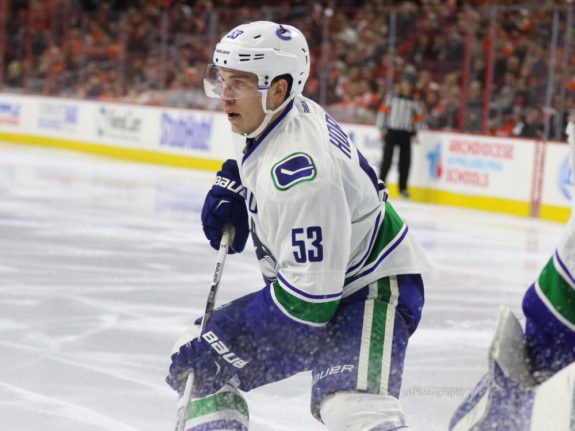 Horvat can continue to blossom, and he could score at the rate of a first line forward in the future. However, he has followed a somewhat unexpected path. Drafted as a two-way player, Horvat has kicked his offense up several gears, but has stagnated on the backcheck. On the penalty kill, Horvat was among the worst in the league last season. At even strength meanwhile he didn't do much better. As suggested by Thomas Drance on Sportsnet, Horvat was reliant on help from his teammates to disguise his poor defensive numbers.
Going forward, the Canucks need a high-performing centre who can defend as well as attack. At his prime, Horvat may only be able to do the latter effectively. Regardless of recent drafting, it is clear that Vancouver cannot depend entirely on Bo. Others are needed in the prospect pool to complement his offensive play and ths scarcity will only become more concerning as Horvat's contract talks continue to drag.
Problems In The Pipeline
The Canucks will need some solid bottom-six players to have any realistic chance of competing. Brendan Gaunce has already staked his claim as a serviceable third line centre, and hopefully, the current farm will produce a number of players who challenge for similar roles in the future.
The organization drafted a lot of wingers at the 2017 Draft, acquiring several players who may progress to the NHL. With regards to centres, however, the pool is shallow. Cole Cassels, Adam Gaudette, Brett McKenzie and Dmitri Zhukenov are the only notable prospects. Zhukenov's future is uncertain and he recently signed in the KHL with Avangard Omsk.
As it stands Gaudette is the most promising from this crop, flourishing in the NCAA since his draft in 2015. He is comfortable on defense and in transition, and this versatility gives him a good shot at a middle-six role in the top league. The same cannot be said for his peers in the Canucks system.
Cassels has struggled in the AHL, and he cannot be realistically included in the Canucks' NHL plans. McKenzie meanwhile had a point-per-game season in 2017. However, this was as a 20-year-old in the WHL – the league he will continue to play in as an overager next year. It's concerning that McKenzie has not graduated from the juniors in time for 2018.
Vancouver has almost enough to fill out two bottom-six positions in the middle. However, there are few options. Certainly, there is no dark horse in their crop who could reach the same ceiling as Horvat. Going forward, it is necessary that Canucks bolster their prospects here. Whilst more two-way players are needed, the organisation would also benefit from gambling on some high-risk attacking players.
Searching for Star Power
The Canucks are beginning to pull together a promising forward corps. In Brock Boeser, Nikolay Goldobin and Jonathan Dahlen they have some seriously intriguing goalscorers out wide. William Lockwood, Jake Virtanen and Kole Lind complement these prospects, offering speed, power and grit. Regardless of position, there's a place for Pettersson, and the organisation will need his playmaking skills in the years to come. At centre, however, the future is unknown. Drafting another bluechip option in this area is a serious priority.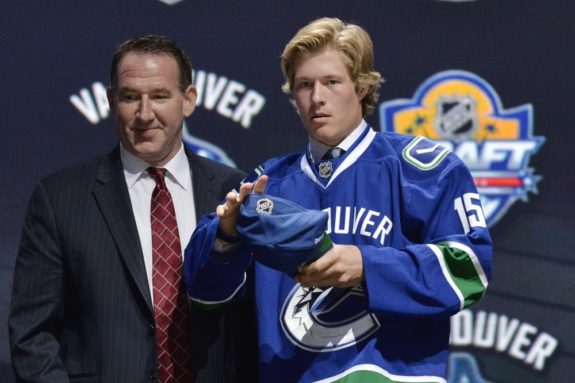 Fans clamour for offensive flair, although I can't help feel that in Horvat and Pettersson, the Canucks already have some solid point producers. The most pressing need is on the backcheck. With many of Vancouver's best forward prospects lacking in defensive skill, the organisation shouldn't be looking for the next Henrik Sedin. Rather, they should root out the next Ryan Kesler. Now, that's a thought.
Matthew lives in Brighton, UK and covers European Hockey leagues and the Vancouver Canucks. He is a big Canucks fan, and often sets an early alarm to tune into their matches.