Jim Benning's busy offseason is nearly complete, but he has one major task left — sign the Vancouver Canucks' best player.
Bo Horvat enjoyed a breakout season during his third year in the League, potting 20 goals and 52 points. Both of those totals led the offensively inept Canucks. If it wasn't for the way he was used, Horvat could have surpassed those totals.
He remains the last big name the Canucks need to lock up. This won't be an easy task for Jim Benning and company now that Horvat is the face of the franchise.
There are 54 restricted free agents left on the market, according to CapFriendly. Of those players, Horvat ranks 10th in points, behind some notable names like Leon Draisaitl, David Pastrnak and Alexander Wennberg. He isn't the best restricted free agent out there, but you could argue that no other RFA is more important to his team.
Horvat's Production
The steady progression that the Canucks have seen in Horvat is exactly what you want to see from your young players. He's increased his goal and point totals in each of his three seasons. There's likely room for more growth, especially if he's put in more offensive situations.
Part of the reason these contract negotiations are going to be so difficult is that no one really knows what Horvat's ceiling is. Some believe that he isn't much more than a second-line, 50-point player. He, undoubtedly, believes he has another gear to hit. Could he ever become a 30-goal, 65 point player?
In Horvat's second season, his points-per-game totals jumped 32.4%. This past season, that total jumped 30.6%. We should expect another jump in his point production, but not at the same rate as previous seasons.
If his point-per-game totals increase by 20% (still a big ask) next season, his point-per-game totals would increase from 0.64 to 0.77. That would give him 62 points over an 82-game schedule. Centers who were near that total this season include Sean Monahan ($6.375 million cap hit), Claude Giroux ($8.275 million cap hit) and Filip Forsberg ($6 million).
Those three players all had less than 62 points last season and Horvat's camp has lots of comparable deals if they want to ask for a hefty payday.
Exemplifying Excellence
At 22-years-old, he's already a role model for every other young player to make a splash in the organization. He paved the path for guys like Jake Virtanen and Jared McCann to make the Canucks as 19-year-olds. Before Horvat, it had been more than 20 years since a teenager played a prominent role with the team.
While Virtanen and McCann's NHL inclusion was likely a mistake, it probably wouldn't have happened without Horvat's early NHL success. The fact that Horvat was able to stay with the club while Virtanen and McCann couldn't is a testament to his capabilities.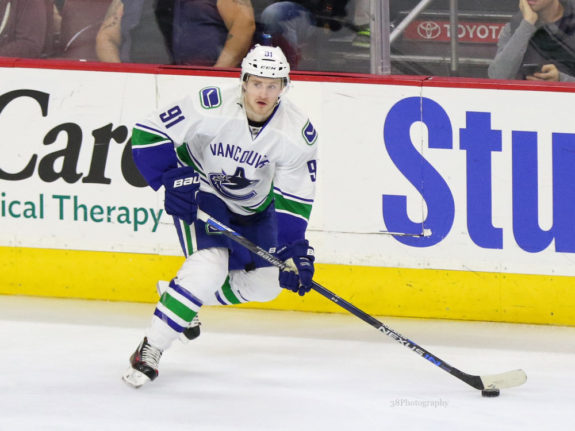 As more young players like Brock Boeser, Jonathan Dahlen and Elias Pettersson work towards making their Canucks debuts, Horvat will be thrust into a bigger leadership role. Along with his on-ice skill set, he exemplifies leadership and a passion for hockey.
Apologies for using the old "intangibles" adage, but Horvat seems to have it in spades. He works hard to achieve success and he's a consummate teammate. Don't think his agent, Don Meehan, won't be bringing that up in negotiations.
Comparable Contracts & Prediction
Many outlets have looked at comparable contracts for Horvat's new deal. Brandon Sutter is the benchmark at $4.375 million per season. The ceiling is guys like Aleksander Barkov, Monahan and Mark Scheifele, who make between $5.9 million and $6.375 million per season.
The closest comparable is probably Vincent Trocheck, who signed a six-year, $28.5 million deal. He makes $4.75 million per season and signed the contract after posting 25 goals and 53 points in 76 games. It's worth noting that Trocheck's advanced statistics are more favourable than Horvat's.
If Trocheck is the closest comparable, statistics tell us that Horvat's contract should come in at or under his cap hit. However, that likely won't happen. Despite Trocheck's breakout season, he was a complementary piece in Florida as they won their division. By contrast, Horvat was the Canucks' MVP, and there is a good chance he'll be MVP next year as well.
Benning has his hands tied with an organization lacking depth and bad, precedent-setting contracts. The Canucks probably want to get their MVP signed for $5 million or less, but you can bet that Horvat's camp is asking for closer to $6 million. And why wouldn't they? The Canucks are in a bind and desperately need Horvat on the team.
This deal has the potential to drag out all summer long, so don't hold onto your beer for too long. My contract prediction is that he signs a six-year, $31.8 million deal, with an average annual value of $5.3 million per season.