It's hard to imagine an NHL team's MVP needing a role adjustment. With the Vancouver Canucks however, improvement is needed everywhere.
That includes the Canucks' MVP from last season. Bo Horvat was the team's best player in 2016-17, other than Ryan Miller. He posted career highs with 20 goals and 52 points, despite not scoring in his last 17 games.
If he had a little bit more puck luck in his last 17 games, he would have surpassed the 55-point plateau. That's an impressive mark for a 21-year-old, especially one that some thought would never become more than a third-line centre.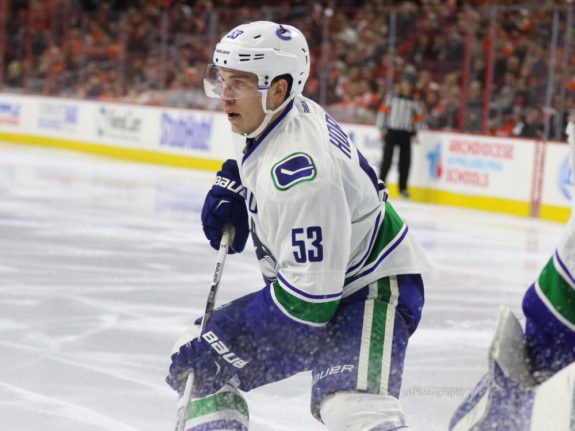 Horvat's success could have been exemplified even further if it wasn't for Willie Desjardins' deployment of him over the last three seasons. Despite being routinely used in a checking role, Horvat is better suited for an offensive role.
Horvat Couldn't Shake Willie
Desjardins was never able to separate Horvat from his projection as a reliable, two-way centre. Labeling Horvat a reliable two-way centre is a reasonable judgment. Expecting him to be a shutdown centre is something different.
Horvat was thrust into that role in 2015-16 with Brandon Sutter lost for most of the season. Even though Sutter played 80 games this past season, Horvat's offensive zone starts actually dropped under Desjardins. Horvat took 30 percent of his face-offs in the offensive zone in 2015-16 compared to only 29.6 percent this season.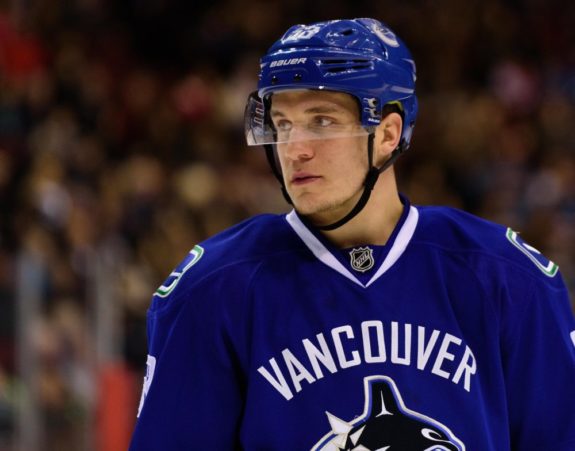 It's not a huge difference by any means, and there is data to suggest that zone starts don't have a huge effect on stats. What zone starts do show though is a coach's perception of one player. It's clear that Desjardins viewed Horvat as a shutdown guy.
His five-on-five Corsi stats are similar to Sutter's. Since Horvat has a penchant for offence though, Desjardins should have been deploying him in more offensive situations.
Special Teams Mix-Up
Horvat's special teams deployment was also questionable. He was often used on the penalty kill despite disastrous results. Of the 341 players to play more than 50 minutes shorthanded, Horvat's 120.6 Corsi Against per-60 was 332nd. His 11.1 Goals Against per-60 ranked 330th.
Couldn't a guy like Brendan Gaunce have gotten a longer look on the penalty kill? Gaunce has glowing possession stats at five-on-five, and he was used as a penalty killer in Utica as well. Markus Granlund was also someone who fared favourably on the penalty kill, but he ranked fourth among Canucks forwards in shorthanded ice time.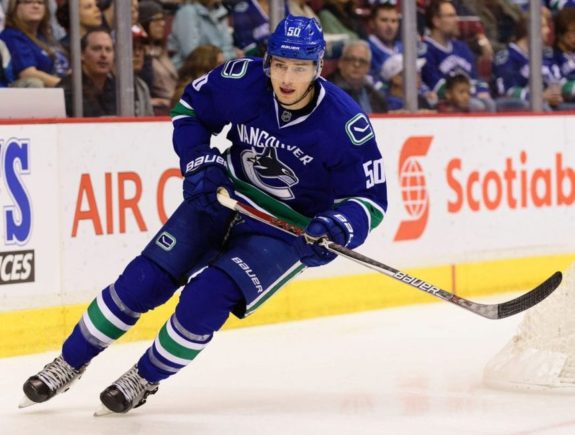 On the power play, Horvat found himself in an opposite scenario. He was an offensive driver on the power play but too often he found himself playing on the second unit.
Horvat's 4.3 points-per-60 was the best total among all Canucks forwards. With a plodding, predictable and pathetic power play, Desjardins should have found a way to incorporate Horvat into that top unit.
Based on power play points-per-60, the Canucks best power play unit would have been a combination of Ben Hutton, Horvat, Henrik Sedin, Daniel Sedin and Markus Granlund. Sven Baertschi and Loui Eriksson were close seconds. No, neither Troy Stecher or Sutter were all that close.
It's also worth noting that Horvat had more primary assists (5) than Henrik Sedin (4) despite playing 77 minutes less than Henrik on the power play.
New Coach, New Opportunity
With Travis Green taking over this Canucks roster, there's the potential for Horvat to enjoy a breakout season in 2017-18.
Green is adamant that he wasn't oblivious to the Canucks' goal-scoring woes from last season. In nearly every interview he's done since taking the job, he's acknowledged that goal scoring is an area of weakness. One of the ways of improving this would be to adjust Horvat's role.
Green mentioned in his opening press conference that he's open to cutting back Horvat's role. Too many times over the last two seasons, Horvat's been asked to be the team's saving grace. He's done a wonderful job considering what was asked of him, which was everything.
Green needs to find a way to get Horvat more offensive zone starts, less time on the penalty kill, and more power play time. If Green is able to create a more specific role for Horvat in the upcoming season, the young centre could take his game to another level.
It's what the Canucks need if they are going to have any kind of success next season.