While it's not necessarily an exciting time to be a Vancouver Canucks fan, it sure is an exciting time to be Bo Horvat.
The 21-year-old centre has elevated his game at the right time, since he is set to earn a sizable raise from his current salary of $894,167. General manager Jim Benning has publicly stated that he wants to sign Horvat to a long-term extension. While Nick Kypreos might not agree with the decision, the consensus is that Benning would be wise to lock up Horvat long-term.
Bo Horvat has 6 points (2G, 4A) in his 4-game point streak. He leads the #Canucks with 15 points (7G, 8A) in 22 games.

— Canucks Now (@CanucksNow) November 27, 2016
Despite doubts about his offensive abilities, Horvat is rapidly showing first-line potential in his third NHL season. He currently leads the Canucks with 15 points through 22 games, good for 0.64 points per game. Horvat isn't just beginning to blossom this season, but he's showing a trend of steady production going back to the beginning of 2016. Over Horvat's last 62 games, he's averaging 0.71 points per game.
What might be an even more telling stat is Horvat's production in close situations. With his team either up a goal, down a goal, or tied at five-on-five, Horvat has six primary points. Alex Burrows has four, but no other Canuck has more than two in close situations.
Horvat is flashing first0line potential, even though head coach Willie Desjardins still has an insistence on putting him in defensive situations. He has a higher percentage of defensive zone starts compared to any other Canucks player.
He is clearly the team's MVP at the quarter pole, but how much will that earn him in his next contract? With the way Horvat is playing, he might be better off to wait it out until the end of the season. Benning might be wise to lock him up sooner, as his stock continues to grow.
With the value and length of Horvat's contract still up for discussion, here is a look at some recent contracts signed by young centremen. The comparable contracts are split up into three categories: contracts that are likely higher than Horvat's, contracts that will be lower, and one comparable contract that is closest to the term and value that Horvat will receive.
Too High
Comparable Contracts & Cap Hit: Aleksander Barkov: $5.9 million, Mark Scheifele: $6.125 million, Sean Monahan: $6.375 million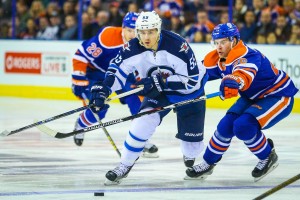 During contract discussions, these might be three examples that Horvat and his agent at Newport Sports Management will likely be gunning for these kinds of numbers during contract discussions.
Sean Monahan put up back-to-back 60-point seasons and made the Calgary Flames sweat during the summertime before finally coming to an agreement. While Horvat has put up a 60-point pace since the middle of last season, his struggles as a sophomore likely mean he won't hit Monahan's payday.
Mark Scheifele is a great example of a player who cashed in on a tremendous finish to last season, one which saw him accumulate the most points in the NHL from February onwards. If Horvat keeps up his current pace, it will undoubtedly aid him during discussions.
The closest comparable here is Aleksander Barkov. The second overall pick from the 2013 draft cashed in midway through a career year last season. This is likely Horvat's closest comparable from this category. Horvat has put up the same number of points as Barkov so far this season. If Horvat keeps playing at a similar pace, except him to ask for Barkov kind of money.
Too Low
Comparable  Contracts and Cap Hit: Rickard Rakell: $3.8 million, Victor Rask: $4 million, Nick Bjugstad: $4.1 million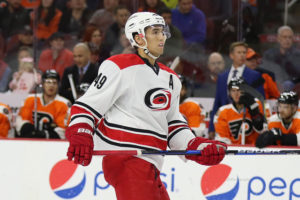 Both Rickard Rakell and Victor Rask's names have been dropped as possible comparable contracts to Horvat. Elliote Friedman mentioned them as the two comparable contracts during an intermission segment on Sportsnet last week. Although these were his two examples, it would be shocking if Horvat settled for anything less than Nick Bjugstad's $4.1 million per season.
On top of that, both Rakell and Rask are making their contracts seem like steals at the moment – especially Rask, who has registered 17 points through 21 games. If he keeps up that pace throughout his new six-year deal, Carolina will have a Mike Gillis & Alex Burrows-type steal on their hands.
Rakell is putting up a similar point-per-game pace, and Anaheim was only able to get him so cheap because they waited until after the start of the regular season. Their cap crunch complicated things, but Bob Murray deserves credit for getting both him and Hampus Lindholm under contract.
I might be ready to say that Rickard Rakell is Anaheim's best forward. Does everything for this team offensively.

— Felix Sicard (@Felix_Sicard) November 21, 2016
Benning could point to these contracts as a bargaining point during discussions. However, if Horvat continues to score at a 55-point pace, then he will definitely exceed this cap hit. Rakell and Rask put up 43 and 48 points respectively last season.
Closest Comparable
Vincent Trocheck: $4.75 million per season
If you're looking for the closest comparable contract among young centremen who have recently signed big contracts, then look no further than Vincent Trocheck. The 23-year-old signed a six-year, $28.5 million extension on July 2 after posting a career-high 25 goals and 53 points last season.
Trocheck sometimes gets overlooked but they don't win this game without him; 2 assists and SOG #flapanthers

— Harvey Fialkov (@hfialkov) November 21, 2016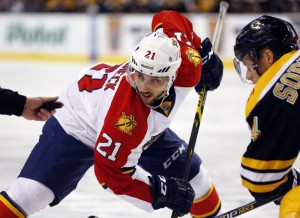 Both forwards are young, they know how to score, they know how to set up players around them and they are both responsible defensively. Trocheck leads all Panthers forwards in penalty kill minutes this season, while Horvat leads the Canucks with two shorthanded goals.
Although Trocheck's hefty raise was mostly due to his strong season, part of it could be attributed to his entry-level deal, what wasn't bonus-ridden unlike contracts signed by first-round picks like Horvat. According to Cap Friendly, Trocheck would have made at most $894,167 last season. Horvat made that, but had another $850,000 in bonuses attached to his contract.
If you asked general managers around the league which player they would rather have between Trocheck and Horvat, I'm guessing the majority would choose Horvat. Both players have a high skill level, but Horvat's combination of size, speed and skill (6'0, 223 lb.) might be just a tad higher than Trocheck, who stands at 5'10, 182 lb.
Therefore, it would be safe to guess that Horvat could probably command a little more than Trocheck, based on how his season continues. It might not be too long until Horvat becomes a five million dollar man.