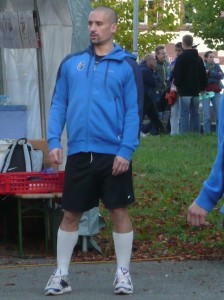 With the NHL officially canceling all games through November 30thand this year's Winter Classic games also nixed, it's getting harder and harder to stay optimistic about a quick end to the lock out. Erik Cole has already stated on the record that he not only believes that the season will be lost, but that the NHL intended that to happen from the outset of negotiations. He has continued to train in the Montreal area, but other Canadiens have traveled the globe to play competitive hockey despite the lockout, for better or for worse.
Here's a breakdown of how some Habs are spending the lockout.
Tomas Plekanec: The dependable center has conveniently found a temporary fit in his hometown of Kladno in the Czech Republic with the Kladno Knights. He is playing on a line with team owner Jaromir Jagr and has been one of the most successful NHLers in Europe. Plekanec has 12 goals and 13 assists in 16 games, tied for fourth in Czech Extraliga scoring, right behind former Hab Radek Bonk. If you're interested on keeping up to date on the Extraliga scoring race (and can read a bit of Czech), you can find the league leaders here.
Andrei Markov: Markov has been playing in the KHL with Vityaz Chekov, one of two Habs playing in Russia (along with Alexei Emelin). The oft-injured defenseman gave Habs fans a bit of a scare recently when news broke that he had suffered another injury and would have to be sidelined. Markov hasn't played since being forced out of a game on October 26th, but has stayed in Russia and should return to action shortly.
Max Pacioretty: Max's European experiment didn't go very well. He played a total of five games for Ambri-Priotta in the Swiss A League and scored just one goal. After that he missed two games with a flu (at least that was the official explanation) and then missed a third as a healthy scratch before requesting to be released. Pacioretty returned to his home in Connecticut on October 16th.
Raphael Diaz, Yannick Weber: Swiss natives Diaz and Weber have also been playing in the Swiss A League, and are enjoying better campaigns than Pacioretty. Diaz rejoined the EV Zug squad he played with for eight seasons before joining the Habs last year and has 3 goals and 13 assists in 17 games. Weber meanwhile has 3 goals and 9 assists in 17 games with Geneve-Servette, but his team is tops in the Swiss League, while Zug is stuck in sixth place. That might change now that Henrik Zetterberg has joined Zug, the team is charging up the standings.
Alexei Emelin: Like Diaz, Emelin has also gone back to his former club. Emelin is spending his lockout days with AK Bars Kazan. Not known for his scoring touch, Emelin has been logging just over 20 minutes a game on average and has one assist in 9 games.
Lars Eller, David Desharnais: Eller and Desharnais are the two most recent Habs to find work overseas during the lockout. Eller just began playing in Finland with JYP Jyvaskyla while Desharnais joins Diaz and Weber in the Swiss Ligue, signing with Fribourg-Gotteron.
PK Subban and Carey Price Stay Busy in Other Ways
European hockey isn't the only way Habs players are keeping busy during the NHL lockout. Price partnered with Ubisoft to help launch the new Assassin's Creed III video game. Ubisoft also designed three goalie masks themed after the game. They will make 31 copies of the most popular design and auction them off for charity. Have a look at Price's trailer for the new game.
Meanwhile, PK Subban is apparently exploring other career paths. PK recently took a stab at the local weather report for Montreal's CTV news. Luckily for Habs fans, it doesn't look like Subban will be quitting his day job anytime soon.