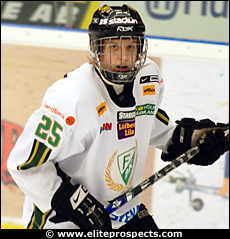 In 2008, Ottawa 67's defenseman, Tyler Cuma, became the final 1st round pick of the Wild's first ever General Manager, Doug Risebrough. Drafted 23rd overall, one draft spot behind Edmonton Oilers All Star forward, Jordan Eberle, Cuma went from potential stud to essential dud after a series of unfortunate injuries and several brilliant picks by the new Wild GM left him in the proverbial dust.
The Wild have drafted a series of gifted young blue-liners since acquiring the 2008 23rd overall pick, nabbing guys like Marco Scandella at 55th overall in the 2nd round of the '08 draft, Minnesota native Nick Leddy at 16th overall in '09 (later traded along with Kim Johnsson to Chicago for Cam Barker), slick-skating Swede Jonas Brodin at 10th overall in '11 and hard-hitting cannon-wielding Mathew Dumba at 7th overall in the most recent draft back in June. During that time, Cuma went from being one of the Wild's very top prospects in a bare cupboard to being a lesser known prospect in an extremely well-stocked cupboard. In addition, Chuck Fletcher has also added some great defensive depth in the mid-later rounds with Nick Seeler, John Draeger and Daniel Gunnarsson and acquired talented young defensemen like Nate Prosser, Jared Spurgeon, Brian Connelly, Steven Kampfer and Chay Genoway in trades or signings.
As anyone can see, Cuma has a lot of competition to say the least and he seems to just keep sliding down the totem pole with each draft. I believe he's up for the challenge, and, with the Wild's number one defensive prospect—Jonas Brodin—out for several weeks with a broken clavicle, Cuma's time is now.
Tyler spent four years (2006-2010) playing for the Ottawa 67's of the Ontario Hockey League and amassed a grand total of 82 points (13+69) and 224 PMs in 195 regular season games while scoring nine (one goal, eight assists) in 21 playoff games. Cuma won gold with Team Canada at the 2008 World Under-18 Championship, posting a goal and three assists in seven games. He had a shot to play for Team Canada at the 2009 World Junior Hockey Championship, but had to drop out due to an injury that occurred just a few weeks before the tournament was set to begin. Cuma, though healthy, was then among the final cuts from the Team Canada roster for the 2010 tournament. Though he didn't play in the WJC, his stats and performance  weren't terrible for a young Canadian major junior defenseman and was indeed good enough to draw the attention of the Minnesota Wild brass.
As an AHL rookie during the '10-'11 season, Cuma put up four points (a goal and three assists), 15 PMs and a -3 plus-minus rating in 31 games with the Houston Aeros, the Minnesota Wild AHL affiliate, before his season was then derailed by yet another injury. Last season was the first full professional season for the 6'2" 192 lb. defender, as he posted nine assists in 73 games along with 48 PMs and a -4 plus-minus rating.
Cuma did get his first taste of NHL action this spring, skating in 11:09 minutes of game time for the Wild against the Chicago Blackhawks while racking up 2 penalty minutes and posting an even plus-minus rating. In his lone cup of coffee with the big club, Cuma looked calm, cool, disciplined, focused and professional, keeping the puck out of the zone and moving it well up the ice. However, it will be impossible for him to steal a spot from veterans Ryan Suter and Tom Gilbert and will still be very tough for him to even challenge the more established youngsters such as Scandella, Spurgeon, Prosser, Falk and Stoner. Even Jonas Brodin will be given every chance to make the team once the NHL season begins, if it ever does.
This year, Tyler is a -5 rating in four games. Obviously, not a great start for a one-time organizational top prospect, though he has managed to stay out of the penalty box thus far this season. The Aeros are a banged-up unit at the moment. Their top defensive pairing is in pieces. Brodin is out and Scandella is battling through a wrist injury, which sure can't help his shot. It's not like Aeros GM Jim Mill can make a call to Red Deer to call up Dumba on short notice. It just doesn't work like that. Kris Fredheim is out for a few more weeks. Kampfer and Connelly will consistently produce but, just like a team can't rely solely on one great offensive line, Houston can't rely on one great defensive pairing.
It's time for Tyler Cuma to rise to the challenge and do what he was drafted to do, lead his defensive corps by example and to victory. If he doesn't, I'm afraid the rest of the Wild's prospects will pass him by and Cuma will have seen his last shot at a full-time NHL career – at least in Minnesota. I still think he can be a solid top two-four NHL defenseman; he just needs to assert himself. The lockout will end eventually and, if Brodin's still out with an injury, Cuma needs to show the Wild management that he's worthy of a roster spot and worth the 1st round pick. Until he does that, Tyler is expendable.