Though the St. Louis Blues are still trying to find their playoff stride with 6 games left in the 2014-15 NHL season, the team has recently welcomed back All-Star defenseman Kevin Shattenkirk to the lineup. He has been the cornerstone to the Blues power play alongside Alexander Steen this season and has been a defensive standout all year, giving him a case to be in the Norris Trophy conversation at the very least, and even a possible finalist.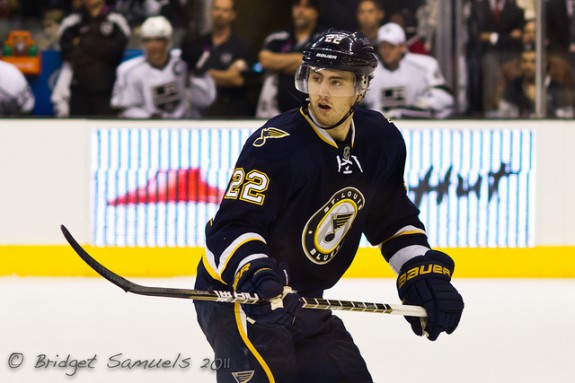 Why Kevin Shattenkirk Deserves the Norris Mention
There's little debating the great Norris Trophy race throughout the first half of this season, between Kevin Shattenkirk and Mark Giordano of the Calgary Flames, but unfortunately injuries sidelined both of their stellar campaigns in 2015. Giordano enjoyed a few more games than Shattenkirk who was injured at the beginning of February (10 GP to be exact), but Giordano went down with a torn bicep in late February and hasn't played since due to corrective surgery. This allowed other perennial Norris candidates such as P.K. Subban, Kris Letang, and Erik Karlsson (even Shea Weber deserves a mention here) to creep up the charts and take over the Norris chatter as of late. However, as we break down the stats it becomes clear that Shatty is still one of the best D-men in the NHL this season, despite his 25 game absence. Here we'll look at how he compares overall, then we'll focus on his stats against these other Norris hopefuls.
Kevin Shattenkirk is currently ranked 21st overall in points among defensemen who have played at least 40 games this season (8 G, 32 A, 40 P, plus-15). He ranks 11th overall in PDO (102.97), which combines your team's shooting percent with your team's save percentage while you're on the ice. That means Shatty helps his team keep the puck out of their net, and helps his team put the puck in the opposing net more than almost any other D-man in the NHL this season. He also still ranks 13th overall in relative scoring chances for (SCF%) at 10.91%, meaning he has contributed to almost 11% of all Blues scoring chances despite his 25 missed games due to that crazy abdominal/groin injury in early Feb.
Shatt Deuces even shares the Blues' team lead with 24 power play points (t-Alexander Steen), which is also t-16th overall in the NHL, and 4th best among all defensemen this year. Lastly, Shattenkirk actually ranks 8th overall in fewest scoring chances against per 60 minutes (SCA/60), which also shows he is that true 2-way defenseman that normally garners many of the Norris Trophy votes each year.
Shattenkirk vs. Norris Contenders
Here's where the conversation gets really interesting. Kevin Shattenkirk is averaging the most points per 60 minutes played among defensemen in the entire league this season (2.07, NOTE: Chad Ruhwedel of Buffalo actually has a 2.11 P/60 rating, but he's only played 2 games all year) and as you see in the chart below, he also leads among true Norris contenders in a number of categories.

As the above chart illustrates, Shattenkirk is not only 1st overall among this elite group in points per 60 minutes played, but is also ranked 1st in PDO, 1st in SCF%, 1st in least SCA/60, and is 3rd in SCF/60 (31.25). If that doesn't scream to league officials to consider him for the Norris Trophy nothing will. Shatty's impressive resume this season doesn't stop there either, as he has the 2nd highest starts in his own zone (ZSO%Rel, @ 21.55 for Shatty) out of anyone on this list, meaning he has to work the puck out of his own zone more than most every other Norris candidate before he gets to work in the offensive zone, and he's still put up these impressive numbers through all of that.
Shattenkirk May not Win Norris, but Should be in Conversation
After the season ends and as the stats above show, Kevin Shattenkirk should be considered for the Norris this year, but he may not be due to his lack of games played from that terrible injury in against the Washington Capitals on February 1st. As the above graph showed, he does have less games played than most other Norris candidates by a good margin, and he may have missed just enough time at such a crucial time of year that league officials could overlook his valiant efforts, but he still among the leaders in so many important categories he should still get some looks.
Norris Trophy ODDS Weber 7/4 Letang 4/1 Doughty 4/1 Keith 5/1 Shattenkirk 6/1 Subban 13/2 Suter 7/1 Karlsson 12/1

— Yahoo Sports NHL (@YahooSportsNHL) March 3, 2015
At the end of the day, that's why he deserves to be considered, because he makes the Blues a better team and has consistently contributed both offensively and defensively on almost every shift throughout his career, and especially throughout this season. Whatever the NHL awards may hold, it will be a minor blip in the rear-view of a Blues squad that looks to make a true statement in this year's playoffs. In order to accomplish that feat they will need every bit of Kevin Shattenkirk's help to overcome their recent woes, and to refocus for the long road ahead.
Like what you've just read? Follow me on Twitter: Follow @pep30