The Los Angeles Kings had an up and down first month of hockey this season, landing in fifth place in the West Division. Compared to the last two seasons for the Kings, this start is not bad. They are not ready to compete for the playoffs yet, but do have some promising young talent. Beyond that, their "young talent" is beginning to materialize in the form of goals. The Kings have new faces carrying some of the workload, which has refreshed their previously lackluster offense.
Honorable Mentions
Jeff Carter could have just as well been the third star on this list. The aging veteran has surpassed expectations early on and contributed offensively – he's managed one goal and five assists through eight games. If Carter can continue to provide scoring support on the second line, the Kings will win games because of it.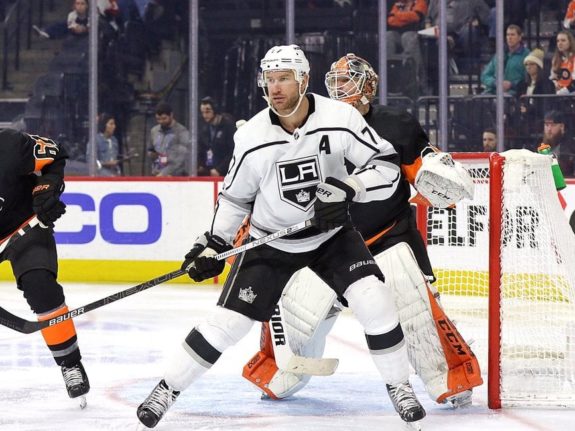 The time has finally come for Gabe Vilardi. The 21-year-old was drafted 11th overall in 2017, and appeared to be a great value pick at the time: Vilardi had originally been ranked much higher coming into the draft. However, he has struggled with injuries over the last few years, limiting how much hockey he could play. This year the Kingston, Ontario native will play his biggest chunk of NHL hockey, and may score a lot of goals, as he already has three in eight games.
Number Three Star: Andreas Athanasiou
Andreas Athanasiou was traded from Detroit to Edmonton at the trade deadline in February 2020. He failed to mesh with the Oilers: he scored two points in nine games in the regular season and zero points in four games in the playoffs.
However, he's had a much better start with the Kings this season. In the month of January, he scored three goals and added two assists in seven games before being removed from the lineup for COVID-19 protocol on Jan. 28.
Analytically, Athanasiou's impact is significant. He ranks second on the team in GAR (Goals Above Replacement), leading all forwards in that category. He's been a sparkplug who can create offense with his speed, as seen by his first two goals against the Wild. He also showed he can absolutely rip it against Colorado.
The 26-year-old seemed to have some chemistry with Carter to start the season. When Athanasiou comes back from COVID-19 protocol, he should regain a spot in the top six.
Number Two Star: Matt Roy
As weird as it is, L.A. might have a new top defenseman in town. Matt Roy has continued where he left off last season, outperforming Drew Doughty defensively through the first month of the 2020-21 season.
Roy ranked first on the Kings in GAR in January. This shouldn't come as a major surprise, as Roy actually led the Kings in GAR in the 2019-20 season. That year Roy finished with a GAR of 12.4, edging out Kopitar who posted an 11.2 GAR in 2019-20.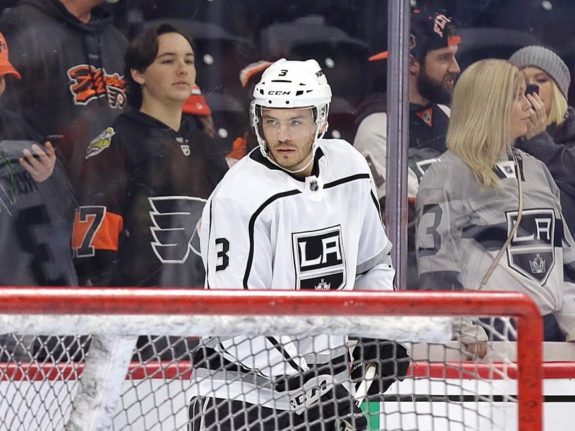 Roy has been steady to start the season, and leads Kings' defenseman in both EVD (Even Strength Defense) and EVO (Even Strength Offense) according to Evolving Hockey.
Doughty has six points to Roy's three, which might lead one to think Doughty has had a bigger impact this season. However, four out of six of Doughty's points have come on the power play, whereas all of Roy's points have been recorded at even strength. Roy is also the only King to have a positive plus-minus on the season.
Related: Matt Roy Is a Very Important Piece of the Kings' Defensive Core
The only area Roy is not dominant in is ice time. The 25-year-old plays just 18:35 a night– nearly 10 minutes less than what Doughty sees each game. Given how well Roy has played to start the season, he deserves more minutes moving forward.
Number One Star: Anze Kopitar
Anze Kopitar had a better month than any other Kings player, hands down. The 33-year-old had one goal and 11 assists for 12 points in eight games played. No other King had more than six points in January.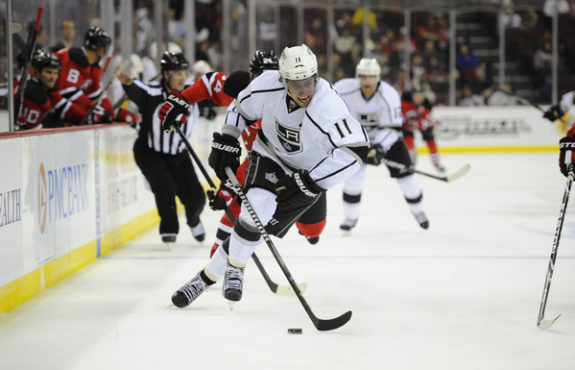 8 of Kopitar's 11 assists were primary, which is telling of his individual impact. He ranks fourth in the NHL in assists, and each of the players above him have two or three more games played. If he stays close to his current pace of 1.5 points per game, Kopitar will be in the mix for leading scorer at the end of the season.
Kopitar Still in the Middle of Everything
The current Kings offense runs through Kopitar. He needs more help, and it's not coming particularly fast. However, the likes of Vilardi, Adrian Kempe, and Arthur Kaliyev are good signs for the future.
Related: LA Kings Monthly: Unexpected Performances But Weak Team Play in January
By the time the Kings get comfortable in their new core, Kopitar may find himself on the outside. However, that's far down the line, and as of right now he is the top dog. What's more, he is the captain. As a veteran who has won Cups before, he is surely teaching the younger guys what it takes. Hopefully, his talent is contagious, because the Kings will need a new batch of superstars soon enough.
---
---
Dante Giugliano is a Sport Analytics Major at Syracuse University, set to graduate in 2022. Giugliano has analytical and coding experience, which he blends into his writing. A hockey player since age 4, Giugliano still plays at Syracuse. He previously worked for Rookie Road as a Senior Content Creator.