Matt Roy was born in Canton, Michigan. The now 25-year-old played youth hockey with Victory Honda before playing juniors with the Indiana Ice of the USHL. He went on to play three seasons of hockey in the NCAA with Michigan Tech. After his first season playing college hockey, the Los Angeles Kings drafted Roy with their seventh-round pick, 194th overall. He made his first AHL appearance with the Ontario Reign in 2016-17, playing his first full season in the league in 2017-18. In the season following, he played 45 games with Ontario and also made his NHL debut, playing 25 games for the Kings.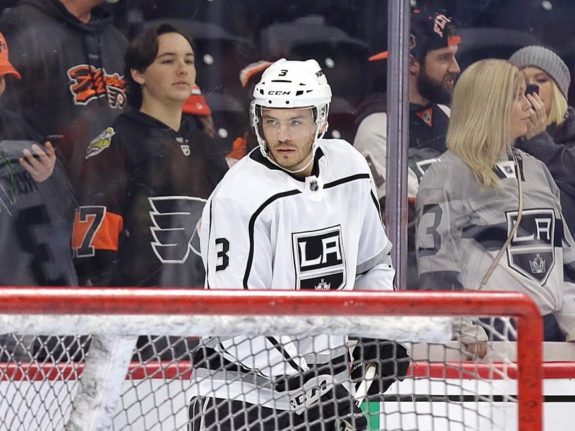 Last season, the 6-foot-1, 205-pound defenseman played his first full NHL season, putting up 18 points in 70 games. Over these 70 games, Roy proved to be an incredible pickup for a seventh-round selection, playing well-rounded hockey. Although he may not have put up a ton of points, you could argue he's one of the Kings' top defensemen. He will have to continue this play, though, if he wants to cement himself as part of the defensive core for the Kings moving forward. The team will soon be coming out of the rebuilding stage, and Roy can certainly be part of the next era of hockey in Los Angeles.
Roy Is a Reliable Player on a Not So Reliable Team
Roy played every game for the Kings in the shortened 70-game season. He continued to produce as a hard-working defenseman every game, proving to be of value. Although he only put up 18 points, it was third amongst Kings' blueliners, and he also had an incredible plus/minus rating. As a team, the Kings finished with a minus-32 on the season, but Roy finished as a plus-16. Even on one of the worst teams in the league, he was able to maintain solid defensive play while still contributing on offense.
Roy was able to achieve this while taking on a demanding load of ice time, finishing with 1,268 minutes. His hits and blocks show that he was playing a tough game for every one of those minutes as well, putting up 100 blocks, which led the team, and 132 hits, third on the team. So he was clearly a workhorse all season long.
Advanced Stats Show Roy as One of the Best Players on the Kings
When looking at the Kings' advanced stats, Roy continuously appears at the top of the roster, but there are a few stats that truly show how good he was last season. He placed number one on the team in defensive point shares (DPS) with 4.5 and fourth on the team in point shares (PS) with 5.2. He was third on the team in terms of Corsi for (CF) with 1,229, and fourth on the team in terms of Corsi for percentage (CF%), finishing the season at 56.1%, ranked second for players playing more than two games. He also finished third on the team in terms of Fenwick for (FF) at 936, and second on the team with a Fenwick for percentage (FF%) of 56.6.
Roy ended the season seventh on the team, with an on-ice save percentage (oiSV%) of 92.1%, ranked third on the team for players playing more than 15 games. He also finished fourth on the team in PDO, with a 100.9 on the season, ranked first on the team for players playing more than 15 games.
All of these areas in which Roy excelled proves how solid he was on defense. He controlled the puck while still stepping up when it came time to play without the puck. This effort was clearly appreciated by many, with Roy winning the Mark Bavis Memorial Award for Best Newcomer, as well as the Outstanding Player Award, Defensive Player Award, and Unsung Hero Award.
Roy Should Get a Bigger Role Moving Forward, but for How Much Longer?
Next season will be a big one for Roy. It will not only determine his role moving forward with the rebuilding Kings but also how much he will get paid. He has one year left on his contract and is getting paid the league minimum of $700,000, which is incredible value for what he brings to the team. If he continues to produce and grow as he has been, Roy can not only secure himself a bigger salary but also a spot to continue with the Kings after they have finished the rebuild, as young prospects will begin to get called up to the team.
With these prospects coming up to the NHL, how long will Roy get to keep his bigger role on the team? In the next couple of seasons, prospects like Mikey Anderson, Tobias Bjornfot, and Kale Clague will start to move up to the NHL. Additionally, the Kings loaded up on defenseman at the 2020 NHL Draft, including Helge Grans, who the Kings took 35th overall. If Roy continues to play like he has, though, he can likely stick around on the Kings, even with these talented players trying to take his spot.
---
---