With the losses of Kyle Okposo, Frans Nielsen and Matt Martin on Friday, the Islanders went out and got leadership and character, signing forwards Andrew Ladd and Jason Chimera. While the jury is out on how these signings will affect the Islanders during the regular season, in EA Sports' "NHL 16" at least, it's apparent the Islanders need another top nine forward for insurance and depth in order to return to the second round of the NHL playoffs.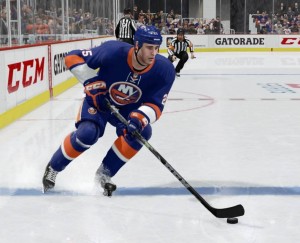 Currently, Ladd is penciled in on the first line with Islanders captain John Tavares and Brock Nelson, which is hard to complain about. The same goes for Chimera with Casey Cizikas and Cal Clutterbuck on the Islanders fourth line. Overall, you have to like the leadership, grit and offensive versatility both Ladd and Chimera provide.
It's the second line of Ryan Strome between Josh Bailey and Anders Lee and the third line of Mikhail Grabovski with Nikolay Kulemin and Shane Prince that leaves plenty of questions that need to be addressed this offseason. If these guys can all perform at the levels they have shown in the past, Grabovski, Strome and Kulemin especially, the Islanders will have plenty of offensive depth. If they do not, it could be a long season in Brooklyn.
For more on how Ladd and Chimera change the chemistry of the Isles in "NHL 16' and further analysis, watch the video below.