Casual Islanders fans don't know who the recently signed Linus Soderstrom is. But they should. While everyone in Isles nation believes Ilya Sorokin may be the team's next star goalie, The Super Swede Soderstrom has the makeup to be a star in the NHL. Even at 20, his resume speaks for itself. His 1.72 GAA and .932 save percentage over the past two seasons is just plain scary.
Linus Soderstrom – This Season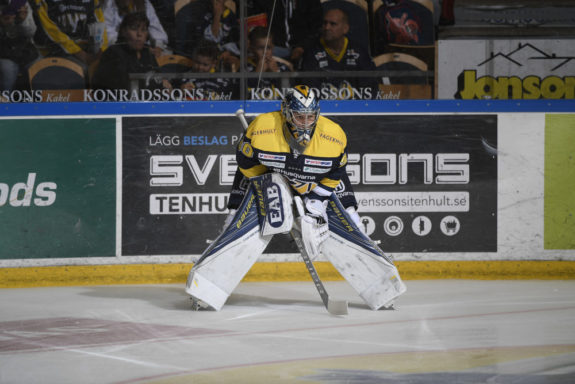 With a combined record of 27-7 in the Swedish Hockey League between the regular season and playoffs last season, Soderstrom was dominant. Just how dominant? His six shutouts tied a league record held by the best regular season goalie in New York Rangers history, Henrik Lundqvist. At 6'4 and just under 200 pounds, he's got the NHL build already and it's just a matter of getting him some reps.
First an Option for Bridgeport
However, with Jaroslav Halak and Thomas Greiss under contract for next season, it's most likely that Soderstrom starts the season in Bridgeport. That would be a huge asset for that team, considering they needed Halak in order to fight for a playoff spot last season. Nothing against the assortment of netminders the Islanders have played, but they've been far from sexy.
Having Soderstrom there gives those fans a top-flight prospect to watch grow. That's what being a minor league hockey fan is all about. As well, it might be to Soderstrom's benefit. With a tougher schedule, given his youth, it would be great to see what he does in the AHL unless an injury forces the Islanders' hand sooner. That wouldn't necessarily be a bad thing either.
Then Pressure on Halak, Greiss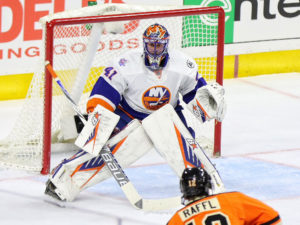 With Sorokin in the wings and Soderstrom officially in the organizational mix, Greiss and Halak must step up. If not, they're gone. At this point, the team can't afford sentimentality. If you're not producing, if you have an attitude, you're gone. Again, with Sorokin and Soderstrom, the Isles have the depth to be a bit more brash with their veteran goaltenders, mainly Halak.
But who knows, if Soderstrom impresses enough, it could allow the Islanders to move Halak and save cap space that can be used to acquire a much-needed top-six forward. The bottom line is it would be nice to see Soderstrom play in a handful of games next season. At 20, he may need a little bit more seasoning, but if anything his SHL stats indicate otherwise.
No More Third Goalie Drama, Please
If the Islanders haven't learned their lesson yet, the franchise is doomed. Soderstrom is a much bigger investment than a waiver pickup like JF Berube. He deserves a real opportunity, one Berube didn't get either. The same goes for Halak and Greiss, who have played exceptionally at times in the blue and orange.
Soderstrom, like Greiss and Halak, needs to be put in a situation to thrive. Bunching the three of them together would create a lethal logjam that would hurt all three. Simply put, from his size and stats alone, Soderstrom is something special. The Islanders can't screw this up.