The results are in, well, sort of. After a rudderless start sans Rickard Rakell and Hampus Lindholm, the Anaheim Ducks are finding their way. A flickering sense of progress is taking hold for the first time, but for a team with Stanley Cup aspirations, that progress had better be far more than a mere flicker.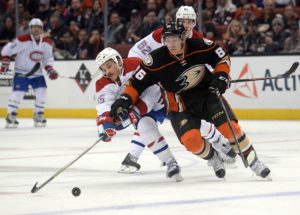 The Ducks now have a real third line. This matters quite a bit, given their train wreck of a fourth line. Ondrej Kase has been a pleasant surprise, while the hulking Nick Ritchie continues to be an excellent puck possession forward. Antoine Vermette has clearly seen better days, but the motivated youngsters seem to have elevated his game as of late. The three have been reliable at even strength, and they're just now starting to produce.
Anaheim's power play has been as reliable as it gets. They were the National Hockey League's best unit last season and they've managed to carry over that same potency into 2016-17. Turns out keeping assistant coaches Paul MacLean and Trent Yawney was a good idea. They've found ways to get quality shots at an impressive rate, leading the league in unblocked shot attempts per 60 with the man advantage. That's elite volume, and there's enough shooting talent behind it to consistently convert. Ryan Kesler has made himself at home in front of the opposing net, notching seven of his 13 goals on the power play.
Room for Improvement
Even strength play has been a much different story. Anaheim hasn't been especially effective at suppressing opposing shot attempts, while not showing much teeth going the other way. Some early season roster shuffling has a part to play in this, but an addiction to clearances along the boards might be the bigger culprit. There's been shoddy coverage around the Ducks' net, an issue that remains largely unresolved.
As costly as those lapses have been, there is some room for optimism. Anaheim ranks ninth overall in scoring chances against per 60, indicating that the magnitude of their blunders might be overshadowing how often they actually happen. That's good news, especially when considering that the Ducks seem to be climbing out of a bad puck possession spell. The reuniting of Hampus Lindholm and Josh Manson as Anaheim's go-to first pairing probably helps: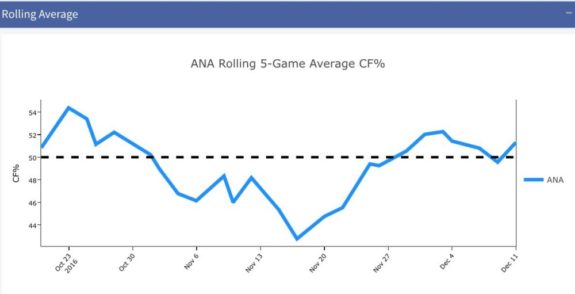 Unequivocally, the biggest question mark surrounding Anaheim going into 2016-17 was how Carlyle's system would affect this team at even strength. The good news: not nearly as badly as his Toronto Maple Leafs. The bad news: it's been a clear step down from the dominance of the Bruce Boudreau-led 2015-16 Ducks. In fairness to Carlyle, he's had much less depth up front to work with. The major pieces are all still there though, especially on the blue line.
The Anaheim Ducks in graphs. (cc: @americanduck8)

This is about as average-y as average gets. pic.twitter.com/CcaCoYRrRX

— Sean Tierney (@ChartingHockey) December 14, 2016
All things considered, being a plainly middling team at even strength could be seen as the best-case scenario on a Carlyle-coached team. As excellent as Boudreau's system was in his final year, it's become largely forgotten that the Ducks weren't exactly possession mavens in the first years of his tenure.
Crease Concerns Cloud Future
Average at even-strength and excellent on the power play, the real concern for Anaheim going forward will be between the pipes. John Gibson has disappointed in his first season as an unquestioned starter. Though blessed with incredible reach and athleticism, he's forced to use those gifts far too often in the absence of a strong positional game. He hasn't been terrible, but a .908 mark in all situations probably wasn't what the organization had in mind when it shipped Frederik Andersen to Toronto over the summer.
Nevertheless, Gibson is just 23, and if we know anything about goaltenders, it's that their development curve skews more to the late 20's for their primes. The issues in his game seem correctable, yet it's troubling how he seems to lack a strong foundation this far into his development. His play this season leaves one to wonder to what degree his strong numbers last year were a product of the strong team in front of him.
Not Quite Enough
This much is certain: Anaheim is a competitive club. Their elite power play should continue to be a strength for them, and they'll need it to be in the absence of a truly dominant even strength game or competent goaltending. They'll be even thornier should Gibson find any sort of footing.
Unfortunately for the Ducks, five on five is where the majority of the game is played, and what usually dictates a team's long term success, especially without strong goaltending to buttress it. They're a good enough team to battle through the Pacific Division (make of that what you will), but they'll need to elevate their game to another level should they hope to fulfill those Cup aspirations. Don't rule it out, but don't hold your breath either.