For the second time this season, the Toronto Maple Leafs have a song dedicated to the franchise. The first was strictly celebrating the early career success of young Auston Matthews, while this one is focused on a team that surprised a number of people in the hockey world by making the playoffs in just their second season after stating they were in full rebuild mode.
But it gets better. All proceeds raised by this particular anthem will be donated to the Maple Leafs Sports and Entertainment (MLSE) Foundation.
Happy to announce that every time you stream the song, you'll be helping an amazing cause! @MLSEFoundation @MapleLeafs #TMLtalk #Toronto pic.twitter.com/VdjKHYJtqs

— Azeem Haq (@azeemhaqmusic) March 28, 2017
Let's Hear the New Maple Leafs Anthem
So what do you need to know about this song aside from the good that it will be doing for the foundation?
This Go Leafs Go anthem has already been featured throughout the media. From Bardown to City TV and even Daily Hive Toronto has picked it up. At the time of this article, it's received over 20,000 views on YouTube and even more than 30,000 on Facebook.
Are you intrigued yet?
The song is by Azeem Haq and it features Dudsymil and the chants of Leafs Nation. If you're a fan of the club and looking to get pumped up for postseason hockey, this should be playing every day throughout the playoffs.
Haq has released sports-related content in the past – including a number of Raptors anthems every time the city's basketball club makes the NBA postseason.
So with that, let's take a listen to what Haq has put together for Leafs Nation.
Haq, Leafs Pumped and Ready
If you're not already psyched that the Maple Leafs are in the playoffs, that tune should definitely get you going. After all, it's been 13 years since the Leafs last made the playoffs in a full regular season schedule.
That being said, even with a young club, the Leafs do have some postseason experience and it starts with their coach, Mike Babcock. He's coached 144 NHL playoff games with a record of 82-62 over that span. He's made three trips to the Stanley Cup Finals winning the Cup in 2007-08 with the Detroit Red Wings.
From there, the playoff experience is sparse, but there are a few players who've been there before. Frederik Andersen has seen some postseason action and so has Tyler Bozak, James van Riemsdyk and Nazem Kadri among others. While the Leafs will rely on those who've been there before, they will also need the young guns who've led them all season to step up if they have any hope of extending their playoff run past the first round and the Washington Capitals.
A Look at the Leafs, Capitals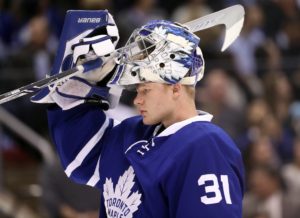 Clear underdogs heading into their first-round series, the Leafs will be in tough against the Caps. While some have given them no chance at all, the season series tells a story of two teams closer than they're given credit for.
In three games this season, the Leafs went 1-1-1 and were only outscored 12-10. Sure, the Caps have an offence that is unlike many others – with the likes of Alex Ovechkin, Nicklas Backstrom and Evgeny Kuznetsov. Led by Braden Holtby in net, the Leafs could have a hard time putting the puck into the net. That being said, don't count the Leafs out of this series completely.
Heck, even if they don't get much done in the playoffs, at least you've got Haq's tune to get you going pre-game, on off days and over the offseason.
After you give this song a listen, for Haq and the MLSE Foundation, share it with all of your friends who are a part of Leafs Nation.