The Pittsburgh Penguins are about to receive their reward for a fantastic regular season — one that saw them overcome a multitude of injury issues and adversity — on their way to a 50-21-11 record and 111 points (2nd in the NHL). That reward, well,  is a matchup against the Columbus Blue Jackets, who finished just three points behind Pittsburgh and is arguably the most physical team they'll face.
Yes, that's the nature of the NHL's current playoff format.
The Blue Jackets are entering the playoffs as a team with plenty to prove. Since their expansion season in 2000-01, Columbus has only made the postseason twice and their most recent bid in 2013-14 was ended quickly when Pittsburgh eliminated them in the first round. It took six games to send the Blue Jackets packing that year and many expect at least that many, if not a full seven, to end their 2016-17 campaign.
Or, considering how Columbus ended their season — going just 3-5-2 in their last 10 and boasting a six-game losing streak at one point — maybe the Penguins can jump on them at a time when they're potentially a vulnerable team.
It's a Toss-Up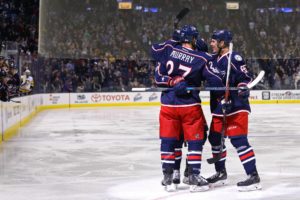 Columbus is a team that relies heavily on a fierce forecheck, which generates an immense amount of pressure on opposing defensemen and ultimately leads to near dominance in puck possession. They'll hem a team in their own end and continue to pound them until it leads to scoring chances. Unfortunately for them, the wheels seemed to fall off as they neared the conclusion of the regular season and they struggled mightily with everything that makes them so dangerous.
It led to a void of offense — evident in the fact they scored two or less goals in eight of their final 11 games — and a ton of pressure on Sergei Bobrovsky in goal. That can't continue against the Penguins, or this series will be a quick one. Hence why I recently told Tab Douglas on 93.7 The Fan that I expect it to go six, but wouldn't be surprised if Pittsburgh wrapped it up in five.
In saying that, it's impossible to dismiss the urgency and intensity Columbus finds when playing against the Penguins. A sibling rivalry of sorts, and the Blue Jackets are tired of their older sib winning and attracting so much attention. They finally have a chance to beat Pittsburgh when it matters most, so it isn't wise to completely count them out just yet.
This series will come down to how well the Penguins can 'just play', their mantra since Mike Sullivan took over as bench boss. They'll need to force Columbus to chase the play, just as they did in their most recent matchup.
Notice the high number of hits, as well as the fact that Columbus started only 48-percent of their shifts in the offensive zone. They were chasing the puck for most of the game, Pittsburgh played through the physicality in what was a playoff type atmosphere and ultimately, buried the Blue Jackets by a score of 4-1. That contest is a perfect example of how you 'just play'. And it's the recipe for Pittsburgh's success.
Key Factors
Despite their impressive record, the Blue Jackets were wildly inconsistent in a lot of ways. One player, though, remained consistent and carried them during most of their struggles and that individual is Bobrovsky — an absolute beast between the pipes all year. If Columbus pulls off a series victory, it'll be due to their goaltender stealing a few games.
Bobrovsky displayed his ability to be a game changer when these two contestants met on February 17, at Nationwide Arena in Columbus. He stopped 38 of 39 shots in what ended in a 2-1 Blue Jackets victory. Plenty of folks around the league consider him a liability in the playoffs due to his inability to perform in that situation so far but his 13-game sample isn't nearly large enough to draw that conclusion.
He can be a difference maker in this series but keep in mind, Pittsburgh's Matt Murray has been pretty stellar versus the Blue Jackets as well.
We're just minutes from the @penguins morning skate. Get ready for tonight's #Pens–@BlueJacketsNHL Game 1 with our Digital Preview pic.twitter.com/khxhXRUnL5

— Penguins PR (@PenguinsPR) April 12, 2017
For Pittsburgh, their defensive pairing of Olli Maatta and Trevor Daley will have a major impact on this series, and that could be good or bad. Both individuals struggled for much of the season but started playing their best hockey just prior to getting injured in February. Now, they're playing alongside each other when the stakes are at their highest. Can Pittsburgh rely on them?
Kris Letang's absence means the Penguins have little choice. They can turn to 39-year old Mark Streit if that pairing struggles and Chad Ruhwedel should return from injury at some point during this series but if you're Pittsburgh, you want Maatta and Daley to succeed. It's crucial if they plan on making a long postseason run again.
Let's get this thing started, shall we?