Out of all the positions we have looked at in this series, the center position just might have the most intrigue of them all for the Toronto Maple Leafs The Leafs have have had their goalies, defense, left wingers and right wingers have already been looked at so now it's time to to look at one of the most important positions on an NHL team. The thing is that the Leafs have so many players who are listed as centers on their website that some of them are playing on the wing on most nights.
Now, we all know that the Leafs are going to be quite busy around the Trade Deadline. While the right wing position only had players that are on expiring contracts, the Leafs have centers that might be more enticing. Therefore, the Leafs might get more of a return if they ship out a few of these players. The question is whether or not the struggling Canadian Dollar in their way.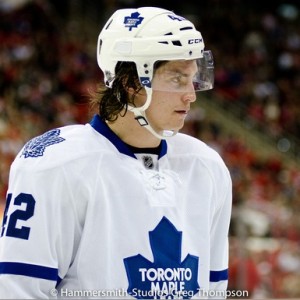 Tyler Bozak
Stats: 44 Games Played, 9 Goals, 20 Assists, 29 Points, +1, 16 Penalty Minutes
Like I said in the defenseman piece about Dion Phaneuf, Bozak is performing very well under Mike Babcock. A lot of us were worried that Bozak wouldn't be able to produce as much without Phil Kessel. Now here we are at the All-Star Break and Bozak has only two points less than Kessel. The problem is that even though his play has probably raised his trade value, the Canadian Dollar's impact on the salary cap might scare teams away from players with term.
With Bozak having two more seasons remaining on his deal at a cap hit of $4.2 million, the  Maple Leafs will probably have to wait until the off-season or maybe even next year's Trade Deadline to trade him.
Byron Froese
Stats: 38 Games Played, 1 Goal, 3 Assists, 4 Points, -11, 12 Penalty Minutes
He won't be traded, but even though his plus/minus stat looks bad, you have to admire his work ethic. Two years ago, he was playing in the ECHL. His play was good enough to get him a contract with the Toronto Marlies. His play last season and early this year with the Marlies earned him a deal with the Maple Leafs. He was called up and hasn't been sent back down since.
Peter Holland
Stats: 43 Games Played, 7 Goals, 13 Assists, 20 Points, -9, 20 Penalty Minutes
Another player who has played better under Mike Babcock, it took Holland a bit longer to get the message. After being a healthy scratch a few times in the early part of the season, he picked up his play and has established himself as the third line center. Likely won't be dealt, but he could have a bigger role if others are traded.
Nazem Kadri
Stats: 48 Games Played, 10 Goals, 16 Assists, 26 Points, Even, 41 Penalty Minutes
Now this in the quite possibly the most intriguing situation facing the Maple Leafs at the Deadline. Kadri has been living off of short contract after short contract. It's time to make a decision on the future of Kadri. If the Leafs aren't going to sign Kadri to a long-term deal, then they should at seeing at what they can get for him. Maybe it doesn't happen at the Deadline, but it could happen in the offseason.
Let's face it, if the Maple Leafs think that both William Nylander and Mitch Marner will be playing center for them, where does Kadri play?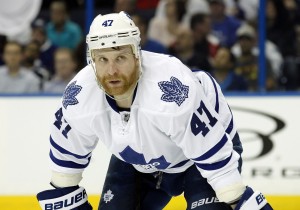 Leo Komarov
Stats: 48 Games Played, 16 Goals, 15 Assists, 31 Points, +5, 22 Penalty Minutes
The question shouldn't be whether or not the Leafs will trade Komarov. It should be: What would happen if they did? No player has has been more of an example of what Mike Babcock wants the Maple Leafs to become. Sure, the Leafs might be able to get a second, or even a first-round pick in return for him, but it might not be worth it. Komarov is becoming the heart and soul of the Leafs team and he should not be dealt.
Shawn Matthias
Stats: 47 Games Played, 4 Goals, 10 Assists, 14 Points, -6, 10 Penalty Minutes
Matthias is getting the first chance at filling in for James van Riemsdyk on the first line. This is obviously a thinly-veiled attempt to see if he can raise his trade value. Whether it works or not remains to be seen. He will likely be dealt if he can pick up his offense after the break.
Nick Spaling
Stats: 26 Games Played, 0 Goals, 4 Assists, 4 Points, -4, 12 Penalty Minutes
Another player with an expiring contract, Spaling just returned from an injury that had him miss pretty much half the season so far. Before the injury, he was one of Babcock's more trusted players and that probably won't change as he get's back into the swing of things. As such, he probably won't be dealt.
Daniel Winnik
Stats: 44 Games Played, 3 Goals, 8 Assists, 11 Points, -2, 10 Penalty Minutes
At last year's Trade Deadline, the Maple Leafs got a second and fourth-round pick from the Pittsburgh Penguins in exchange for Winnik. Back in Toronto, the Leafs won't be getting that kind of return again this year. Maybe just a fourth-round pick this time. Winnik has one more year remaining on his contract and is one of the players James Mirtle listed the Leafs shopping around the NHL.
What will the Maple Leafs center position look like after February 29th? Who do you think will be dealt?
Toronto Maple Leafs Writer At The Hockey Writers.