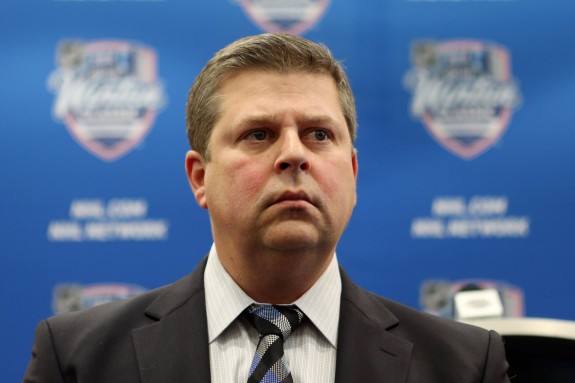 It's been another season to forget for the Toronto Maple Leafs. While it may seem like this team will never find their way again in the NHL, there is reason to believe the Maple Leafs can improve during the summer of 2014. And it all begins with missing the playoffs.
One of my Twitter followers posed this questions to me on Sunday afternoon:
@LukasHardonk what are leafs options to improve this summer ? Draft, free agents and trades what would you do?

— Jeff (@jeff_922) March 30, 2014
It's a question that may sound difficult to answer given the Leafs' second consecutive season-ending collapse, albeit of different proportions, but one that was actually extremely easy to answer.
This revealed one thing: The Maple Leafs can improve this summer. It may be easier said than done, but it's possible — more possible that people are making it sound.
Randy Carlyle (and others) must go
Let's start with the obvious one. I'm not the type to jump on a coach very quickly; in fact, I often have more sympathy for the coach than the players. After all, the players are the ones who are relied on get the job done when everything comes down to winning.
But the Maple Leafs' situation is a little bit different. As noted in a previous article, the coaching staff — and others — have succeeded time and time again to rip the confidence out of players. No player is a better example of this than goalie James Reimer, who hasn't been able to find traction in his on-ice play all season.
Despite the fact that people as high up as, well, just about as high as you can get, have been speaking with the players, it is the coaching staff that has the greatest day-to-day impact in terms of player-organization communication. Further, it is the systems implemented by the head coach and his assistants that the players must abide by on and, in most cases, off the ice.
It's time for fresh faces behind the bench, even assistant coaches. Randy Carlyle's ideas have created a stigma in Toronto. If the stump goes, the roots must also.
It's time for a modern coach; a player's coach; a coach who can really convey his message and get everyone to buy into it; a coach who can not only get the team to the playoffs, but keep them there. Who that coach might be, no one knows. But what we do know is that it's time for a fresh face, not an old-school one, and assistants who can help reshape the Maple Leafs' style of play.
Added stability on defence
Let's quickly take a look at the Maple Leafs' defensive depth chart:
Gunnarsson – Phaneuf
Franson – Gardiner
Rielly – Gleason
Ranger
There is no real 'force' on the Leafs' back-end. Dion Phaneuf is widely considered a top defender in the NHL, but even that is put into consideration by more than a handful of critics.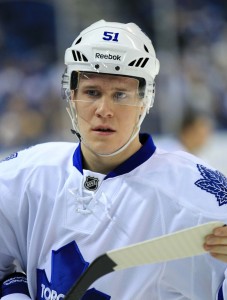 Under Ron Wilson, Jake Gardiner was dynamite, or at least as dynamite as a rookie could be. His skating was outstanding, ability to calmly escape tough situations uncanny and overall hockey smarts unparalleled for a defenceman of his age. Things haven't quite gone the same way while playing for Randy Carlyle. That's a big problem, but not the biggest; he isn't the only one.
One reason Phaneuf is forced to take so much heat is because his ice time is through the roof. Not because more playing time gives a player more chances to mess up, but rather because Phaneuf, who averages almost three full minutes more of ice time per game than the team's next guy, is overplayed and overworked. This is no surprise given that so much of the Toronto defence corps has struggled while playing for Carlyle, forcing the Leaf coach to overuse his captain.
Maybe you're starting to see what this all comes down to: poor coaching. The last thing you need is for your players to be held back, especially with a young up-and-comer like Morgan Rielly.
If, for some reason, GM Dave Nonis keeps Carlyle around for 2014-15, there is a possibility the Maple Leafs can improve another way on defence: by acquiring one or two stay-at-home, top-six defenders. Not a Paul Ranger, not a Mark Fraser — a player who would regularly participate and perform well on a nightly basis.
There is some good news here as there are likely to be options in both the trade and free agent markets. Furthermore, the Leafs will benefit from roughly $2.5 million in added cap space as the contracts of Darcy Tucker and Colby Armstrong, who were bought out in 2008 and 2012 respectively, will be coming off the books as will the small amount of the retained salaries of Ben Scrivens and Matt Frattin.
But still, one must be concerned about players being held back from reaching their full potential — young or old, new or franchise face. It can happen to anyone and, right now, the people holding them back are the coaches.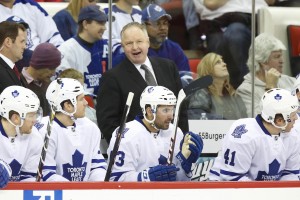 One more thing…
If one thing has become clear in the NHL, the right coach must be found for the roster; the right roster cannot be found of the coach. For the Maple Leafs in particular, doing exactly this resulted in overspending on David Clarkson while cutting ties with Mikhail Grabovski.
So what must the Maple Leafs do? Not rush into hiring a new coach. It is imperative for Dave Nonis to shape the roster he wants. Once that is completed, and only once that is completed should he begin to search for the right coach.
What does this mean? It's time for Tim Leiweke to show Leaf fans what he can do with his power — make it clear to Nonis that it is time to stop spending the team's money on what the coach wants. The general manager is hired to be the general manager, not to listen to the coach.
Could Randy Carlyle coach an NHL team to success like he did with the Anaheim Ducks? Possibly, but letting him go is the only way the Maple Leafs can improve, or at least begin to improve, this summer.
Twitter: @LukasHardonk | Email: lukas.hardonk@gmail.com | Lukas' archive