On November 30, 2013 the University of North Dakota Hockey team had a record of 4-7-2, they were going nowhere fast. North Dakota was having a heck of a time winning hockey games and it looked like the season might get away from them, if they didn't do something fast. At the time, going to the Frozen Four didn't really seem like a possibility for this team. Qualifying for a National Collegiate Hockey Conference home series seemed out of reach.
After a 5-2 loss to the St. Lawrence Saints, the coaches and players didn't like what they saw. The leaders on the team held a closed door "players' only" meeting. During this meeting, the players aired their differences.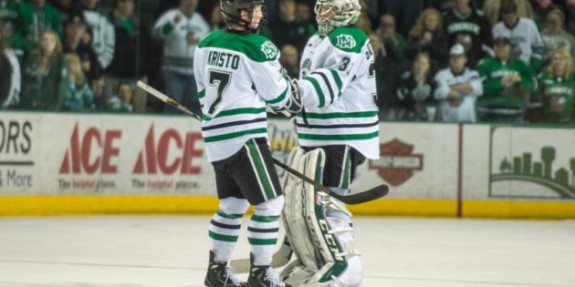 Since the "players only" meeting, UND has been one of the best teams in the nation, compiling a 21-6-1 (.767) record. Ironically, the top four winning percentages in the nation since November 30, 2013, are Union, Boston College, North Dakota and Minnesota, the Frozen Four field.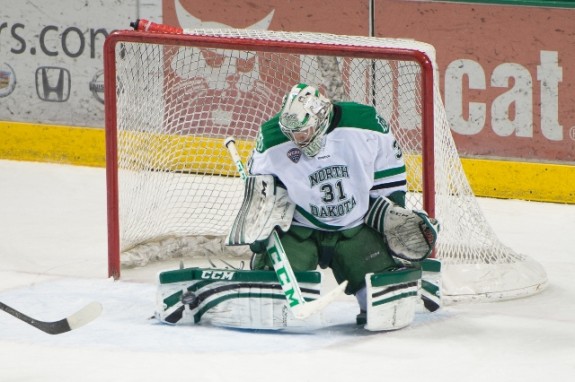 December starts impressive streak for Gothberg
Part of the reason for UND's resurgence has been the play of sophomore goalie Zane Gothberg. Like his teammates, Gothberg started the season slow and had a 2-5-2 record on November 30, 2013.
During the month of December, Gothberg turned things around. The sophomore goalie would win seven consecutive starts. By the end of the Midwest Regional Championship, Gothberg had compiled a 20-9-3 (.672) record.
After the slow start, Gothberg and his teammates started playing better. The wins started coming, UND started moving up in the standings and the pairwise rankings. Since the early season stumble, Gothberg has gone 18-4-1, he has a 1.71 goals against average, and a .934 save percentage. It's not a coincidence that UND's fortunes are connected to Gothberg's play.
Improved play vaults Gothberg's statistics
Gothberg's improvement on the ice vaulted him to the top of the NCHC in goal tending statistics. The sophomore goaltender ended up winning the goals against title with a 2.06 GAA. Nationally, Gothberg is ranked sixth in the nation with a 1.99 goals against average. He's ranked 14th for save percentage (.926) and ranked 10th in winning percentage.  During the NCAA playoffs, he's been even better. The sophomore goalie has a 2-0 record with a 1.26 goals against average and a .957 save percentage.
Gothberg stands his ground
Over the years, UND has been on the other side of the hot goaltender. During the 2011 Frozen Four, UND outshot the Michigan Wolverines 40-20, but still ended up losing the game 2-0. Wolverine's goalie Shawn Hunwick was nothing short of amazing that day.
This time, the shoe was on the other foot. During the Midwest Regional final, Ferris State heavily outshot UND 45-26, and Gothberg stood his ground, stopping 44-of-45 shots to secure the Midwest Regional Championship. UND head coach Dave Hakstol was asked what it was like to be on the other end of the hot goalie for a change.
"We have been on different sides of that, from time-to-time," Hakstol said. "On Saturday night, I thought that Zane did a good job for his teammates. He did his job. That's what you have to do when you're part of a team. I don't think Zane did anything more spectacular than anybody in our looker room.  He gave us a chance to win on Saturday night, we were able to take advantage of that and move forward."
Senior defenseman Dillon Simpson echoed the head coach's sentiments.
"He was tremendous for us," Simpson said. "I know after the first goal he definitely wanted it back. We had all of the confidence in the world in him. He built a wall back there. That's exactly what he did. He's been a big part of our team all year – big part of our stretch run. Can't say nothing, but good things about him.  He's had a positive attitude all year. He's worked hard all year and he's won some big games for us."
The UND hockey team faced their share of adversity during the season, and they have a chance to finish the season on top of college hockey world. Sophomore goalie Zane Gothberg will play a big part in where this team finishes. 
Eric is a 1996, 1999 graduate of the University of North Dakota. Eric covers the University of North Dakota Hockey and Division I college hockey. Eric is the Contributing Editor for Inside Hockey.