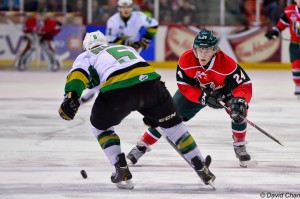 It's expected to be one of the deeper draft years for NHL franchises with good up-and-comers well into the second round. With that in mind, it's time to start looking at who the Toronto Maple Leafs should target with their eighth overall pick in this year's entry draft.
Certainly there's no question surrounding three of this year's top picks – with Sam Bennett, Aaron Ekblad, and Sam Reinhart expected to go (at worst) in the top five selections. But past that, it's fair game with most of this year's prospects having proven their skill sets throughout their respective leagues.
The 2014 draft marks the first time the Maple Leafs will have a top-10 selection since they selected Morgan Rielly with the fifth pick overall in the 2012 draft. After a disappointing season for the blue and white, all eyes will surely be on the management team to see what direction they're interested in heading.
Enter Nikolaj Ehlers
Halifax Mooseheads left winger Nikolaj Ehlers – ranked 13th among North American skaters by NHL Central Scouting – is definitely a potential target for Dave Nonis and his Maple Leafs. His offensive ability is something he had no trouble expressing in 2013-14 with the QMJHL's Mooseheads.
"Sky is limit" for #nhldraft2014 prospect Nikolaj Ehlers. VIDEO –http://t.co/9L1rGs7P4o #dashingdane #qmjhl #mooseheads

— John Moore (@rinkrant) June 19, 2014
In 63 regular season games, the Danish forward recorded 49 goals and 55 assists while posting a plus-65 rating. His efforts landed his Mooseheads first place in the TELUS Maritimes division and helped fans forget about the gapping hole in their lineup that once was Nathan MacKinnon.
Ehlers impressed once again in the QMJHL playoffs recording 28 points (11g-17a) in 16 games, pushing Halifax to the third round where they would eventually lose to Val-D'Or. His QMJHL rookie success got his named engraved on multiple league awards, including Rookie of the Year, Offensive Rookie of the Year, and Best Professional Prospect. But his winning doesn't stop there.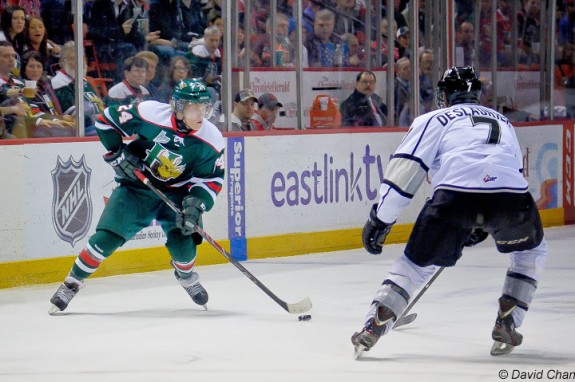 His unquestionable hockey instincts have made Denmark's U-20 team an interesting underdog. During the 2014 World Junior Championship (Division 1, Group A), Ehlers' team finished undefeated – winning gold. Ehlers finished with six points (2g-4a) in just five games and a plus-six rating.
A Maple Leafs Target?
Now aside from his winning ways, many people are going to question why he would make a good fit for the Toronto Maple Leafs. After all, it won't be size. Ehlers stands at roughly 5-feet 10-inches and only hovers around the 175-pound mark. So what makes him a good fit for the Toronto Maple Leafs?
Offence
For one, his offensive ability is something that the Leafs could certainly use. Let's not forget that down the stretch, not only did the blue and white have trouble in their own end, but their star scorers couldn't seem to find the back of the net.
Nikolaj Ehlers' speedy play making would fit with the @MapleLeafs system, but adding defensive depth a big priority. #TMLtalk #draft2014

— Aly Munro (@AlyMunro) June 17, 2014
Hence, the need for someone who's got all kinds of offensive skills. Even if the Leafs can find their way out of the league basement, in terms of shots against, they need some kind of help up front. Ehlers has proved throughout his junior career that he can both set up his teammates as well as bury the puck when the opportunity presents itself.
Speed
The NHL has isn't just about the big, pushy forwards anymore. In fact, during the last lockout, Ehlers had the chance to workout alongside two of the best smaller forwards in the game today in Tyler Seguin and Patrick Kane.
While the Leafs do have speed up front in the legs of Phil Kessel and James van Riemsdyk, it doesn't hurt to have an extra speedster that can out skate opponents. Not only does Ehlers' speed offer a threat up the middle, but he's said to have the quickness to be defensemen along the outside as well.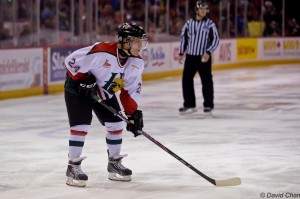 Mix his speed with his ability to handle the puck and Ehlers could be a perfect pick for a team slightly lacking in speed up front. Add to that his explosive wrister and the Leafs have quite the decision to make heading into this years draft.
Two-Way Player
Finally, let's not forget Toronto's struggles defensively in 2013-14. While the addition of Ehlers certainly wouldn't solve the problem, having a player who can go plus-65 in his rookie season in junior is something to consider for a team that has struggled in that area the past few seasons.
Again, his speed definitely plays a role in his ability to backcheck. For a team that allowed nearly 36 shots against per game in 2013-14, having a defensive forward with offensive explosiveness would be a privilege for a team like the Maple Leafs.
Who is Ehlers?
In his prospect profile, THW's Shawn Reznik says in size and skill level, Ehlers is comparable to NHL players Patrick Kane and Phil Kessel – adding that Ehlers is his favourite forward heading into the 2014 Entry Draft.
The sense I get is Leafs would love to get winger Nikolaj Ehlers from Halifax in draft but don't think he'll be available with the 8th pick

— steve simmons (@simmonssteve) June 11, 2014
Dan Marr, the Director of NHL Central Scouting, said of Ehlers, "The big question was how he would handle the durability of playing in the QMJHL and playing more games. But he's proven to be a skilled forward who can work some magic with Jonathan Drouin. He's got that quickness where he can separate from a check and get to the net. He's got soft hands and passes with authority, is a clever playmaker and very unselfish."
While Marr praised the forward's skill level, The Hockey News' Ryan Kennedy shared his thoughts on the young Danish prospect: "An incredibly skilled forward, Ehlers makes plays at high speeds and doesn't mind going to the tough areas in order to score. Scouts see him as an excellent complementary player and have even hesitantly brought up teammate Jonathan Drouin as a comparable, as lofty as that sounds."
While he's not currently ranked as one of the top eight picks, don't be surprised if Ehlers finds his way into the early part of the first round. He's certainly a favourable pick for the Maple Leafs who – if developed right – would certainly reap the benefits of this offensive speedster.
For more follow Andrew on Twitter @AndrewGForbes or his column at @Tape2TapeTHW.