The Toronto Maple Leafs have announced that general manager Lou Lamoriello would not be returning to the team for the 2018-19 season as general manager.
Lamoriello was hired to fulfill the role three years ago with the knowledge that he would be transitioned to an advisory role in the following four years in what was then intended to properly build the organization back to a contender from top to bottom.
.@MapleLeafs announce Lamoriello will not return as General Manager.

📰: https://t.co/5JcFJCCnn1#TMLtalk pic.twitter.com/wltwn1gLKD

— Toronto Maple Leafs (@MapleLeafs) April 30, 2018
Hiring Lamoriello for that transition role made a lot of sense for the Maple Leafs who were a team looking for major changes to their team's makeup, culture and success. In hiring Lamoriello, they were hiring one of the longest-tenured people in all of professional sports as he had spent the previous 28 years (1987-2015) as the general manager and President of Hockey Operations in New Jersey.
His time with the Devils was successful as well as his team's qualified for five Stanley Cups, winning three in 1995, 2000 and 2003. His work earned him an induction into the Hockey Hall of Fame in 2009 under the builders category. He was later inducted into the United States Hockey Hall of Fame in 2012.
Brendan Shanahan's Statement on Lamoriello
On the Toronto Maple Leafs official website, Maple Leafs President and Alternate Governor Brendan Shanahan released a statement on the situation.
"Three years ago, Lou and I agreed on a contract that would see him serve as General Manager of the Maple Leafs for three years and then transition to Senior Advisor for the following four years," Shanahan said. "This morning I informed Lou that I was not going to deviate from that course of action. I will now focus all of my attention towards making a decision regarding our next general manager."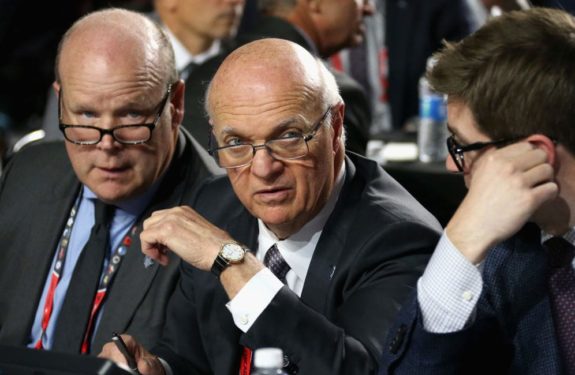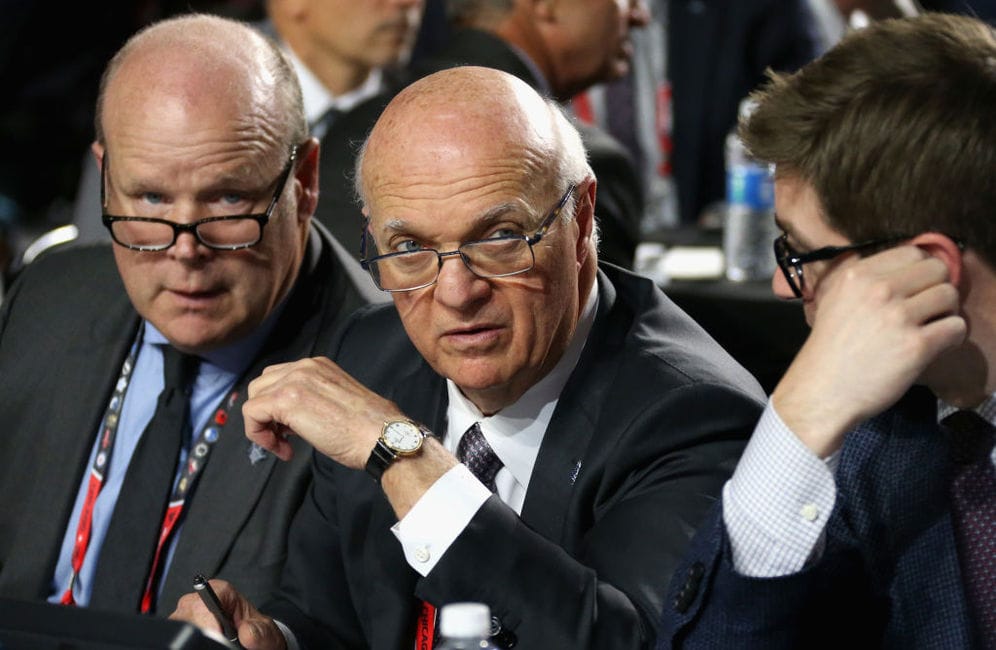 In Shanahan's statement, he would go on to thank Lamoriello for the work he put into the Maple Leafs in his time as general manager.
"I would like to take this opportunity to thank Lou for his tireless work over the last three years as general manager. His leadership in helping establish a cultural foundation, as well as his invaluable mentorship to everyone in this organization, has been instrumental in our development."
Maple Leafs Next General Manager?
The two most likely candidates to replace Lamoriello in his role as general manager would be Kyle Dubas and Mark Hunter, both currently working in co-assistant general manager roles with the club.
Hunter has experience in coaching and as an executive outside of the NHL as well. He spent time with the Sarnia Sting as a coach in 1994-95 and for the entire 1995-96 season. Hunter would then be hired by the St John's Maple Leafs in 1996-97 to be their head coach before he'd return to the Sting in 1997-98. Eventually, Hunter and his brother (Dale Hunter) would buy the London Knights.
With the Knights, Mark would serve as an assistant coach and general manager while Dale served as the team's head coach until 2011 when Dale left to become the coach of the Washington Capitals – a move that would shift Hunter into the head coaching role in London.
Dubas also has experience outside of the NHL as an executive as he was hired at the age of 25 to be the general manager of the Sault Ste. Marie Greyhounds following his time as a scout with the team. His specialization in player evaluation and proficiency in statistical analysis have been calling cards for him over the years and he could find himself in a new role on the team if the Maple Leafs determine he's the best person for the job.