With the offseason upon us and a new general manager at the helm, the questions surrounding the Toronto Maple Leafs are aplenty. From what Kyle Dubas will do to better the team to what the next contract looks like for William Nylander, the Leafs and their fans will be looking for some answers this offseason.
With that, the Maple Leafs Round Table convened with the help of David Petrie and Geoff Arbuckle to discuss where the Leafs are at with Nylander and what we should expect for his upcoming contract negotiations.
Based on his season and his production in the playoffs, what do the Maple Leafs do with William Nylander? What does his next contract look like?
Forbes: One Realistic Option
Consider this. Nylander is just one of a number of contracts the Maple Leafs will have to sign in the next few years. It's a list that includes Auston Matthews, Mitch Marner, Kasperi Kapanen and Josh Leivo who will all be restricted free agents (RFAs) following the 2018-19 season. Jake Gardiner will be an unrestricted free agent after 2018-19 and Connor Brown will be an RFA following the 2019-20 season. Add to that any other player the Leafs would like to bring into the organization and they've got some decisions to make.
With that in mind, the team now has to consider what Nylander has done for the organization and if he's plateaued or has more in the tank. What will he bring to the Maple Leafs in the coming years? And what is their cap situation moving forward.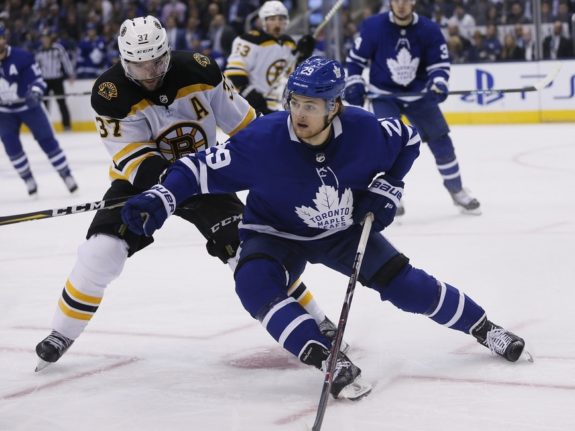 In his first two full seasons in the NHL, Nylander has posted back-to-back 61-point seasons. He set a career-high in goals in 2016-17 with 22 and set a career-high in assists in 2017-18 with 41. Still, it's his consistency of play that bothers some.
The fact is, he's highly talented and gels well with Matthews as they've played together for the majority of the past two years. But at just 22, have the Leafs seen all that Nylander has to offer?
As both Petrie and Arbuckle will discuss, the team does have options when it comes to the young Swedish forward. They can lock him up long term and hope that he lives up to the money. They can hand him a bridge type contract which could set him up if he can excel over the next couple years. Or, the less likely option, they can find a way to use him in a trade to get a legitimate stud defenceman.
While Dubas recently came out and said he likes where the organization's defence is at, the likelihood of Nylander being part of some kind of deal is slim. So what do the Maple Leafs do?
In all seriousness, I'd like to see more from the young star before I lock him up of eight years at a price tag that might not be worth what he produces. While 61 points in 82 games is good, it's not what you want from one of your core pieces moving forward. Both he and Matthews will have to find a way to produce against other team's top pairings. Even Marner looked better down the stretch and a lot of that had to do with him producing on a regular basis. Consistency is important and Nylander has a much higher ceiling than what he's tapped into thus far in his short career.
That said, you can't ignore what he has provided the team with. He has 135 points in 185 career regular season games. That's an average of 0.73 points per game which is a pretty impressive number considering he's just 22 years old.
So give him a bridge contract and put the onus on him to come out and earn that next big pay day. Don't undervalue him in any way. Instead offer him a two or three-year deal worth $5.5 to $6 million per season and see if he's willing to go that extra mile to get into the conversation of $8 million per year. If not, you're making a decision in two years on what to do with him next rather than waiting eight years or trying to rid yourself of a mistake contract midway through.
Petrie: Comparing Contract and the Move to Centre
Starting with Nylander's contract, there have been plenty of contracts signed by young players in the past three years that we can compare to.

The appropriate range for Nylander appears to be somewhere between the Jonathan Drouin $5.5 million per year and the Filip Forsberg/Nikolaj Ehlers $6.0 million per year. Nylander's numbers may not be quite as good as Forsberg and Ehlers were when they signed their deals, but given the fact that the salary cap is set to increase substantially, I believe Nylander will and at the $6.0-million mark for six or seven years.
There is also an option where Nylander can choose to bet on himself and take the Nikita Kucherov-type bridge deal of three years at $4.67 million per year. Nylander would be betting that he becomes a centre (centre are paid more) and increases his production, leading to a long-term, higher value contract he can sign when he is 25.
When it comes to what the Maple Leafs should do with Nylander, there are three options.
1. Trade him for a defenceman
2. Keep him as a winger
3. Move him to centre
The Maple Leafs have an abundance of young wingers and an obvious need for help on defence, so a Nylander trade is logical but it's not going to happen. The league places a premium on top line centres and defensemen right now. You can trade on for the other (eg. Ryan Johansen for Seth Jones, Jonathan Drouin for Mikhail Sergachev), but you can't trade a winger for either unless you are willing to take pennies on the dollar (eg. Hall for Larsson). As much as I would love a defenceman like Dougie Hamilton or Colton Parayko, it would take more than Nylander to get that done.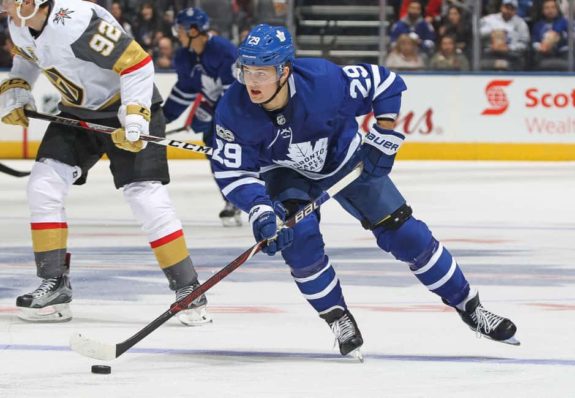 Keeping Nylander on the roster still comes with a choice. Do you keep him at right wing or move him to centre? That's going to depend on what the Maple Leafs can do in free agency this year. Joe Thornton would be a great fit on a one-year deal, but he seems set on staying in San Jose. John Tavares and Paul Stastny would be great additions as well, but both will have plenty of options in free agency and their high salaries would hinder the Leafs ability to improve the defence.
Assuming a centre is not found in free agency, it makes sense to slide Nylander into centre and have two scoring lines (the Matthews' line and the Nylander line) and a talented shut down line with Kadri in the middle.
Arbuckle: Paying for Consistency
To pay or not to pay Nylander the big bucks? That is the question. Maybe the simplest question to ask is what have you done for me?
Predicting his next contract is tough. The number say he's had solid, back to back 61-point seasons having only missed one game over that span. If you look at him through the ebbs and flows of an NHL season, there are times he shows flashes of being unstoppable and other stretches where he's barely seen. In 13 career playoff games, he has a pedestrian eight points.
The answer to this comes down to if you put more value in numbers, or things that are harder to measure like consistency, heart and potential – and that's exactly why, regardless of which way you see it, the Maple Leafs need to be careful with Nylander's next contract.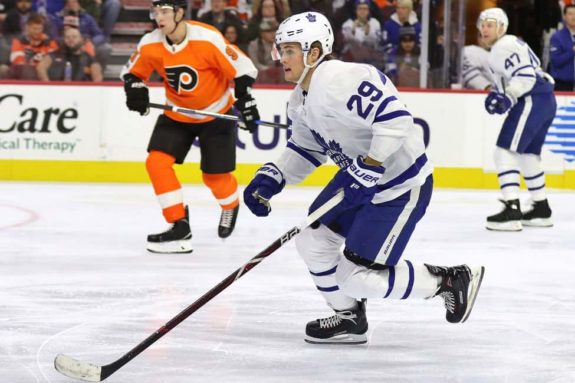 In a salary cap world, every bit counts. At the beginning of their careers, Nylander, Auston Matthews and Mitch Marner were seen as Toronto's big three. After two seasons together, most would agree there is a gap between Matthews and the other two. He's a more consistent, point-per-game player and plays a stronger two-way game.
So do the Maple Leafs bet on locking up his potential now, like the Boston Bruins did recently with David Pastrnak, hoping Nylander can find that next level more often, or do they take an approach similar to how they handled Nazem Kadri's second contract? A manageable two-year, bridge deal would give the Maple Leafs more time to see exactly what they have with him and still give them flexibility with Matthews' and Marner's new deals fast approaching.
Kadri's contract, much like that of Morgan Rielly, seems to be a cap-friendly steal. But how do people feel about Nikita Zaitsev's seven-year deal now? Two years at $5.5 million a season for Nylander would be ideal, but it will probably be closer to $6 million. That gives the Maple Leafs more money to work with on securing a top-tier defenceman and also gives Nylander a chance to prove it and earn more in his third contract.
If you're comparing Nylander to Vancouver's Bo Horvat, who makes $5.5 million a year, it's easy to see how two years of his potential at that salary could pay dividends for the team. If next year, the Leafs realize they have a player comparable to a Filip Forsberg ($6-million AAV), or David Pastrnak ($6.66-million AAV), they will be happy with the cap-relief they can use elsewhere in the interim.
The curveball, of course, is if the Leafs can find a deal similar to Ryan Johnson being traded for Seth Jones, involving Nylander, that would land them a top-pairing defenceman. How much better would a big three be for the team's future if it included a defenceman? Just ask the Chicago Blackhawks how having Duncan Keith in their big three helped them.
Because of his inconsistency, and no real change in offensive production over his first two full seasons, I'm willing to bet they find a manageable bridge contract. Give Nylander too much money and term now, and Maple Leafs might have trouble affording that elite defenceman the team so desperately needs.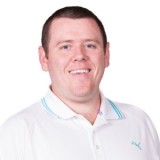 Andrew is in his 8th year reporting for The Hockey Writers covering the Toronto Maple Leafs. He began his broadcasting with CBC's Hockey Night in Canada team as well as being part of their coverage of the 2014 Winter Olympic Games in Sochi. He's the former play-by-play voice of the London Jr. Knights for Rogers TV and currently hosts the Sticks in the 6ix podcast. You can follow him on Twitter at @AndrewGForbes.