The Toronto Maple Leafs have struggled in recent years to develop strong goalie depth within the organization. Developing goalies can be a challenging task for any team because it is a position that requires a high level of skill. As well, good ones are notoriously difficult to spot at a young age.
As a result, it can be difficult to predict a young goalie's development. Still, as my The Hockey Writers' colleague Andrew Forbes noted in his prospect review in November, it's encouraging to see that the Maple Leafs have a number of promising young goaltenders in their system. These include Artur Akhtyamov, Vyacheslav Peksa, and Dennis Hildeby.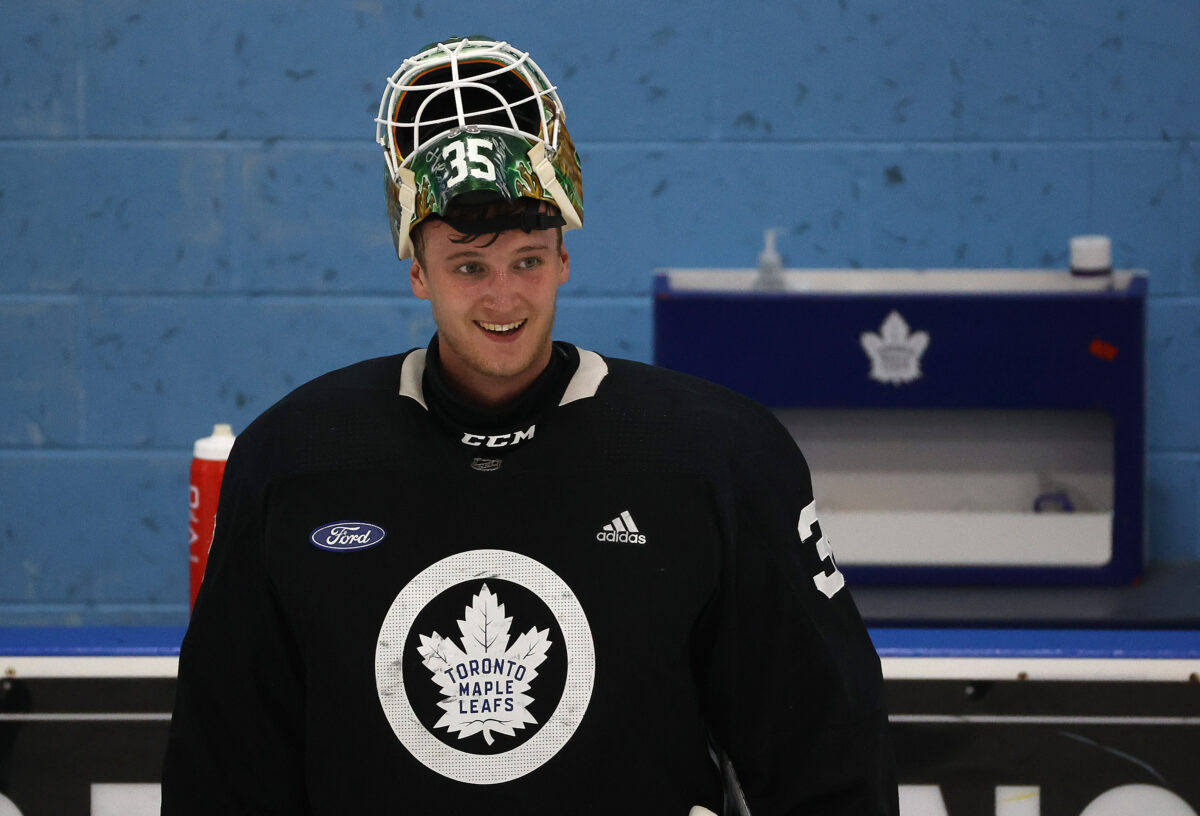 These young goalies are playing in leagues overseas and are showing promise. It will be interesting to see how they continue to develop and what each might potentially contribute to the team in the future. 
Related: 15 Craziest Things Ever Thrown on the Ice
In this post, I'll focus specifically on Hildeby as he's showing strong progress playing in Sweden. I'll also review the young goalie's season until now, look at how he's progressing, and offer some insights about what he might bring to the Maple Leafs sometime in the future. 
Dennis Hildeby and His Maple Leafs' Background
In mid-July, the Maple Leafs signed young Swedish goalie Hildeby to a three-year, entry-level contract. He was the team's 122nd overall pick in the 2022 NHL Entry Draft.
Last season, Hildeby played in only seven Swedish Hockey League (SHL) games, which is a small sample size. In those games, he had a goals-against average (GAA) of 1.93 and a save percentage (SV%) of .930. In the 18 games he played in the Swedish Junior League, he posted a 3.10 GAA and a .911 SV%.
Dennis Hildeby Is a Tall Goalie, Who's Playing Well
The first thing one notices about Hildeby is that he's a really tall goalie. Elite Prospects lists the 21-year-old Swedish prospect at 6-foot-6 and 234 pounds.
Related: NHL Contracts Are Becoming More and More 'Lockout-Proof'
---
Latest News & Highlights
---
However, in addition to being tall, he's also good. Thus far during the 2022-23 season, Hildeby has been playing with Farjestads BK Karlstad in the SHL. He's played 11 games to date and has put together a record of 7-4-0, a 1.90 GAA, and a .930 SV%.
After a poor start, Hildeby went on a hot streak. In his first two games of the season, he allowed eight goals. After that, he sat for more than a month without a start. Only an injury to Färjestad's starting goalie (28-year-old Canadian Matt Tomkins from Edmonton) gave Hildeby a chance to play three games in a row. During those games, he only allowed four goals on 96 shots.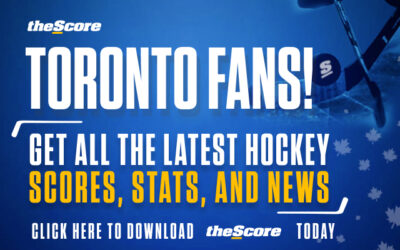 Hildeby has improved during his SHL season with a number of strong performances. Obviously, it's common for young goalies to face challenges as he adapts to playing at a higher level, but it's encouraging to see that he has been able to bounce back after his tough start.
As noted, Hildeby's save percentage on the season is up to .930, which puts him in third place in the SHL among all goalies who have played more than 10 games. His 1.90 GAA also puts him in third place among all SHL goalies with 10 or more starts. In his 11 games played, he's also recorded two shutouts.
Related: Maple Leafs' Prospect Report: Tverberg, Moldenhauer & Hildeby
It's impressive that Hildeby has been able to maintain both a high save percentage and a solid goals-against average among top Swedish competition. Obviously, both statistics indicate a goalie's effectiveness; and, he's been effective. 
Hildeby Uses His Size Effectively
Reports are that Hildeby has learned to use his size effectively. He's also noted to be an athletic goalie who can read the ice well. Those who watch him believe he's better at stopping lower shots than high shots. Their notes are that he sets up well in the net and uses good positioning. He's been one of the Maple Leafs' solid prospects.
However, even if Hildeby has soft spots to work on and has allowed a few goals, he continues to record solid results. The point is, that thus far in the SHL he has shown numerous strengths as a goalie. His size helps him block the back of the net; and, he also has the ability to read plays.
Related: Dubas "Sow's-Ear" Goalies Have Become Maple Leafs Silk Purse
As fans know, even the best goalies allow goals, and it's not uncommon for them to have some areas they need to work on or improve upon. That said, it should be encouraging for Maple Leafs' fans to see that Hildeby has been performing well in the SHL this season. 
No Doubt the Maple Leafs Will Be Patient with Hildeby
It's great to see Hildeby performing well in the SHL and also showing improvement as the season progresses. His size and strong statistics are definitely promising signs for his development as a goaltender. 
It's worth noting that it usually takes time for young goalies to fully develop and gain experience at the professional level, so it's important that the organization is patient with Hildeby. As a young goalie, he needs an opportunity to learn and improve. It will be interesting to see what his potential contribution to the Maple Leafs might be in the future.
The Maple Leafs Are Building Better Goalie Depth 
Goaltending is a challenging position to predict, and it's important for NHL teams to build strong goaltending depth. Injuries (and other challenges) always seem to occur. The continued positive development of players like Hildeby will benefit the Maple Leafs as the organization works to strengthen its goalie depth.
Related: 7 Cool Things About Carey Price
It's encouraging to see how well Hildeby has been performing in the SHL. It's even more encouraging to see that he's making progress as he develops as a professional goalie. The question is, how far will he climb on the depth chart as he gains more professional experience?
---
---