The CHL season is approaching its quarter mark, and there are plenty of Toronto Maple Leafs prospects to keep an eye on. Some of them are off to a terrific start, like Prince Albert Raiders goalie Ian Scott, while others are leaving more to be desired.
Here's a look at who's hot and who's not early on this season.
Ian Scott, Prince Albert Raiders (Hot)
The Prince Albert Raiders jumped out to an incredible start, and Scott has been largely responsible for it. A 14-1 record has propelled the Raiders to the number one spot in the CHL Top 10. Scott, Toronto's fourth-round pick in the 2017 NHL draft, has done his part to lead Prince Albert through the first 15 games, posting a 1.54 goals-against average and .945 save percentage, both good for second in the WHL.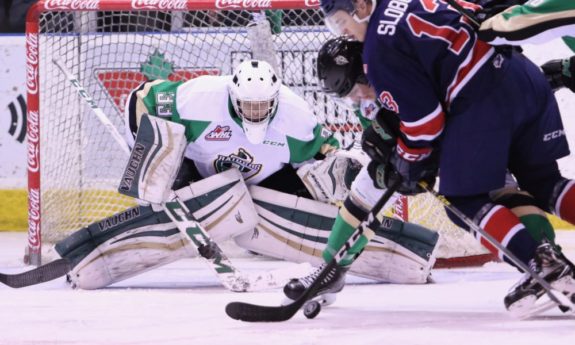 Likely in his final junior season, Scott should have a lot of opportunities to develop this season as the Raiders look poised for a long playoff run despite not advancing past the first round since 2005. He also looks like a legitimate contender for a spot on Canada's World Junior Championship team.
Semyon Der-Arguchintsev, Peterborough Petes (Not)
Der-Arguchintsev was growing into an elite playmaker at the OHL level last season with more than 50 points on a Petes' squad that struggled. However, he looks to have hit a speed bump to start the 2018-19 campaign, with a goal and four assists in 12 games.
The Maple Leafs picked him with their first of two selections in round three (76th overall) of the 2018 draft and signed him to an entry-level deal shortly after training camp. Der-Arguchintsev said he models his game after Mitch Marner, who had a rough start to his NHL draft year after a promising rookie season but finished his sophomore campaign with 126 points.
Sean Durzi, Owen Sound Attack (Hot)
The Maple Leafs have had their eyes on Durzi for a long time. Although he was undrafted in his first year of eligibility in 2017, he earned an invite to Toronto's development camp and impressed general manager Kyle Dubas and company enough to be picked in the second round of the 2018 NHL Draft.
Durzi became Owen Sound's number one defenceman and the team's power-play quarterback last season and he's picking up where he left off with 10 assists in his first eight games. He is old enough to play in the AHL with the Toronto Marlies, but the Leafs opted to send him back to Owen Sound where he'll benefit from playing with a veteran-laden lineup in his overage season.
Riley Stotts, Calgary Hitmen (Not)
Stotts started last season with the Swift Current Broncos, who went on to win the WHL championship. Halfway through the year, he was traded to the Calgary Hitmen and excelled in a bigger role. After scoring 41 points in 47 games with Calgary last season, he was chosen in the third round (83rd overall) by the Maple Leafs in the 2018 draft.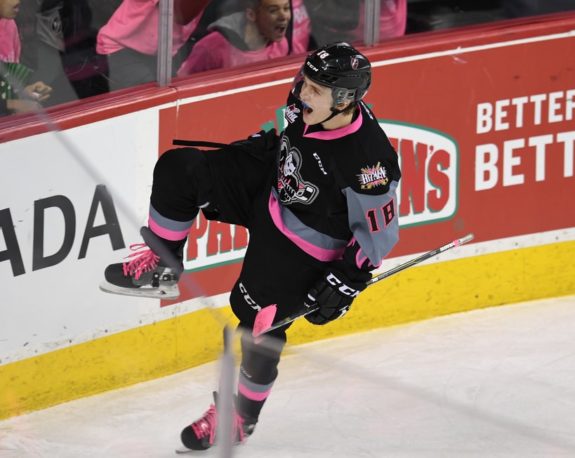 Since returning to the Hitmen, he hasn't been able to find last season's groove. He's only scored a goal and three assists over nine games and the Hitmen have struggled with a 4-7-2 record. Stotts caught Toronto's attention with his two-way game last year and projects as a depth centre at the pro level.
Ryan McGregor, Sarnia Sting (Hot)
Leading up to this season, McGregor had a number of good campaigns as a two-way centre who put up respectable numbers in the 30-point range. Toronto's sixth-round pick in the 2017 draft is now being counted on to play a bigger role on a younger Sarnia squad. He was named captain of the Sting and has thrived with 10 points in 11 games, including a six-game point streak. If he continues on that pace, he could exceed 60 points this season. His career best is 32. McGregor will also play in the CIBC Canada Russia Series when it comes to Sarnia on Nov. 8.
Fedor Gordeev, Flint Firebirds (Not)
It's been a rough season for Gordeev and for the Firebirds as a whole. At 0-11, they're the only major junior team in Canada without a win. At 6-foot-6 and 225-pounds, Gordeev was drafted in the fifth round by the Maple Leafs in 2017, one of two towering defencemen taken by Toronto in that draft. The other was second-rounder, Eemeli Rasanen.
Last season, Gordeev collected 25 points with the Firebirds, who had another difficult season and finished second last in the OHL. He has two assists this season and often finds himself in the penalty box with a team-leading 19 penalty minutes in seven games. Gordeev could benefit from a change in scenery if the Firebirds decide to trade him later this season.
NCAA Prospects Will Emerge As Well
The NCAA season has just begun, so Toronto's college prospects haven't played enough for a good sample size to compare their progress to last year. There are a number of strong prospects in the system, most notably forward Dakota Joshua and goaltender Joseph Woll. Their progress will also be tracked as the season develops.
Born and raised in Toronto, Iain has been a sports writer with the Mississauga News since 2010 and has been covering the OHL for Hockey Now Magazine since 2015. A graduate of the Centennial College Sports Journalism program, Iain has now signed on to provide Ottawa Senators coverage with The Hockey Writers.