In his Sunday article, Sportsnet's Chris Johnston reviewed Saturday night's Toronto Maple Leafs' intra-squad scrimmage held at Scotiabank Arena that marked the end of Week 1 of Training Camp. In addition, in a Sportsnet video included, Maple Leafs' head coach Sheldon Keefe also reviewed Saturday's intra-team scrimmage.
Related: Maple Leafs Radical Trade Rumors: Nylander, Ekblad, Nurse & Subban
In this post, I'll share their combined takeaways from Saturday's scrimmage.
Chris Johnston's Four Scrimmage Takeaways
Takeaway #1: Willian Nylander Most Impactful Player During the Scrimmage (Johnston)
From his perspective, Johnston reported that "William Nylander was the most impactful player on the ice, for his money. Then Johnston gave an honorable mention to Mitchell Marner.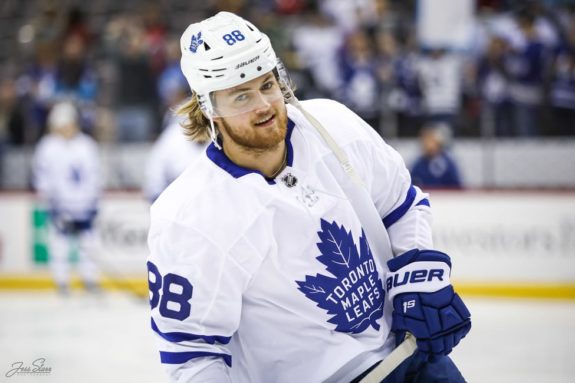 Takeaway #2: The Maple Leafs Top Line of Thornton-Matthews-Marner is Great (Johnston)
Johnston reported that the Joe Thornton-Auston Matthews-Mitch Marner line was as good as he expected it to be. Many Maple Leafs fans believed Thornton wouldn't be able to keep up with the speed of the younger players, but Johnston mentioned nothing of that.
Takeaway #3: New Finnish Defenseman Mikko Lehtonen Has Offensive Instincts (Johnston)
Johnston noted that former KHL top defenseman Mikko Lehtonen demonstrated nice offensive instinct, but asked if he can he adjust to the faster NHL play and the smaller rink surfaces. (In a note from Monday's practice, it seems Johnston's question has been answered in the negative – at least so far. Coach Keefe noted that the team's decision was to allow Lehtonen to watch a bit longer before putting him into a regular defensive role.)
Related: Barons-North Stars 1978 Merger Solved Two NHL Headaches
Takeaway #4: Nick Robertson Is a Good Goal-Scorer (Johnston)
In Johnston's exact words "Holy mama can teenager Nick Robertson ever shoot the puck." In fact, as Johnston noted, Robertson's "power-play rocket" was shot more powerfully than the young prospect showed during his time in the NHL bubble during last season's postseason play.
Sheldon Keefe's Three Scrimmage Takeaways
In the Sportsnet video below, Maple Leafs' head coach Sheldon Keefe spoke to the media about the performance of his top players during Toronto's team scrimmage Saturday.
Takeaway #1: Matthews and Marner Were Dynamic and All Over the Ice (Keefe)
As Keefe noted, the guys the team expected to really look good, in fact, really looked good today. Specifically, Auston and Mitch were were "dynamic all over the ice." In fact, Keefe noted that each of these players could have had three or four goals each but the puck didn't go in for them.
Takeaway #2: William Nylander and John Tavares Were Also Strong (Keefe)
Keefe agreed with Johnston, Nylander played very well and John Tavares scored a big-time goal to start the game.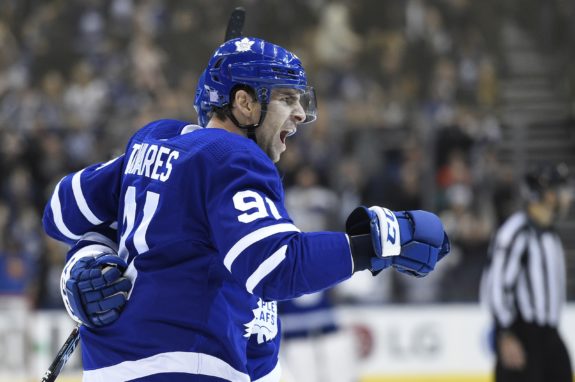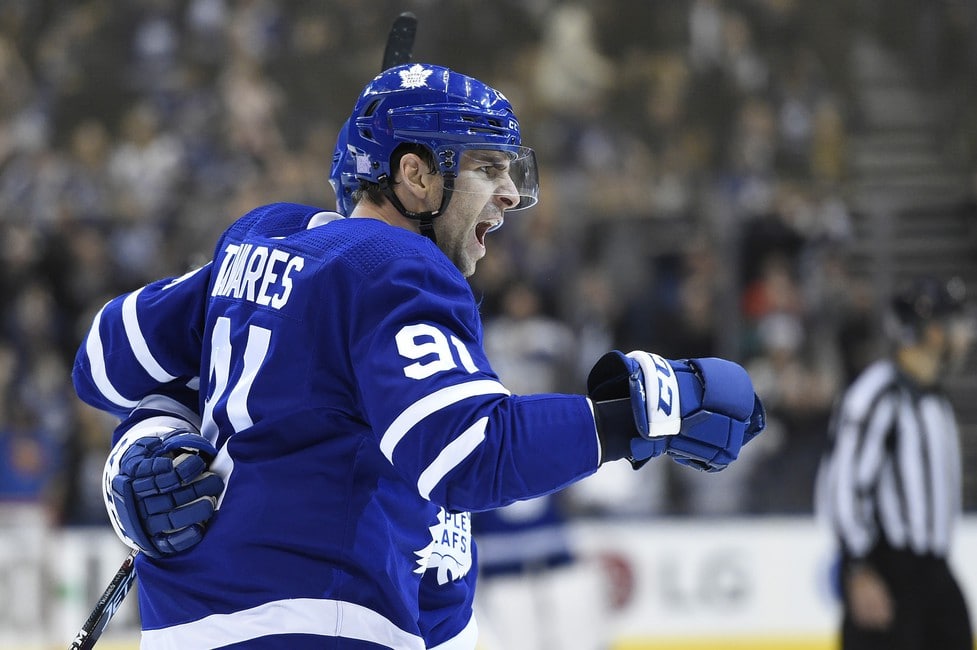 Takeaway #3: Joey Anderson and Adam Brooks Stood Out Positively (Keefe)
Focusing more on the team's depth options, Keefe noted that, during the scrimmage, the coaching staff were pleased to see the potential of players like Joey Anderson and Adam Brooks. Both those players really stood out positively in his mind.  
Where Things Stand for Rasmus Sandin and Nick Robertson
Given the unique nature of this upcoming season, both Johnston and Keefe noted that the "big decisions" had already been made before the training camp began. When Keefe was specifically asked a question about possible changes he answered directly and noted, "In terms of changes, I don't think you'll see much of that."
Although making such decisions ahead of time is probably necessary given the shortness of the training camp and the lack of preseason games, the downside to the fact that decisions have already been made seems to fall more negatively onto the team's younger prospects. Two young prospects – Rasmus Sandin and Nick Robertson – seem destined to be on the outside looking in. In fact, both have been in that position since the training camp started.
Giving KHL Newcomers Time to Show Their Value
As well, both Sandin and Robertson appear to have been bumped down the depth chart by European free agents who have been given opportunities they might not have had. Those two European players were Lehtonen and Alexander Barabanov.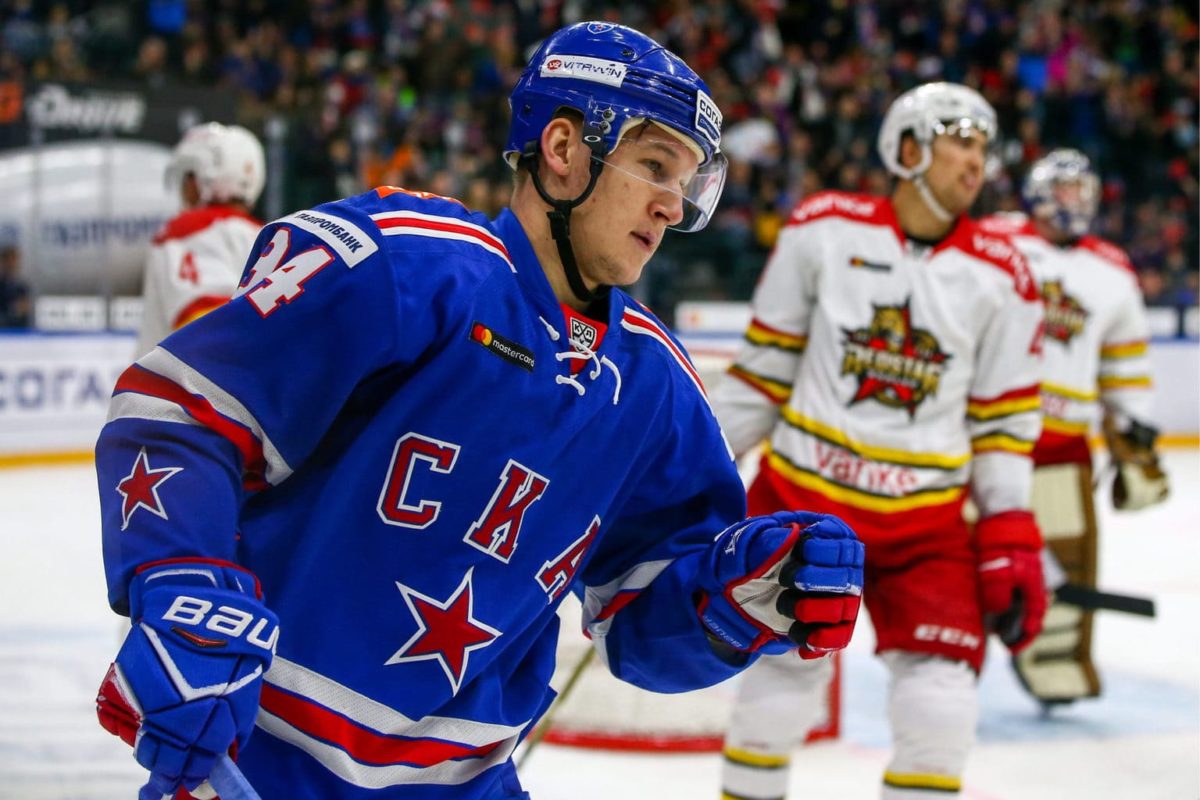 That said, Keefe also noted that the organization can only be so patient with newcomers because of the compressed 56-game schedule. As a result, Sandin and Robertson should remain ready for some action.
Related: Toronto Maple Leafs' Auston Matthews Is Undergoing a Transformation
In fact, as I mentioned earlier in this post Lehtonen has been bumped down since Saturday's scrimmage and Travis Dermott installed in his place. So, there will be some movement during training camp. Wednesday will be the first NHL regular-season game.
---
---