The Washington Capitals found themselves in a desirable situation entering this off-season. They didn't have too many big name players hitting free agency, meaning that the majority of their Presidents' Trophy-winning core from the 2015-16 campaign is destined to return next season. Because this is a team under a self-proclaimed two-year window to win their first championship, they will have one more solid shot at a Stanley Cup before large-scale changes are likely to be made.
The list of Capitals that were coming off of the books, however, was headlined by Swedish forward Marcus Johansson. Johansson has been a consistent 45-point player, except for his rookie campaign and the lockout-shortened 2012-13 season. More importantly, he has demonstrated the ability to perform in just about any role he is placed in. He has spent significant time as a top line winger, a second line winger, and a third line center over recent years.
Johansson has been a polarizing figure in Washington for several years now. He has been called soft more times than one would care to count and is a frequent target of fans looking for someone to blame for playoff flame-outs. This year, however, Johansson was one of the better Capitals in the post-season.
A Recurring Theme
Last week, Marcus Johansson filed for player-elected arbitration for the second straight off-season. Last year, Johansson was awarded a one-year, $3.75 million contract through arbitration, at the conclusion of which he would still be a restricted free agent. If the Capitals and Johansson are unable to reach an agreement on their own this time around, he will again be awarded a one-year deal through the same process again. However, if it were to happen again, he would be an unrestricted free agent next summer.
Not a huge surprise, but Marcus Johansson filed for player-elected arbitration by the 5 p.m. deadline. As reported earlier, Orlov did not.

— Isabelle Khurshudyan (@ikhurshudyan) July 5, 2016
General Manager Brian MacLellan has already hinted that the Capitals have placed a certain value on him. However, after another season with close to 50 points, Johansson rightfully wants a raise. There are some very relevant comparable contracts out there. One being Florida Panthers forward Reilly Smith, who recently inked a five-year extension for $5 million per season.
Possibly the best comparable contract emerged last week when the New Jersey Devils signed restricted free agent forward Kyle Palmieri to a five-year, $4.65 million per year extension. The 25-year-old scored a career-high 57 points last season. In a perfect world, this lines Johansson up right in the $4.5 million range. Another debate is likely over the term. The Capitals probably want one more "show-it" year from Johansson in order to commit long-term, while the player's camp is probably looking for some stability.
The arbitration process can get ugly, so going to arbitration in consecutive summers is not ideal. The Capitals would be wise to lock Johansson up without any mediation if they think he is a part of their long-term plans.
Short-Term Outlook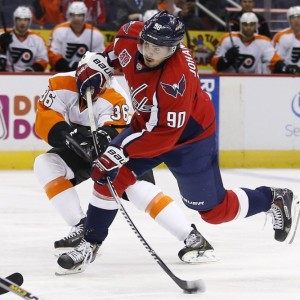 At the end of the day, it is extremely more likely than not that something gets worked out between the two sides this season. For a team that is going for it all, the Capitals can't afford to lose a skilled forward who is such a vital player on their power play and one that has proven to be such a versatile forward heading into this year.
After acquiring Lars Eller at the draft, the Capitals now have a really good looking third line that prospectively includes Johansson, Eller and either Tom Wilson or Brett Connolly. Simply put, Johansson is one of the organization's best play-makers, and would be sorely missed.
The Capitals' top forward prospect, Jakub Vrana, almost certainly won't be ready for full-time third line duty next season, making it all the more important to keep Johansson within the plans for next season. The team's two-year championship window has been reduced to one. This is probably why the organization is more inclined to look for a one-year agreement here. If Johansson steps up even more next season, he will finally be in line for a big reward.
With defenseman Dmitry Orlov also looking for a new deal, the Capitals will try to get Johansson for as cheap as possible. They need all the cap space they can get going into this season in the event that they want to make one more upgrade at some point. To sum it all up, the Capitals need Marcus Johansson in their lineup for at least one more year.
Down The Road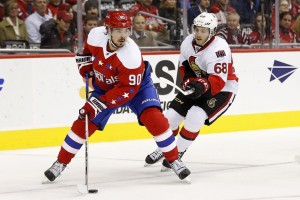 It is looking increasingly more unlikely that Johansson will be in Washington for the long haul. Potentially two straight arbitration appearances won't do many favors for the relationship between player and team, and the Capitals have enough young forward prospects that Johansson could become expendable. However, a favorable deal for both sides could easily be reached in the coming weeks. This could conceivably open the door to a long-term extension.
At his best, Johansson is a solid second line player. He is probably best utilized as an excellent middle-six player. With the league following the Penguins' model of building a team through speed and skill, Johansson is a very important player for a team that wants to contend. This, in turn, will continually drive his price up as he continues to produce close to 50 points.
The Capitals will be going harder than ever after their first Stanley Cup this season. If they do emerge as victors next June, you can probably expect Marcus Johansson to be a huge part of it. If the organization falls flat once again, however, Johansson may be one of the figures moving onward and out of Washington.
Brad is a recent graduate of Salisbury University in Maryland and is pursuing a career in sports journalism.