When I was a kid, one of my favorite things to do after rushing home from school was to turn on my Sega Genesis, switch on the TV and fire up NHL 96. Whether it was the season mode or the quick, five-minute two-on-two practice mode, I would keep my Genesis running until my parents told me to stop because it was frying my brain.
One of the beauties of this game was the ability to build a monster team that was pretty much unbeatable. Luckily, I grew up in St. Louis and didn't have to do too much to my favorite team's roster. The Blues were stacked with Brett Hull and Wayne Gretzky on offense, Al MacInnis on defense and Grant Fuhr in goal.
However, I was also a big fan of Doug Gilmour in those days. I did what we all did when we wanted a player from another team; submit a completely one-sided trade and overrule the other team's decision to decline the offer. It's not cheating if the game allows it to happen, I would say.
Playing those games with Gretzky and Hull dominating on the first line with Geoff Courtnall and Gilmour picking up the slack on the second line is a cherished memory of mine. Cup after Cup after Cup was won in St. Louis, with the team randomly jerking their arms straight up in the air just before the screen alerts me that the Blues have won the Stanley Cup in the final game of the playoffs, throwing the necessity of proper punctuation into the wind.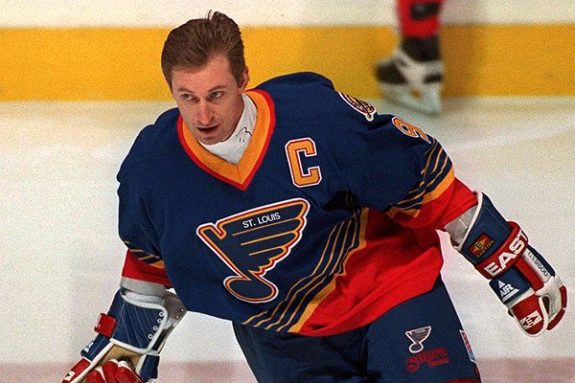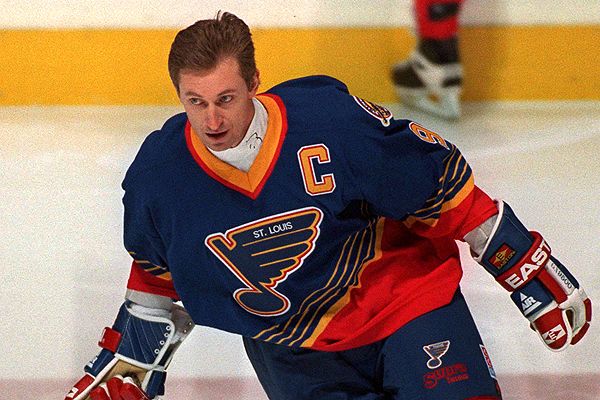 To be a child, living these outlandish dreams of my favorite team acquiring one of my favorite players was a feeling that I thought I would not soon replicate. Thinking I would never even catch a glimpse of that again all changed on Dec. 2.
Martin Brodeur, the winningest goalie in NHL history, signed a one-year, $700,000 contract with the Blues that day, flooding memories of Gilmour all over again. This time, though, it's really happening.
A lot has changed for me since 1996. I no longer play the Sega Genesis. I'm not in grade school and I don't live with my parents. I have turned in my fan card for a Blues media pass. I have a college degree and I live with my wife and son (ok, sometimes I break out the Genesis and sometimes I find myself yelling at the TV during Blues away games).
Even as a member of the media, I can't help but live in the here and now, trying to take in as much of these moments as I can. Just like when Gretzky was skating in blue, yellow and red for a few short months in 1996, I feel a sense of excitement when Brodeur takes the ice in Blues gear.
Some of those in the media feel differently than I do. Writes Jonathan Willis of Sportsnet within a week of Brodeur's signing,
Some see the Brodeur signing as St. Louis making a low-risk wager on one of the all-time greats. That's true to a degree, but that framing misses the point, because it's been years since Martin Brodeur on the ice looked anything like the Martin Brodeur who inhabits the NHL record books. Instead, the Blues are gambling on a player who combines the recent track record of an unspectacular backup with the sudden collapse risk of a 42-year-old.
Willis backs his statements up with plenty of factual information, including a declining save percentage of .916 in 2009-10 all the way to a .901 in the past two seasons. However, the article lacks the mention of Brodeur's experience, the very attribute in question throughout, possibly guiding rookie Jake Allen's development. The injured Brian Elliott is a solid mentor, but nobody has gone through more in his career than the wily three-time Stanley Cup champion.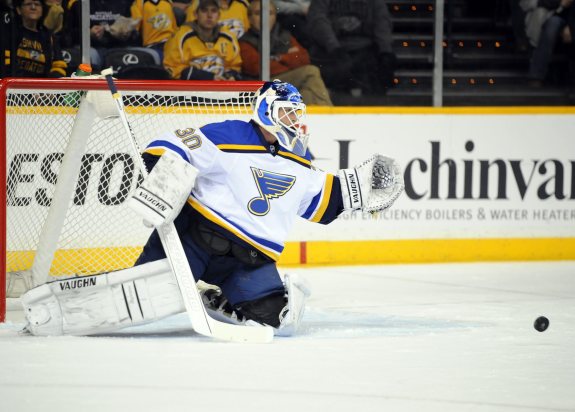 Others have written about Allen's progression through Brodeur, but some suggest a negative effect could take place. After Brodeur recorded his two wins as a member of the Blues, Matt Larkin of The Hockey News suggested Brodeur's success could turn out to be "a nightmare" for the St. Louis team in the long run.
The No. 1 worry in my mind when the Blues inked Brodeur was what it might due to Allen's pysche. Allen is 24 and just cutting his teeth as an everyday NHL netminder. Bringing in the winningest goalie of all-time isn't the same as bringing in Ilya Bryzgalov, Tomas Vokoun or even Tim Thomas. Brodeur signing means he's going to play, at least a little. There was the immediate possibility a youngster would hear footsteps the moment the ink dried.
Larkin goes on to say that Allen already "looks rattled" since Brodeur joined the club, likely referencing Allen's three-goals-on-12-shots performance in the first period against the New York Islanders this past Saturday.
Could Brodeur's insertion into the starting role be harmful to Allen? Possibly. Having this inquiry, though, is similar to asking if Brodeur can play until he's 45 as the Blues' starter, allowing management some time to develop current AHL goalie Jordan Binnington and move on from Allen. Anything is possible.
If Allen is truly jarred from losing starts to Brodeur, the question shouldn't be whether Brodeur is harming the 24-year old's development. Instead, Allen's mental toughness should be disputed. Depending on who you talk to, former starter Jaroslav Halak was shipped out due in large part to a lack of dependable fortitude. How would this be any different?
In no way am I suggesting the Blues ship out the team's future starter. Quite the opposite. Goalies go through slumps.
After the game that Elliott exited with an injury, Allen started back-to-back contests on Nov. 28 and 29 – both victories. He stopped 49 of 54 shots behind a Blues defense that has had its share of struggles over the past few weeks. In his next two games, he stopped just 38 of 45 shots and earned the loss in one of the games (Chicago).
The NHL season is a seesaw for every player that touches the ice. There are games when everything goes swimmingly for a player and, inversely, there are nights when simply skating seems difficult for the player.
This is especially true for goaltenders. Slumps come and slumps go. Allen could easily rebound in the next game and record a shutout or allow a single goal on 45 shots.
The bottom line is that Brodeur is a St. Louis Blue.
What I'm about to say is cliche. It's also childish of someone who reports on the team to let the fanboy inside of him spill into his article (after spending years to suppress it). Can't we just forget about what happens when Elliott comes back or what will come of the rookie that is spending most of his time on the bench?
Look at that smile on Brodeur…great night for the Blues

— Brian Stull (@StullySTL) December 9, 2014
I'm sure Willis, Larkin and many of the others who are sour on Brodeur's signing didn't grow up wearing a Chris Pronger jersey once a week or attending Kelly Chase's autograph signings.
Brodeur is seeking 700 wins and looking to make a difference with a team that's not the Devils. He's 42-years old and playing like a star goalie coming down from his prime years — which usually occurs in someone's early 30s.
He didn't abandon the Devils. He didn't walk away from a contract and he isn't on bad terms with his former team. He even recently said that when it's "all over, I'll be a New Jersey Devil slash St. Louis Blue – little slash."
Embrace the future Hall of Famer. Wayne Gretzky, Nicklas Lidstrom and, most recently, Teemu Selanne all received victory laps in the NHL. Let Brodeur have his.
After all, he's earned it.
I am a former NHL media member and reporter for the St. Louis Blues, working for various media outlets. Currently, I am an NHL News Writer and Editor for The Hockey Writers. I live in St. Louis and work as a freelance copywriter in numerous industries.