On Thursday night, the New Jersey Devils battled the Toronto Maple Leafs at the Air Canada Centre. Martin Brodeur was in net that night… but not for the Devils.
For the first time in 1,260 appearances (an NHL record), Brodeur was making a start for a team not wearing red and black. As the St. Louis Blues played in the second game of a back-to-back series with divisional opponents, Brodeur was between the pipes in the Bridgestone Arena with the Nashville Predators bearing down on him.
At 42-years old, Brodeur was able to stop 20 of 24 Nashville shots, including a partial breakaway save on forward Colin Wilson in the opening minute. However, the Predators bested the Blues, 4-3.
For another game, Brodeur sits at 688 career victories. It's the all-time lead in the category, which sees Hall of Fame netminder Patrick Roy placed in a distant second with 551 wins.
The mark of 700 wins has never been bestowed upon an NHL goaltender. It would be an honor that Brodeur would hold all to himself.
How important is that to the long-time Devils goalie, though?
"He's 12 wins away from 700 and those are things he wants to accomplish," Brodeur's agent, Pat Brisson, told Northjersey.com in September. "He'd like to play on a team that will have a chance to go far as well."
The Blues invited Brodeur to practice with the club last Friday and signed him to a one-year, $700,000 contract on Tuesday. With starter Brian Elliott out of the lineup on a week-to-week basis, Brodeur seemed like the best option to play alongside youngster Jake Allen. The Montreal native wanted to continue his NHL career after a summer that saw Brodeur remain unsigned by New Jersey, or any other team.
The Blues needed a goalie to get them through a stretch without Elliott. Brodeur wasn't ready to hang his skates up and wants a shot to win 700 games. It was a win-win decision for both sides.
Blues general manager Doug Armstrong has not been quiet about his plans for when Elliott, who signed a three-year, $7.5 million contract extension over the summer, returns between the pipes.
"We've talked about the what-ifs, but we haven't spent a lot of time on the what-ifs," Armstrong said. "Marty's been dealing with the what-ifs to get here today. He's going to go and he's going to play when he's asked to play, and when Brian's ready, he'll be back in here. Our goaltenders are Brian and Jake. We believe in them."
[See related: The Martin Brodeur Effect: The Future of the Blues' Goaltending]
Armstrong also went on record as saying that the organization "signed Marty to play."
Head coach Ken Hitchcock echoed Armstrong's sentiments recently, stating that the Blues simply needed a reliable option to allow Elliott the appropriate amount of time to recover.
"Marty is here to help us till Brian gets healthy," coach he said. "This allows us to get Brian healthy in the proper manner and not rush him. It's win-win for everybody. It's an opportunity to continue down a strong path of winning hockey games, Brian gets to be back. We need Brian back at 100 percent. With the stress on his knee, we need him 100 percent. This also buys Marty an opportunity to continue his career."
It's a short-term situation for the Brodeur. He'll be getting the starts, as Hitchcock has stated prominently in the recent past. This could just be a stopgap between 688 and 700.
Elliott's label of "week-to-week" could mean he'll be ready to go within two weeks or he won't be completely healed until two months from now. The Blues have a semi-strenuous schedule until the All-Star break begins on Jan. 20. The team plays 19 games, which includes two back-to-back series, and have 12 home games in that time. However, six of those come just before the break as the team begins its longest homestand of the season (Jan. 8-29, seven games total). Brodeur's services will come in handy, as some of those matches come against the always-difficult California teams.
The psyche of a goaltender is not the easiest thing in which to delve. Even Brodeur may not know if he just wants the illustrious 700 wins as just another milestone that the legend can boast. This may or may not sow his wild oats.
Many scientists and philosophers have stated that we don't know until we've done it or we don't know until it's over. Maybe Brodeur just wants that career mark, or maybe he just wants to prove that 42 is the new 32.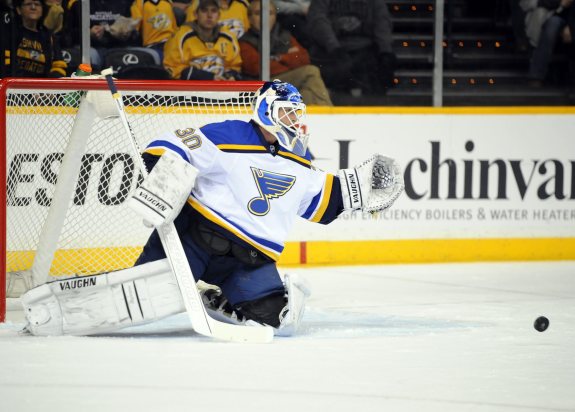 What Brodeur has stated is that he enjoys the game and can't turn his back on it just yet. For anyone who has played the game, it's easy to understand.
"I just want to have fun," Brodeur has said. "I've got nothing to prove to myself. I just want to go out and enjoy the season and enjoy the winning way, like I was able to do in New Jersey for a lot of years."
If Brodeur can help the Blues move to the next level, either by helping Allen mentally or doing it himself on the ice, his time in the Gateway City won't be wasted.
The Blues' ultimate goal is the Stanley Cup; if the team's recent signing achieves 700 wins along the way, it's just bonus that he would do it in the blue and yellow crest.
I am a former NHL media member and reporter for the St. Louis Blues, working for various media outlets. Currently, I am an NHL News Writer and Editor for The Hockey Writers. I live in St. Louis and work as a freelance copywriter in numerous industries.