Martin St. Louis has accomplished virtually everything one could hope to achieve in hockey. In addition to winning the Stanley Cup with the Tampa Bay Lightning in 2004, he has stocked his trophy case with Art Ross, Hart, Lester B. Pearson and (2) Lady Bing trophies; furthermore, the undrafted Vermont Catamounts standout has been named to four NHL All-Star Teams.  At the age of 37, there clearly aren't many goals left for the right winger to realize.
And, yet, as we enter the final weekend of the 2013 lockout-shortened season, St. Louis sits atop the NHL in scoring once again with 58 points.  Despite another disappointing season that will see the Lightning miss the playoffs for a second straight year, Marty will be the oldest player in league history to win a scoring title (Gordie Howe was 34) should he hold off the likes of Alexander Ovechkin, Patrick Kane and teammate Steven Stamkos.  So, the question is, at this age, how has he done it?
The Stamkos Effect
This is not to suggest that Steven Stamkos is the sole reason for St. Louis' production.  After all, Marty has basically been a point-per-game player for nearly a decade regardless of who he has skated with.  However, there is an unmistakable chemistry between the two that has allowed the duo to rise to the top of the league scoring list.  St. Louis' elite play making is perfectly complimented by the sniper that is Steven Stamkos.  In fact, of Stamkos' 29 goals this season, St. Louis has assisted on 18 of them, or 62%.  Those same 18 assists make up 43% of  Marty's 42 helpers.  Without question, these two feed off of each other to create nightmares for opposing goaltenders.
This isn't just a trend from this season, either.  In the five years that Stamkos has been in the league, he has scored 208 goals; St. Louis has set up 99 of them (48%).  Even more impressive than that, Marty has averaged 0.58 assists per game throughout his career but, since Stamkos joined the Lightning, that average has jumped to 0.74 per game.  So while St. Louis has always put up big numbers, Stamkos' arrival has clearly elevated Marty's offensive production.
Marty, the Opportunist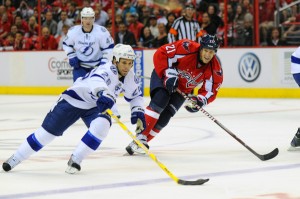 St. Louis is perennially among the league's leading scorers but an almost perfect storm has occurred this season to allow him to jump to the front of the pack.  The most obvious occurrence he has benefitted from came from the injury that likely ended Sidney Crosby's regular season.  Not that St.Louis is celebrating the event but he has certainly taken advantage of the opportunity it has provided.  Before the injury, Crosby was running away with the scoring title.  His 56 points in 36 games provided him with a double-digit lead in the points race.  In fact, it took St. Louis three weeks to overtake Sid, though he did it in grand fashion with a hat trick (that his son asked him to produce) against the Toronto Maple Leafs on April 24.  So while Marty is having an incredible season, he likely wouldn't be bringing home any hardware without Crosby's bad luck.
Another thing St. Louis could be taking advantage of this year is the fact that this season has been shortened by a lockout. Now, clearly there are two ways one could look at the labor dispute's impact on an older player like Marty who, let's face it, isn't a spring chicken anymore.  One way would be to recognize that there is a compressed schedule which will make it more difficult for players such as St. Louis to properly rest and recover after each game so as to be at full speed for the next tilt — that obviously hasn't occurred here.  The more likely scenario, at least in this case, is that the shortened season has allowed St. Louis to avoid the pitfalls of a gruelling 82 game season.  Just look back to last year for proof: it was the first campaign since 2005-'06 that Marty didn't play in all 82 games and the least productive season he had in six seasons.  Now, could that have just have been an anomaly?  Could he still keep up his consistency and current pace throughout a normal season? We're not here to say that he couldn't but he has certainly taken advantage of the fact that he doesn't have to.
So, as yet another NHL season winds down this weekend, Martin St. Louis is preparing to achieve yet another milestone.  Not many people would have thought it possible last year or even this time last month but the 5'8″ undrafted, future hall of famer is used to overcoming obstacles.  What's one more in this already illustrious career?