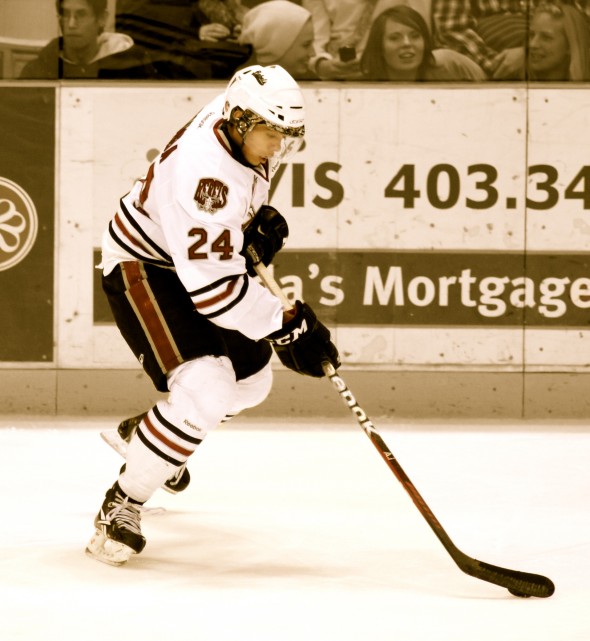 In all the games I've watched this year there has been one draft eligible prospect that has stood out among the rest.  As far as the WHL goes, Matt Dumba is the most desirable player that I have seen in this year's draft class.  Throughout this season he has shown more and more glimpses of becoming that complete package defenseman with great character and some physical abilities that you cannot teach a young player.  I've watched Dumba play 20 or more times this year and have seen him play head to head with other WHL standouts like Griffin Reinhart, Derrick Pouliot, Ryan Murray and others.  I have also seen him go up against some highly touted drafted players who are older than him and Matt held his own in those match-ups.  So in this article I am going to try and break down the player and person that Matt Dumba is in as many different areas as I can to give those from other parts of the country, or those who may not have seen Matt play, an idea of why he is a highly rated prospect and to give them an idea of what type of player to expect if their team drafts him.  Too often I hear, "Dumba?  He's a big hitter" as if people have encapsulated his game by watching a minute of highlights on youtube.  That might be enough to get people in the door, but this is the rest of the show.
Personality and Character
I, like many hockey scouts and journalists, am a rink junky.  I will arrive in time to see the Oil Kings warming up all over Rexall Place and going through their pre game rituals (Travis Ewanyk and others always sit in the best seats in the house and watch the empty ice a half hour before warmup) and I stay late to watch players sign autographs after the games and listen to people talking about how so-and-so needs to pick it up or what's-his-name is on fire.  So while in Red Deer I have seen Matt around a few times after games and dealing with fans as well as having interviewed him myself.  Anyone from Red Deer can tell you that off the ice Matt is all smiles.  He's very approachable and if he is a 17 year old who's only a short time away from big contracts and star-status he certainly doesn't act like it.  One night in Red Deer he had to sign autographs after a game and the lineup was huge.  The Rebels host and his crew were looking a bit uptight and Matt's mother was there looking a bit worried as well.  I went over to listen in and it turned out that Matt was playing sick.  Unfortunately for him and the Rebels they had too many players injured for him to sit out and so he played, and had a decent game as well.  So there is mother and Rebels staff all worried that there is enough water, are there too many people, will he be in a bad mood (they lost that night) and then up comes Matt with smiling and immediately engaging with the people.  He stayed for over an hour signing and taking pictures with people and taking time to encourage the young guys to keep playing hockey.  He never sniffled and rubbed his brow a few times but never asked the Rebels staff for anything and never complained.  He was genuinely nice to everyone.
When I got to speak with Matt he was, like most good players, team first all the way.  He didn't want to think about the draft, he didn't want to think about the under 18's, he just wanted to focus on his locker room and what they needed to do as a team.  On the bench and on the ice he is the same way.  Anytime he is on the ice he is doing things fast, even in warmups, he is focused on the task but at the same time he is talking to his teammates and attempting to let his abundant energy boost them up.  When the coaches are talking he's front-and-center and he's often talking things over with teammates on the bench.  Even though the Rebels had a tough season this year and Matt was playing a crazy schedule down the stretch that would wear down any player (30+ minutes a game a lot of times) I've never seen him get really frustrated and get off his game.  From what I have seen I truly think that he is very coachable and would be a positive influence in any dressing room.
Dumba Audio Interview
[haiku url="https://thehockeywriters.com/wp-content/uploads/2012/03/dumba.mp3″]
Athleticism
I expect Dumba to do well at the Central Scouting Combine where they test prospects physical tools.  Matt isn't the biggest defenseman but he is very solid and holds up well physically to the type of hits that he dishes out and the pressure that's put on him.  He has decent size but does exceptional things with it, lets put it that way.  I think the player that he is, including the big hits, comes more from his other tools than coming from size.  He has exceptionally fast feet and hands and has really great coordination.  He wins the foot races, spins off checks with the puck, and is able to cut into lanes and lay some of those open-ice hits all due to a combination of speed and athleticism.  He also uses his speed and reflexes to knock passes out of the air and win a lot of puck battles simply by getting his stick on the puck first.  I believe that his speed, timing, and anticipation are among his biggest tools and those are all things that you can only improve so much through training and coaching.  Some players have them and some don't, Matt has an abundance of physical talent.
Skating
Matt has strong points in his skating and, like most prospects, has room for improvement in areas.  He has great balance and leg strength due to the athleticism mentioned above.  Although he's almost never standing still, when he does it doesn't take him long to be in full-flight.  He has great quickness, a really fast first few strides especially for a defenseman.  He also has exceptional lateral movement for a defenseman or a forward, he can change directions before opposing players knew what hit them, we've all seen that.  He uses this lateral movement offensively as well and is good at creating space and time for himself with his quickness and lateral movement.  Matt is also almost equally as good skating with the puck as without it.  he has the same quickness and movement with the puck and is able to skate with the puck out in front of him, keeping his head up on the rush while being able to carry the puck in tight through traffic and in the tight areas.
He does have room in his stride for more foot speed.  He will initially separate himself from players with his quickness but at top speeds he doesn't have that long stride and doesn't bend his knees enough to make full use of his physical abilities.  In other words, his skating has room to improve, which is scary.
Puck Skills and Movement
One of the knocks on Dumba is that he causes turnovers by carrying the puck too often, much like PK Subban, and I have seen this happen.  Though, it is often in the offensive zone.  Defensively I think he's one of those guys that coaches like because they create more options on the breakout.  Matt is able to use his teammates effectively but if the pass is not there he has the option of carrying it out himself and as the play develops either has openings or draws defenders and dishes the puck well.  His shooting and passing motions are very fluid and natural and he is able to get a lot on them rather than having to try to muscle or force shots.  his wrists movement is good while carrying the puck and he is decent at protecting the puck though this is one area where he could use more work.  He often uses foot speed rather than hands to evade defenders and if he improves his puck protection and handling in tight he will be even steady carrying the puck.  Overall, as a defenseman, Matt is well above average in his puck skills and combined with his other skills this has allowed him to be an offensive threat.
Shooting
Matt is known for his shot and for good reason.  He scores a lot of his goals from the point or the high slot with a good hard, accurate shot.  He has a fairly quick release and good natural shooting motion.  His choice of shots probably has as much to do with his points total as how hard it is.  Matt picks his spots and changes his shot up as the situation requires.  Through traffic he will let it go faster so that blockers aren't as ready and he keeps it low to get it through.  When he has a clear lane to step in a bit he can blow it by goaltenders upstairs.  I think in shooting, as in most offensive skills, Matt comes drafted as an already gifted player with room to grow.
Physical Play
Matt isn't very physical.  Just checking if you were awake.  We've all seen the highlights, we saw him at the top prospects game, and we have heard people talking about that 'monster' from the WHL.  Matt Dumba is a very physical player and I think coming to Red Deer was the perfect situation for him since he got to play alongside Alex Petrovic who is a good prototype to follow in a lot of areas.  Matt is known for his open-ice, high-speed collisions and I've witnessed a few of them myself and that aspect of his physical play cannot be overstated.  Those hits change the complexion of a game in an instant.  The opponents have to be a little more uptight, your team gets a charge from it, and depending on where the game is the crowd gets really loud or really quiet.  But, that's definitely not all there is to Dumba's physical game.  He is also very effective when he is in good defensive position (most of the time).  What I mean is, if he is between the opponent and his own net he is hard on forwards.  When he has them against the boards he just gives no room to make plays and with his constant physical pressure and his good stick work he usually comes out with the puck in these situations.  In front of the net is the same thing, if he has position he is able to box guys out and control rebounds.  It is when he makes a play for the puck or somehow gets turned around along the boards that he has defensive lapses.  He is not big enough in the slow gruelling areas of the game to just push his way through some of the bigger players or compensate for positioning with reach and size.
Fortunately for Matt he is well coached and stays in position fairly well.  It is an area he still has room to improve on but he isn't as high risk as PK Subban who I mentioned before and who some compare him to.  In the offensive zone Dumba's physical presence also comes into play.  He often pinches in along the wall and can hammer forwards as they focus on breaking out.  If he comes in from the point for a clear shot he often follows the shot to the net and when driving hard he can be hell on defenseman standing still in front of the net.
Intangibles
One of the things that has elevated Matt this year in my mind is the fact that he has faced adversity.  A player can have all the skill in the world but still not have a winning attitude.  A lot of highly skilled players do not translate into big game players or big moment players.  I think we got to see a glimpse of how Matt plays under less-than-ideal circumstances and he has shown through.  Matt is very composed and was able to put up big numbers and the Rebels were able to win more games than they might have due to him and a couple other key guys stepping up this season.
Physically he held up well down the stretch as well which is a good indication since the schedule in the CHL can be almost as tough as the NHL and maybe tougher at times when you don't have as many players in the system to fall back on when injuries hit.  Though I imagine he was probably tired his enjoyment and enthusiasm for the game probably helped him out as well.  As soon as his skates touch the ice for warmups he is going and he doesn't slow down very often.  The kid comes to play.
Analysis
Like I mentioned I have seen Dumba play head-to-head with some of the top defensive prospects in this years draft and I feel that his natural talent along with his willingness and attitude make him the most attractive defenseman in June.  The areas that he needs to improve in are areas that players usually do progress in as they play at a higher level and get better coaching and training.  The talent that he has isn't easy to find and will make for a great addition to any organization.  His enthusiasm does get him into trouble at times but it shouldn't be mistaken for poor hockey sense, he sees the ice very well and controls the play as well as almost any player at the level.  He is in a different gear that most players most of the time, meaning he doesn't work his way into a game he blasts through it from the first whistle.  Positionally and system-wise I feel he is very coachable while at the same time he adds elements to a team's attack where he can be effective stepping outside the regular game plan.  Overall, he should develop into a solid, exciting two-way defenseman would will put fans in the seats and pucks in the net.  I don't see him as a big risk as a draft pick and would be surprised if he's not the top defenseman picked this year.  As a coach or GM, a guy who is not only talented but does the most he can with that talent every game is the guy you want on your team, that guy's name is Matt Dumba.
Dustin has published articles on poker, MMA, and hockey as well as writing for newspapers and other magazines. He also photographs minor hockey tournaments and WHL games.