It was recently revealed that Hamilton Bulldogs forward Michael Bournival has been suffering from dizziness for some time. Bournival was demoted to the AHL after the trade deadline when the Montreal Canadiens loaded up on more experienced depth players, pushing Bournival out of a roster spot. Reports have said Bournival has suffering from dizziness since his time with the Habs. Despite the attempts to try to educate players further on the impacts of concussions and head injuries, Bournival's situation shows there is still more that can be done.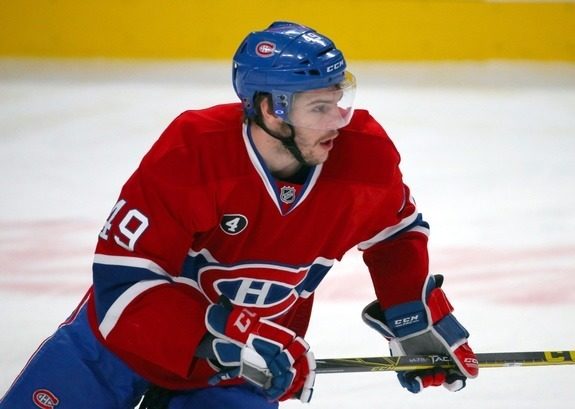 Bournival's Struggles
Bournival has had a trying season so far. He didn't play his first game of the season until November 4th and has been a regular healthy scratch. For whatever reason, he hasn't been able to get the trust of the coaching staff and only when the team needed a shakeup or if there was an injury did Bournival get into the lineup.
As a player, Bournival's best assets are his speed and work ethic. He isn't much of scorer but has shown flashes he could be effective as a bottom-six checker given the proper chance. At 5′ 11″ 195 LBS (according to NHL.com), Bournival is not the biggest player in the world and has absorbed more than a few big hits in his career. If Bournival is officially diagnosed with a concussion, it certainly won't be his first as he suffered one last season as well.
Awareness
The last few years have seen the awareness around concussions skyrocket. The NHL lost Sidney Crosby to concussions for months at a time which put the spotlight on head injuries and there has been more medical evidence to support how concussions can be a detriment on long-term health. In hockey, the prevailing attitude of toughness and masculinity still looms large. There is pride in taking one for the team or sacrificing yourself to make a big play. As a depth player already struggling to get into the lineup, Bournival very likely did not want to lose his spot on the team and suffered in order to play.
Prior to Sunday when he was finally scratched, Michaël Bournival played despite dizziness for both MTL and HAM. He's being examined further.

— Marc Antoine Godin (@MAGodin) March 17, 2015
No doubt fingers will pointed in this scenario. Is the medical staff's fault for not knowing? Is it Michel Therrien's fault for not giving Bournival the chance to succeed? Is it Bournival's for not coming clean on his health? But putting the blame squarely on one person's shoulders solves nothing. The fact is Bournival sacrificed his health by playing games and it is a sobering thought as he felt he needed to shove the pain aside to keep playing.
What can we learn from this
Michael Bournival's situation is further justifying how much players need to be aware of the impacts of head injuries. With Bournival having already suffered a prior concussion, it just makes it worse. It's hard to blame Bournival for not wanting to give his spot in the lineup but the mentality behind playing with serious injuries needs to be re-evaluated. Players shouldn't be afraid of losing their jobs because they are hurting and with the NHL being the business it is, it is easy to forget the human aspect. It's one thing to play out your NHL dream despite the pain, but it becomes a nightmare post-career when the effects of past injuries start to affect your quality of life.