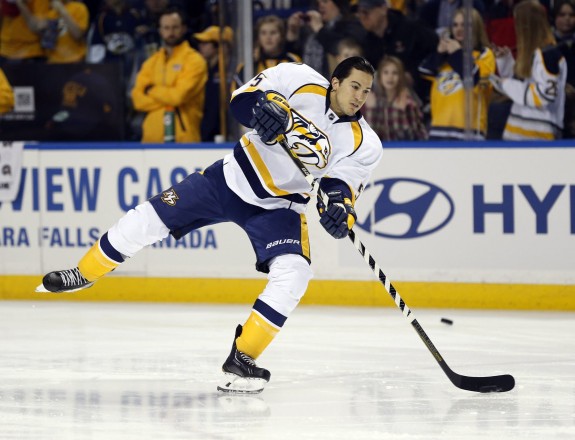 Let's be blunt. Michael Del Zotto had a terrible 2013-14 season with the New York Rangers and Nashville Predators. In 67 games this season, Del Zotto had just 16 points (3 goals, 13 assists) and a -9 rating, a significant decrease in his production compared to his first four seasons in the NHL.
"Obviously I'm not too happy with how this year has gone for me," Del Zotto told Joshua Cooper of The Tennessean. "I have high expectations for myself, and being traded here I wanted to prove I could play to the best of my ability and how I had in the past."
Del Zotto was traded to the Predators in exchange for veteran defenseman Kevin Klein on January 21. With a new crop of youngsters emerging for Nashville, it made sense to add the 23-year old left-hander to the defense core for the remainder of the season, and possibly for years to come. The 2008 20th overall pick made $2.55 million last season to close his 2-year, $5.1 million contract signed in New York. Del Zotto is now a restricted free agent heading into the summer. When the Stouffville, Ontario native was acquired by the Predators, general manager David Poile's objective was to re-sign him to long-term deal.
"We really felt with the drafting of Seth Jones and his play and with Ryan Ellis seeming to get better and better with every game that this was getting to be more of an inevitable situation with our team in terms of the ice time and in terms of the fit," Poile told the media the day of the trade. "We're really comfortable going forward with the right side of Shea Weber, Seth Jones, and Ryan Ellis. So, Del Zotto fits in nicely on the left side."
After given a second opportunity to prove himself in a new system, Del Zotto failed to produce offensively and was left a healthy scratch for 4 of the last 5 games of the regular season. Prior to that, it was apparent his ice time was decreasing, including a night on March 21 in Calgary when he was the seventh defenseman and didn't receive a shift from head coach Barry Trotz until the third period. In 3:13 of time on ice, Del Zotto accounted for an assist. Not bad, eh?
The decision of whether or not to re-sign Del Zotto will be coming soon. With a new, presumably offensive-minded, head coach entering the fold in the next month or so, he could return to his Calder Trophy-worthy form when he was 19, scoring 37 points in 80 games.
"I've enjoyed my time here. I've only been here 2 and a half months," Del Zotto said. "The guys have been great to me, the organization has been unbelievable.
"I have no idea what's going to happen. We'll see what happens this summer and just take it one day at a time."
The main goal for Poile and Del Zotto has to be to avoid the messy situation of arbitration. Del Zotto is well aware of how disappointing his season was in 2013-14, which gives Poile leverage of decreasing his current annual salary to possibly $2 million. Offering Del Zotto a one-year, $2 million contract is the way to go for Nashville because allows him a "last shot" in the organization to prove himself worthy of big, long-term contract wearing gold and navy.