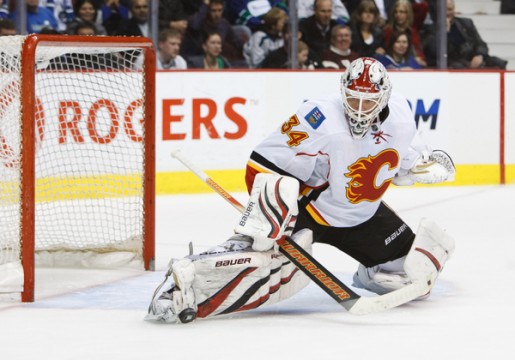 Miikka Kiprusoff couldn't be returning at a more opportune time.  After missing the last 13 games with an MCL injury, the Flames' all-time wins leader is set to start tonight against his former team, the San Jose Sharks.
The Flames had a disastrous road trip last week in which they garnered 1 out of a possible 4 points by garnering a shootout loss in Minnesota and surrendering a 3-0 lead to the Colorado Avalanche, who would go on to win 5-4 in regulation.  This was compounded by the absolutely embarrassing management gaffe by general manager Jay Feaster, who's ill-fated offer sheet to Colorado's Ryan O'Reilly would have likely cost the Flames their 1st and 3rd round picks this summer as well as O'Reilly, as he would have been required to clear waivers.  This oafishness was somewhat forgotten when the Flames beat the hated Vancouver Canucks 4-2 at home on Sunday.
With the return of Kiprusoff tonight, the Flames hope to ride their momentum and begin turning their season around as the controversial goal for the franchise is still to make the playoffs.  This undoubtedly starts from the net out, as Kiprusoff was not his usual exemplary self when he was injured a few weeks ago in a win against Detroit.
Kiprusoff's record sits at 2-3-2, his goals against average is 3.24, and his save percentage is an astonishingly low .870.  To put these numbers in perspective, a ranked comparison with the three other Flames goalies to start a game this season (Joey MacDonald, Leland Irving, and Danny Taylor) has his win total tied for 2nd, his goals against average tied for 3rd, and his save percentage dead last at 4th.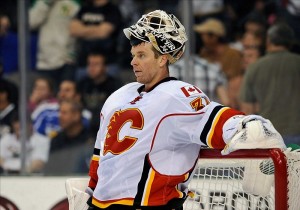 Simply put, these need to be higher.  While the team in front of him can certainly be blamed for often failing to provide goal support or consistent defence, that simply doesn't matter in the NHL if your goaltender stops a puck less than 90% of the time.  With the Flames already in playoff mode just to make the playoffs, Kiprusoff will likely start the bulk, if not all, of the next five Flames games.
After hosting the Sharks tonight, the Flames are on the road for dates with the resurgent Anaheim Ducks and a back to back with the red-hot Los Angeles Kings before returning home for a matchup with the always dangerous Detroit Red Wings. This is a tough 5 game outing, and with the Flames desperate for points Kiprusoff simply needs to steal one of these games outright.
If he doesn't, the Flames are almost as good as done for the year.  That 5-game stretch will take them past the half-way point of the season, and 5 points or less out of a possible 10 will more likely maintain the status quo than precipitate a jump in the standings.
With Jarome Iginla finally starting to look like a legitimate goal scoring threat again, Kiprusoff needs to be the unquestioned number one netminder. He has quietly paced the Flames for nearly a decade and in recent memory has been the primary reason they have not been relegated to a lottery pick team.  The combination of his injury and the lockout shortened season means that he will play in the least amount of games since his first year with the franchise in 2003-2004, and the logical line of thought would dictate that this rest would prove beneficial down the stretch.
While the window of opportunity has arguably closed on the Flames, that hasn't stopped them from knocking on every door available like a girl scout selling cookies. Starting tonight, it's up to Kiprusoff if fans and pundits start to buy what they are selling.