Mike Milbury is no stranger to dishing out scalding hot takes. He spews opinions with no regard for the facts on a regular basis, but his insistence that Steve Mason is not a #1 goalie that is capable of carrying a team to the Stanley Cup takes the cake for two reasons.
The first is that he's been beating this drum for years, basically since Mason was acquired by the Flyers in April, 2013. Sure, at that point in his career, it would be a fair criticism. After a stellar rookie season, Mason struggled mightily and looked like a lost cause in the NHL. But in Philadelphia, he has more then resurrected his career, and in over 160 games has shown that he is, objectively, one of the best goalies in the league. Even last night, when Mason was absolutely spectacular it wasn't enough for him.
If you go back into the history of Twitter, you can find him trashing Mason left and right.
Worth noting that Mike Milbury crushed Steve Mason on NBCSN pregame show. Said Flyers teammates shouldn't trust him.

— Alan Hahn (@alanhahn) March 22, 2016
"I'm not sold on Steve Mason as a #1 goaltender" -Mike Milbury, the GM who signed Rick DiPietro to a 15 year contract.

— Brockstar🦅🍀 (@brockstar91) October 21, 2015
Boruk: Mike Milbury was critical of Steve Mason and his consistency this season. Was Milbury's analysis off the mark?

Jonesy: As usual.

— Sad Eagles Fan (@anxiouscarbon) April 7, 2015
Mike Milbury called Steve Mason a run-of-the-mill goalie, what game is he watching & why does he still have a job?

— KEVIN GRECO (@kgreco15) April 5, 2015
https://twitter.com/FakeKimmo44/status/583407166335365120
The second reason it's bad is that people are actually starting to believe it. Mike Milbury has been beating this drum for so long that he's now convinced some Flyers fans that Mason is not that good. When it was announced that Michal Neuvirth would miss the rest of the regular season with a torn meniscus, Milbury acted as if the Flyers had lost their #1 goalie. Full disclaimer: Neuvirth has been fantastic this season as a backup. He's 10th in even-strength save percentage, and is one of the best backups in the league. But he is not, and will not be, the starter as long as Mason is healthy.
A quick search of Twitter will show you plenty of Flyers fans that think Steve Mason is not the guy:
@TimRiday @BroadStHockey smh put Neuvirth in he is number one goalie

— jake (@_jakegrant_) March 6, 2016
https://twitter.com/Austin_Ebersole/status/699033489006600192
Steve Mason sucks. Idk why neuvirth isn't our everyday starter.

— Terence Devone (@Philly_Sports__) January 8, 2016
NEWFLASH: Steve Mason Doesn't Suck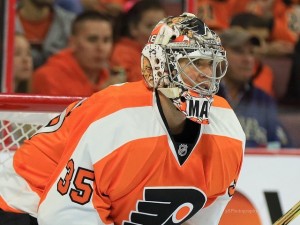 The most often-cited statistic regarding Mason as a quality goaltender is his strong even strength save percentage. Since being acquired by the Flyers, Mason is 4th among all NHL goalies with at least 50 games played in even strength save percentage with a mark of .9337. The three goaltenders ahead of him are Henrik Lundqvist, Carey Price, and Tuukka Rask. You might recognize them as winners of three of the last four Vezina Trophy winners. The fourth Vezina winner, Sergei Bobrovsky, sits in 11th.
If you look at just this season, Mason sits at 13th in the league in even strength save percentage among goalies with at least 30 games (starters or those in a timeshare). It's not as elite as the rest of his time in Philadelphia, but it's in the top half among starters in the NHL.
Why use even strength save percentage? It's the best predictor of the quality of a goalie. A goalie's save percentage when his team is on the power play is an extremely small sample (and not representative of the typical chances he faces in a game), and shorthanded save percentage has been shown to basically be random, meaning you can't reasonably predict who will lead the league in shorthanded save percentage year-to-year.
This year, the top five goalies (who played in at least 30 games) in shorthanded save percentage are John Gibson, Jaroslav Halak, Ben Bishop, Cam Talbot, and Frederik Andersen. Those players are all good goalies, but none are mentioned as the usual suspects in the discussions of the best goalies in the league. The four Vezina winners mentioned above? They rank 25th, 26th, and 34th among 36 eligible goalies (Price hasn't played enough games to be eligible).
Look at last year, and you see the same thing. A top five of Semyon Varlamov, Marc-Andre Fleury, Ben Bishop, Eddie Lack, and Devan Dubnyk. The Vezina winners above finished 15th, 22nd, 24th, and 35th out of 41 eligible goalies.
Another favorite argument against Mason is that he's not proven in the playoffs. Yes, he's only played in two playoff series in the NHL. But that's far from his fault. That's an indictment of the teams playing in front of him than it is an indication of his poor play. He was admittedly poor in his first series in his rookie year in 2008-09, but that was seven years ago. If you want to cling to his poor performance in that playoff series and say that's why he sucks, well, then you got me.
In his one playoff series as a Flyer, he was absolutely stellar. He took the eventual Eastern Conference Champion Rangers to 7 games (while concussed), posting a 1.97 GAA and .939 save percentage along the way.
Philadelphia #Flyers G Steve Mason has confirmed that he was concussed and dealing with headaches during the series. http://t.co/t2E63dXHL3

— HockeyRumors&Trades (@HockeyRandT) May 1, 2014
So why does Mike Milbury insist on giving Steve Mason so much flak? That's a good question that, 771 words later, I still do not have the answer to. It is a mystery with no answer.
Bill Schoeninger is a Philadelphia Flyers writer and current Boston University student studying business. Coming to THW from Hometown Hockey, Bill follows and writes about the Flyers, Boston University Terriers, and NHL Draft prospects. Follow him on twitter @BSchoeninger17