The wildfires in Fort McMurray, Canada, continue to blaze on, despite Canadian officials' best efforts to keep the massive fires under control.
The fire, which has burned for over three weeks, has affected hundreds of thousands of Canadians, including a handful of NHL players. The Minnesota Wild's Jared Spurgeon is one of those players.
Spurgeon's wife, Danielle, felt the effects of the fire when her parents lost their home in west Edmonton. The couple then decided they wanted to help the victims of the Fort McMurray fires, and organized a Minnesota Wild autograph session to help raise money.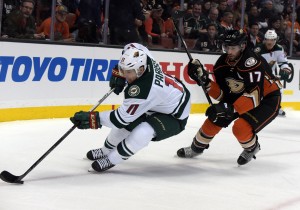 So, if you're going through Wild withdrawal; you're missing seeing your favorite players on the television every night; you want to help the victims of the wildfires; and you want some autographs in the process, today is your lucky day.
The Spurgeons' event is set for today, May 26, from 3:00 pm to 4:00 pm. The autograph session will be held at BMO Harris Bank near 50th and France in Edina, Minnesota. Zach Parise, Jason Zucker, Nate Prosser, Erik Haula, Jason Pominville, and of course Jared Spurgeon will be in attendance. To participate, the autographs will require a $50 donation – 100 percent of the proceeds will be donated to relief efforts to help victims of the wildfires. For full details, click here.
While the wildfires give this event a somber tone, the autograph session is still a great way to get your Wild summer hockey fix while also helping the Fort McMurray community.
Alli covers the Minnesota Wild and has been a contributing writer with THW since August 2014. She is currently a journalism and sports management student at the University of Minnesota. For all of your Minnesota Wild news and updates, follow her on twitter: @allibaker23