The Minnesota Wild have hired Bruce Boudreau to be the fourth non-interim coach in their short history. He comes in with a very impressive record, but also with a muddled reputation. His ability to rack up wins and division titles has many fans excited; while his inability to translate that regular season success to playoff glory has many fans worried. This article is the first in a series of three pieces looking into Boudreau and what he brings to Minnesota.
For some context on what Minnesota coaches have done in the past, here is an interactive graph.

Boudreau's Coaching Record-
| | W | L | OTL | Pts% | Div Titles | Playoffs | Seasons |
| --- | --- | --- | --- | --- | --- | --- | --- |
| ANA | 208 | 104 | 40 | 0.648 | 4 | 4 | 4.5 |
| WSH | 201 | 88 | 40 | 0.672 | 4 | 4 | 4.5 |
| Total | 409 | 192 | 80 | 0.659 | 8 | 8 | 9 |
Bruce Boudreau began coaching nearly 25 years ago in the IHL. From there he moved on to the ECHL, to the AHL, and then to the NHL, where he has remained for parts of the last 9 seasons. When he was promoted from the Hershey Bears to Washington in November of 2007, he took over a struggling Capitals team. By the time the season was over, they were the division champions. He spent another four seasons with the Capitals, overseeing some of the top teams in the NHL at that time. After a slow start to the 2011/12 season, he was fired in November. He was immediately hired by the Ducks. While with Anaheim, Boudreau guided the franchise to four straight division titles, and to the 2015 Western Conference Finals. He was fired after losing in Game 7 of a series the Ducks had led 3-2 for the fourth year in a row.
Much has been made of the lack of playoff success for Boudreau, but what gets lost in that conversation is the notable impact Boudreau has had on both franchises he has coached. Hence, the "Bruce Effect"-the tangible shift in underlying numbers and wins that occurs when Bruce joins or leaves a team.
The Numbers Chosen: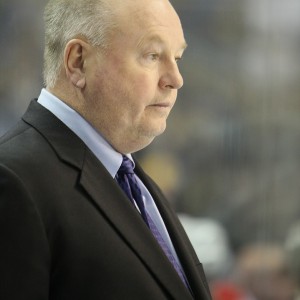 When examining the impact Boudreau has had on a team, I looked at three underlying stats to go along with wins. Keep in mind, no one way to examine a team is perfect; however, I do feel the stats I chose paint a fairly accurate picture of the effect Boudreau has had on his teams.
xGF%(Expected Goal For Percentage):
this stat was developed by Emmanuel Perry of Corsica.hockey. I could try to explain it myself, but it's best to go straight to the source: "xGF% uses shot quality estimates to derive an expected GF% based on both the quantity and quality of shots taken. Shot quality is estimated using numerous factors including shot type, distance and angle."
Essentially, if a team has a xGF% above 50%, it means they are generating more shots that have a better chance of going in than their opponents are.
CF% (Corsi For Percentage):
the most infamous "advanced stat" is used as a proxy for possession. This number has a strong correlation to team and individual success, and is generated by tracking shot attempts. Here is a chart showing the top 5 franchises in CF% from 2005-Now.

Essentially, if a team has a CF% above 50%, it means they are generating more shot attempts than the other team. The logic being one needs to have the puck more in order to shoot more.
HSCF%
(High-Danger Scoring Chances For Percentage):
this number is similar to xGF%. However, xGF% gives you an idea of how many dangerous shots are being generated from anywhere; whereas, HSCF% reveals how many shots are being attempted in a very specific area- the front of the net.
Essentially, if a team has a HSCF% above 50%, it means they are generating more shot attempts in front of their opponents net- in close and in the slot. A team with a higher number in this stat likely emphasizes attacking the opponents net.
'The Bruce Effect' on Washington:
First we will take a look at what Bruce was able to do in Washington. While Boudreau was with the Capitals, they
'The Bruce Effect' on Anaheim:
When Bruce was fired by Washington in Novemeber of 2011, he was hired just two days later by the Anaheim Ducks. Boudreau inherited quite a mess, and while he led the team to a 27-23-8 for the rest of the season, it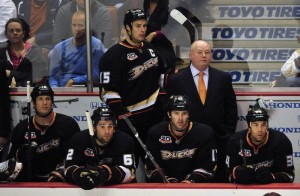 was not enough to clinch a playoff spot. This is the only time in his NHL career a team he has coached, even for part of a season, has missed the playoffs. After winning a Cup in 07′, the Ducks had a lot of trouble continuing to be a serious Cup contender, missing the playoffs twice in the next five seasons. They had talent, but their underlying numbers were not indicative of the skill in the room. Covering the span in which Boudreau was coaching the Capitals, the Ducks were anything but dominant. Their CF%-47.5 (25th), HSCF%-46.7 (28), and xGF%-47.08 (27) were all at the bottom of the NHL. They weren't controlling the puck, they weren't getting to the opponent's net, and they weren't getting dangerous shots off consistently. Enter Boudreau. The Ducks made the playoffs the next four seasons, winning the Pacific Divsion title each year. Their underyling numbers improved dramtically under Boudreau, and to no suprise, they began to win a lot of games. From his first game to his last, the Ducks were dominant: CF%-50.4 (14), HSCF%-51.8 (9), and xGF%-51.75 (7). They were a top team in the NHL every season under Boudreau. This graph showcases just how dramatic the change was in Anaheim with Boudreau. Take speical note of the average wins per season change.

It cannot be denied that Bruce Boudreau has been successful in the NHL as a head coach. He has won at a faster pace than any coach in NHL history, and he collects division titles like they are skipping rocks on the shores of Lake Superior. Obviously, there is more to the game of hockey than the three underlying statistics I examined. However,they give a slight glimpse into why Boudreau wins a lot of games. His teams play a style that is conducive to winning consistently: they possess the puck and get dangerous shots off in dangerous areas. It cannot be denied that he is a high-level coach. The Minnesota Wild are very lucky the Ducks fired him when they did, and that Boudreau chose them.