July 4, 2012 was the day that Zach Parise and Ryan Suter broke free from their original squads to sign with the Minnesota Wild.  The day that Wild fans broke free from the mediocrity of the past few seasons.  The day that the franchise broke free from the memory of the two giants who dominated their first decade of existence, Jacques Lemaire and Marian Gaborik.  The day that would usher in the next decade of Minnesota Wild hockey.
It was also the day that re-affirmed Minnesota's debt to one of hockey's most successful franchises, the New Jersey Devils.
Besides sharing the distinction of being the only two teams in NHL history to rock red and green as primary uniform colors, Minnesota has imported a disproportionate amount of Jersey talent over the past decade.
 

Veterans Acquired by Minnesota Wild with At Least Five Previous Seasons for Another Team (Excluding "Cup of Coffee" Seasons)

Team
Number
Player
New Jersey

4

Zach Parise (2005-12), John Madden (1999-2009), Petr Sykora (1995-2002), Brian Rolston (1994-99)
Colorado/Quebec

3

Curtis Leschyshyn, Owen Nolan, Martin Skoula
Anaheim

2

Matt Cullen, Jason Marshall
Ottawa

2

J.J. Daigneault, Jose Theodore
Los Angeles

2

Eric Belanger, Sean O'Donnell
Ottawa

2

Alexandre Daigle, Martin Havlat
Carolina

1

Sean Hill
Edmonton

1

Tom Gilbert
Nashville

1

Ryan Suter
New York Islanders

1

Mark Parrish
Philadelphia

1

Todd Fedoruk
St. Louis

1

Pavol Demitra
San Jose

1

Owen Nolan
Vancouver

1

Cliff Ronning
Washington

1

Chris Simon
In comparison, the Columbus Blue Jackets, who debuted in 2000 with the Wild, have had zero ex-Devils who fit the criteria.
 

Minnesota Wild Skaters/Goalies with Over 150/50 Games in Minnesota and Their Drafting Organization

 

Team
Number
Player
New Jersey

4

Brad Bombardir, Brian Rolston, Jim Dowd, Willie Mitchell
Boston

3

Sergei Zholtok, Antti Laaksonen, Wes Walz
Colorado/Quebec

3

Manny Fernandez, Martin Skoula, Branko Radivojevic
Edmonton

2

Ladislav Benysek, Kyle Brodziak
Los Angeles

2

Eric Belanger, Matt Johnson
New York Rangers

2

Marek Zidlicky, Kim Johnsson
Ottawa

2

Martin Havlat, Greg Zanon
Anaheim

1

Matt Cullen
Calgary

1

Kurtis Foster
Dallas

1

Antti Miettinen
Pittsburgh

1

Richard Park
San Jose

1

Andrei Zyuzin
Toronto

1

Darby Hendrickson
Washington

1

Andrew Brunette
11 players who fit the criteria were Minnesota-drafted, while three players were undrafted free agents (Pascal Dupuis, Dwayne Roloson, Niklas Backstrom).
In comparison, the Columbus Blue Jackets have had just one Jersey-drafted prospect with that many games for them, Mike Commodore.
Now let's take a brief look at each of these former Devils and their Wild years.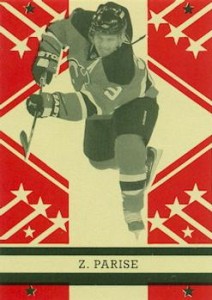 Devil's Connection
New Jersey's first-round pick in the landmark 2003 Draft and part of the memorable 2005-06 rookie class, Parise went on to captain a 2012 Devils squad that reached the Stanley Cup Finals.  He left New Jersey though he was on pace to become one of the franchise's top scorers ever.
A Wild Time
Signed by Minnesota this past summer for a 13-year, $98 million dollar contract, the hometown kid will be expected to blow past Marian Gaborik's franchise-leading 219 goals and lead the team to multiple deep playoff runs.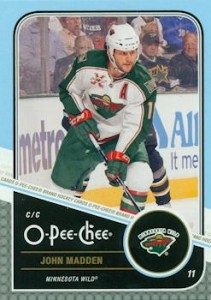 Devil's Connection
Madden emerged in 1999, rising from undrafted free agent to shutdown checker on two Devils' Stanley Cup championship squads in 2000 and 2003.  He won a Selke Trophy in 2001 and was runner-up in 2003, 2004, and 2008.  After a decade in New Jersey, he helped the Chicago Blackhawks win the 2010 Stanley Cup.
A Wild Time
After that banner season in the Windy City, Minnesota hoped the three-time Stanley Cup champion could lead them back to the playoffs.  While Madden had a credible season, at 37, his game had slowed and the Wild came up short.  He was left unsigned after the season.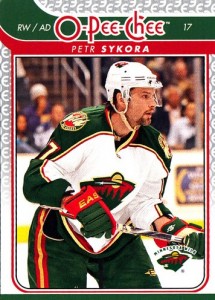 Devil's Connection
New Jersey's first-round pick in 1995, Sykora made varsity that same year after only a month in the AHL.  He was the right wing sniper on the A-Line, New Jersey's top line during the 2000 playoffs, pacing the eventual champs with nine goals.  In 2002, he was sent to the Ducks for Jeff Friesen and Oleg Tverdovsky.
A Wild Time
By the time Sykora made his way to Minnesota in 2009 after another Stanley Cup with Pittsburgh, he had become a reliable secondary scorer.  But after only two goals in 14 games, the Wild waived him due to injuries and clashes over playing time with Coach Todd Richards.  He revitalized his career last season with 21 goals…for the Devils.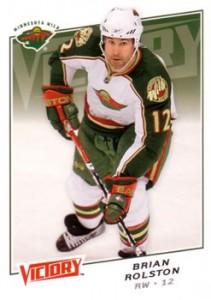 Devil's Connection
New Jersey's first-round pick in 1991, Rolston debuted four years later, helping the Devils to their first Stanley Cup in 1995.  A solid two-way contributor, he blossomed in 1999 with his first 20-goal season and was traded the next season to Colorado for good luck charm Claude Lemieux.
A Wild Time
Rolston had developed into a reliable secondary scorer when the Wild signed him to a three-year, 9.6 million dollar deal in 2004; at the time, it was Minnesota's most expensive free agent signing ever.  He became a power play marksman with the Wild, scoring 39 goals on the man advantage in three years (after 42 PP tallies in his previous 10 seasons) and 96 goals in all. This helped Minnesota to two playoff appearances, including their first division crown.  After that season, they scrambled to re-sign him, but after contentious negotiations, Rolston opted to sign a four-year, $20 million dollar deal…with the Devils.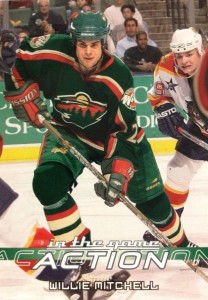 Devil's Connection
Drafted in the eighth round by New Jersey in 1996 (and arguably the third-best draft pick of that very thin draft), Mitchell played two cups of coffee with the Devils before being traded for veteran defenseman Sean O'Donnell in preparation for the 2001 playoffs.
A Wild Time
As covered here, Mitchell was a defensive rock in Minnesota for a half-decade and should've stayed for much longer.  Most famously, he battled Vancouver monster Todd Bertuzzi to a stand-still in the 2003 playoffs despite the behemoth breaking his jaw earlier in the series.  He was traded to Dallas in 2006 for Martin Skoula and Shawn Belle because of his impending free agency.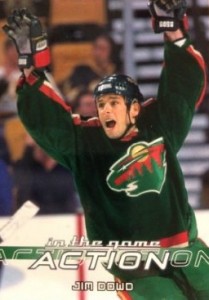 Devil's Connection
New Jersey's eighth-round selection in 1987, Dowd fought his way into the Devils' line-up for Game Two of the 1995 Stanley Cup Finals, notching the game-winner with 1:24 left in regulation against heavily-favored Detroit.  After playing only 55 regular season games over five years, injured, scratched or shuttled between the majors and the minors, he was dealt to Hartford.
A Wild Time
After bouncing around Vancouver, Long Island, Calgary, and Edmonton, Dowd finally found his place as a solid checking center after being claimed by Minnesota in the 2000 Expansion Draft.  Playing almost four seasons in Minnesota and captaining twice during the franchise's nine-year stretch of rotating captains, he notched three assists in the franchise's first-ever victory on October 18, 2000.  He was traded to Montreal in 2004, as the Canadiens prepared for a playoff run.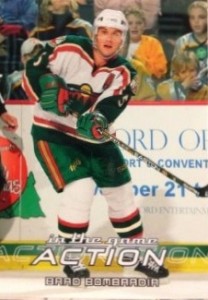 Devil's Connection
Drafted in the third round by New Jersey in 1990, Bombardir finally reached the bigs in 1997 as a seventh defenseman.  After three years in that role and an appearance in the Devils' 2000 Stanley Cup-winning playoff run, he was traded to Minnesota after the Expansion Draft for Chris Terreri.
A Wild Time
Another original member of the Wild, Bombardir proved to be a sound defender, peaking with the second-highest average icetime among Wild defensemen in 2003, the team's first-ever playoff appearance.  He was a respected leader, tying the franchise record (with Brian Rolston) with three stints as Captain.  He was also traded in 2004, this time to Nashville for their playoff run.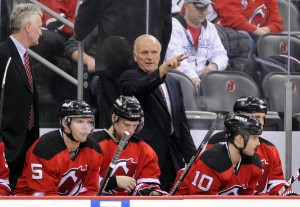 Devil's Connection
Jacques Lemaire coached the Devils from 1993 to 1998, winning the Devils' first-ever Stanley Cup and a Jack Adams trophy in 1994.
A Wild Time
The coach during Minnesota's first nine years, Lemaire was the architect of the Neutral Zone Trap, a style of play that hamstrung offensive creativity but wrung competitive success out of undermanned teams.  This combination of dull but effective crested in 2003 with an appearance in the Western Conference Finals and another Jack Adams Trophy for Lemaire.  He would resign from the Wild in 2009 and return to coach…in New Jersey.