After 100-plus days of no NHL hockey, the World Junior Hockey Championships have arrived at quite the right time. This isn't to say that the variety of North American and international hockey leagues haven't been giving hockey fans what they need, but a talent showcase such as the WJHC speaks for itself.
Last year's tournament featured a plethora of young talent (both drafted and undrafted) looking to impress their respective professional teams or improve their draft stock, and this year's competition will undoubtedly feature more of the same.
In particular, the New York Islanders will be getting a chance to see how much further their 2011 and 2012 first round draft picks have developed. Ryan Strome recorded nine points (3 Goals, 6 Assists) at the 2012 WJHC and led the charge for Islanders prospects who participated in the event, but the young center shouldn't be the lone player that Islanders fans direct their attention to in the next several days.
Griffin Reinhart, the Isles' first selection in the 2012 NHL Entry Draft, will be teamed up with Strome on Team Canada, and his defensive skills will be put to the test in his first WJHC appearance.
While Reinhart and Strome's play for Team Canada will be a focal point for the Islanders organization, Ville Pokka will likely be just as closely monitored for his second tour in as many years with Team Finland.
All in all, three prospects will be representing the New York Islanders at the 2013 WJHC, and fans will have a chance to get to know some of these fresh faces a bit better in the coming days.
The Repeat Offender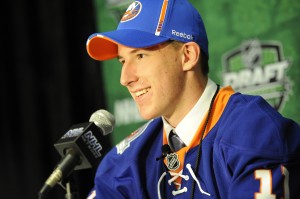 Team Canada's 2013 WJHC roster is littered with names, both recurring and new, that hockey fans can recognize in an instant.
Nate MacKinnon, Jonathan Huberdeau, Malcolm Subban, Ryan Nugent-Hopkins, Jonathan Drouin, Dougie Hamilton, and Mark Scheifele are just a few of the names that will be talked about for the duration of this year's WJHC tournament, but Ryan Strome will be expected to duplicate, if not exceed, his 2012 performance for Team Canada in Alberta.
After finishing the 2012 WJHC as one of Team Canada's leading point scorers, Strome simply proceeded to record 68 points (30 Goals, 38 Assists) for the Niagara IceDogs of the OHL.
While Strome's point totals and games played were limited last year because of a brief stint with the Islanders, and a sucker punch courtesy of Brody Silk, the forward has positioned himself to have quite an impressive 2012-2013 OHL season as he has registered 62 points (22 Goals, 40 Assists) in only 32 regular season games thus far.
A WJHC veteran such as Strome might not necessarily be expected to prove himself at this year's tournament, but hockey fans and members of the Islanders organization will be looking to see what improvements the center has made in his game.
Strome's offensive talents, coupled with his play-making abilities, have made him one of the premier prospects in the Islanders' pipeline, but his strength has been questioned over the years. Much like John Tavares, Strome will have to answer questions about his strength, or lack thereof, through his play on the ice.
Using a strong performance at the WJHC to one's advantage has always been a usable formula for top prospects. Ryan Strome might not have much left to prove offensively, as he collected a third of his 2012 WJHC point totals in Canada's opening game against Germany, but some stronger play on the puck might go a long way for the forward. Despite the fact that one can only gauge Strome's performance to a certain extent since he is playing against teenage competition, the 2013 WJHC will be a huge stage for New York's brightest prospect as he looks to cement his name on a professional roster sooner rather than later.
For those who missed Strome's first goal of the tourney, check out the video below:
Blueline Bombers
Griffin Reinhart and Ville Pokka might be on two different ends of the spectrum when Islanders fans try to pick apart the prospects, but there is ample reason to be intrigued and excited by the two aforementioned defenders.
While Reinhart has been a staple in the WHL with the Edmonton Oil Kings for the last three seasons, Pokka's development within the SM-liiga might be perceived as going a bit slower when compared to Reinhart. Reinhart displayed incremental point improvement in his first two seasons in the WHL and was rewarded for it when he was named captain of the Edmonton Oil Kings in time for the 2012-2013 WHL season.
Since Reinhart will be playing in his first ever WJHC tournament, expectations for the defender might be a bit tempered, but fans should not be surprised to see the defenseman show off a well-rounded skill set throughout Team Canada's stay at the WJHC.
On the other hand, Ville Pokka is no stranger to international competition and WJHC play. After registering four points in seven games played at the 2012 WJHC, Pokka was drafted in the second round by the New York Islanders during the 2012 NHL Entry Draft.
The Finnish defender has already tallied an assist in Finland's first contest of the tournament, and the development of the prospect on the international stage will likely draw a fair amount of interest from Islanders fans and executives. Pokka has shown steady progress with Karpat of the SM-liiga over the last two seasons, but his international experience should come in handy when the time for evaluating prospects comes around.
Prospects such as Griffin Reinhart and Ville Pokka might not draw as much attention as Ryan Strome, but the Islanders certainly have a more-than-formidable trio of players representing them at this year's tournament.
One thing is certain: If the Islanders organization and their fans want to see what stock the team has invested for the near future, then they need to look no further than the 2013 WJHC.
How Does the Trio Stack Up?
Other than the New York Islanders, five other teams have a trio of prospects representing them at this year's WJHC.
The Anaheim Ducks, Dallas Stars, Detroit Red Wings, Pittsburgh Penguins, and Washington Capitals all have three players representing them at this year's tournament, but the New York Islanders undoubtedly have one of the biggest offensive stars in their trio. Islanders fans and team executives have been patiently waiting for Strome to be NHL-ready, and the forward's second straight WJHC selection to Team Canada only reinforced the hype surrounding the young center.
Teams such as the Pittsburgh Penguins, as well as the Detroit Red Wings and Washington Capitals, are also well represented at the WJHC in terms of offense and defense. Martin Frk, Xavier Ouellet, Teodors Blugers, Olli Maatta, and Filip Forsberg are just some of the names that will be representing one of the aforementioned teams at this year's tournament, but the crop of Islanders players should not be lost in the bunch.
Ryan Strome's name probably speaks for itself at this point, but that doesn't mean that Griffin Reinhart and Ville Pokka should be overlooked. Reinhart and Pokka might not make jaw-dropping plays that astound the viewing public, but the two players are solid defenders in their own right and it will be interesting to see how the two deal with their respective workloads at this year's competition.
While it is hard to definitively say which team has the best trio of prospects at this year's WJHC, the New York Islanders certainly have a capable group of young players representing them in Ufa, Russia.
Islanders fans have constantly been hearing and talking about the prospects that the team has available in its pipeline, and the 2013 WJHC should give fans a glimpse as to what these players might be able to bring to the professional level in the near future.