Montreal Canadiens goalie Carey Price is back. Now that he is, he's unlikely to go anywhere else. Ditto for backup Jake Allen.
Carey Price Sticking with Canadiens
Of course, to a degree, Price's future is up in the air, following recent comments, saying he wants to "finish playing at an acceptable level," "not being a burden." However, logically, considering Price's decent performance in his debut against the New York Islanders and his $7.75 million salary in 2022-23, he's probably going to keep playing for the foreseeable future.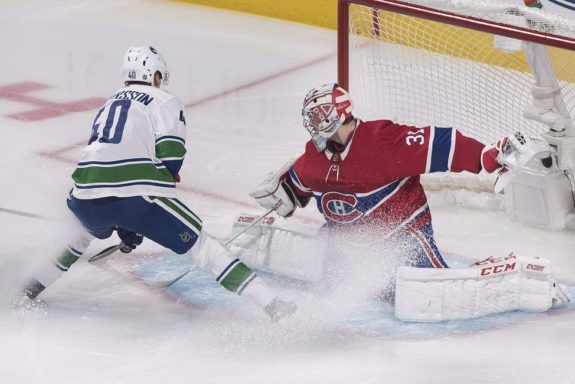 Considering Price's no-movement clause, it's unlikely to be anywhere else but with the Canadiens. Sure, you could probably see Price waiving it to go to a contender especially after it took him 14 NHL seasons to reach his first Stanley Cup Final, but how many contenders out there have the cap space to take on a $10.5 million hit?
As general manager Kent Hughes explained following the trade deadline, he had trouble trading defenseman Jeff Petry at the trade dealdine because he'd likely have to retain salary for each of the defenseman's three remaining seasons. Price has four… with a hit over $4 million larger ($6.25 million).
Related: Canadiens GM Hughes Delivers 2022 Trade Deadline Master Class
So, until the salary cap jumps considerably, Price is realistically staying put. And the longer it takes for the salary cap to jump considerably, the older Price is going to get, making it increasingly likely he stays with the Habs the length of his career.
Samuel Montembeault vs. Jake Allen
The real argument lies in whether or not that's a good thing. It's largely a debate for another day, but it should be pointed out that, by reaching the Final, Price arguably made good on his contract, however bad it is (and it's kinda the worst, literally).
So, under the fairly safe assumption Price is staying put for at least another season, he's going to need a proper backup, one who can carry a significant part of the load. While third-stringer Samuel Montembeault has shown a capacity to play a large amount of games this season (36), his overall performance in those games is unfortunately relevant.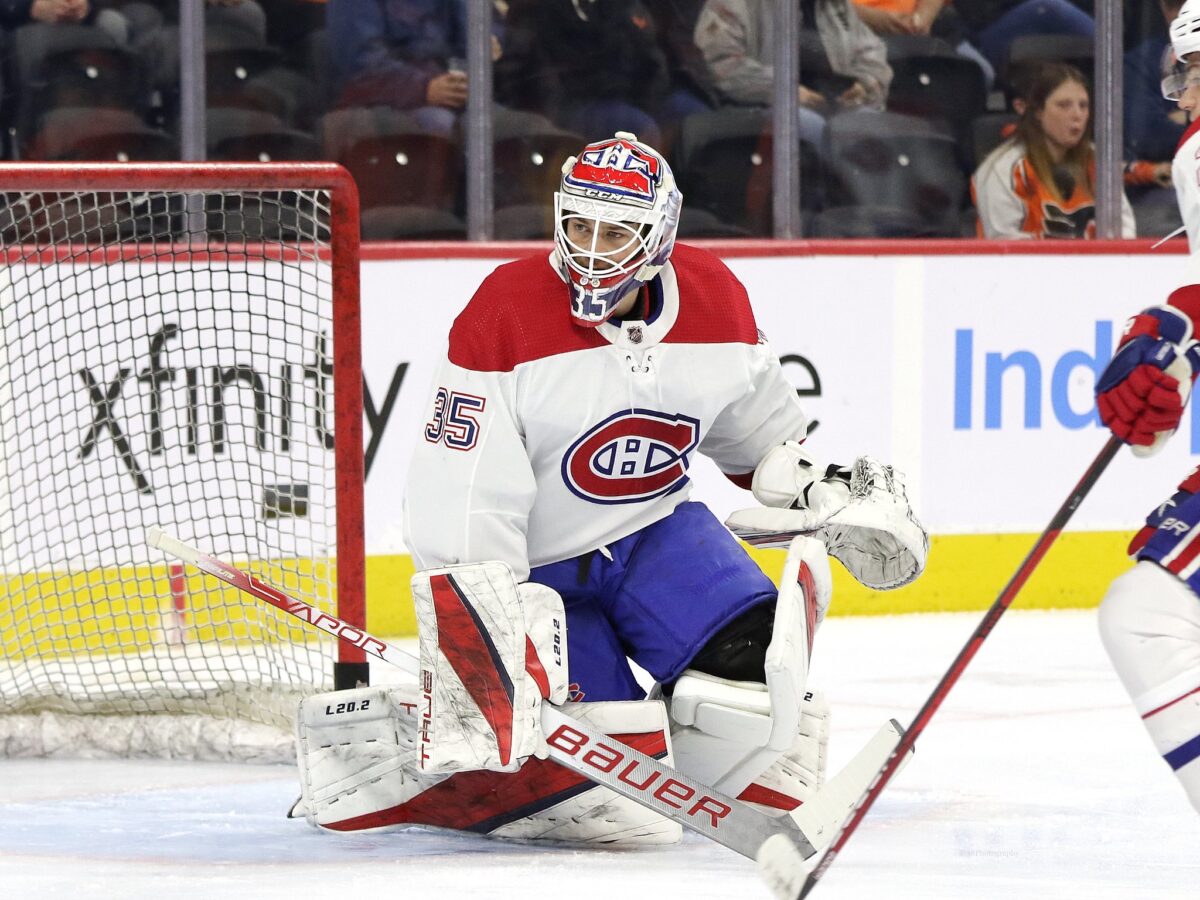 There's no disputing Montembeault's had great games, but he's also got a 3.78 goals-against average (GAA) and .891 save percentage (SV%), which aren't NHL-caliber. And those numbers are kind of in line with his career up to now. So, while the team in front of Montembeault didn't exactly help him shoulder the load on a consistent basis, it's hard to believe the 25-year-old is capable of a permanent NHL job playing behind Price next season. 
In contrast, Jake Allen's .905 SV% (3.30 GAA) is more what you would expect out of a legitimate NHL backup on one of the league's worst defensive teams. More to the point, Allen has proven himself capable of playing well consistently in Price's absence, even if the results aren't always there. He has a Jacques Beauchamp-Molson Trophy to prove it too. 
Allen also has one year left under contract after this one. Other than his higher cap hit, relative to Montembeault, there's no good reason why the Habs should (try to) unload the former. However, Allen's $2.875 million hit is much more affordable than his initial one after he first came over from the St. Louis Blues. It's more or less the going rate for a 1B goalie, and that's what the Canadiens and Price need. More than ever before in fact.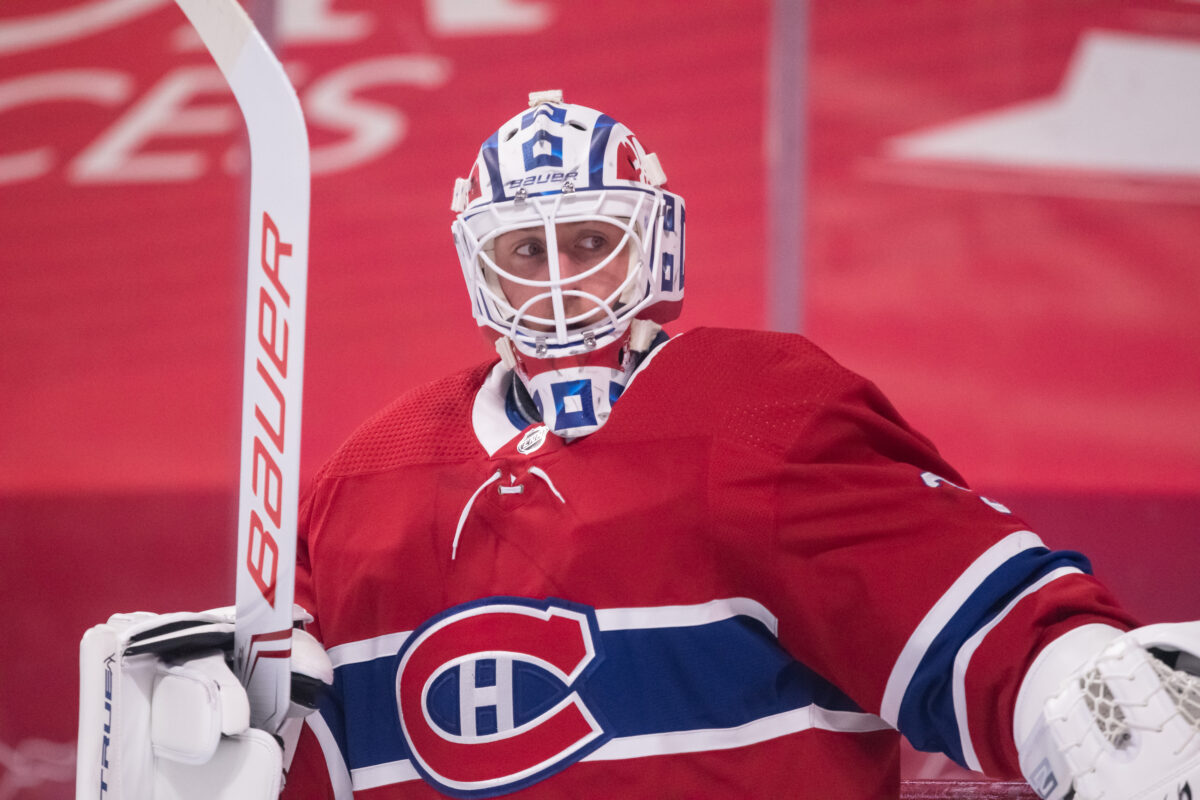 The Canadiens are going to be better next season. It would admittedly be hard to replicate their success (or lack thereof) from 2021-22. However, if you take into account reports the Habs are going to be aggressive in free agency, it's fairly clear they're not going to try to tank right out of the gate next season.
In other words, the Canadiens are going to try, period. And, until they give Hughes a reason to sell off assets, why would he in good conscious go with Montembeault over Allen and improperly insulate the still-face of the franchise in the process? It makes no sense. Push come to shove, you would ideally upgrade on Allen, not downgrade.
Samuel Montembeault vs. Cayden Primeau
That having been said, Montembeault has proven himself to be a decent option in a pinch. He's only a restricted free agent at the end of this season, and the Canadiens could do worse than keep him in the fold (if he clears waivers). After all, Allen is going to be 33 by the time his contract expires. You're not necessarily going to want to re-sign him. You are going to want an alternative option.
Maybe by 2023, Montembeault is ready to take that next step. Until then, he's better primed to compete with Cayden Primeau in the American Hockey League for starts, with the latter obviously requiring more seasoning too.
Primeau's up to 80 AHL games. The plan had been to keep him down there for 200, so he still has some time to go, before he's ready to (ideally) take over for Price. At this point, it's hard to say if he ever gets there (through little fault of his own), but there's still a place for him on the team's goaltending depth chart in theory. Montembeault's just leapfrogged over him for now, even if Primeau's ceiling remains higher.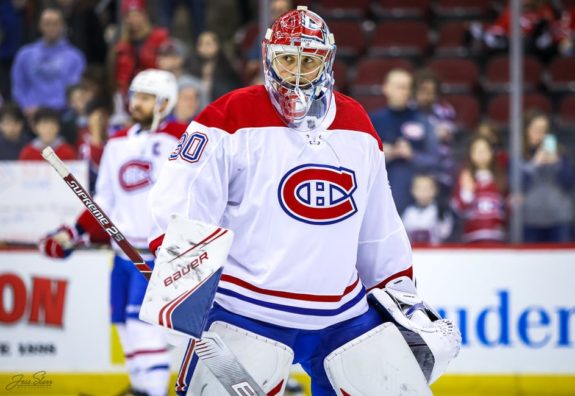 Montembeault's just more-NHL ready, even if it should be one more full season before he gets there himself, at least on a permanent basis. At least if things go according to plan in 2022-23.
Obviously, 2021-22 is a lesson in how everything can go wrong, starting with Price's near-season-long absence. With him healthy, the Canadiens already stand a better shot at competing next season. Healthy and well-rested, which is why the status quo in terms of the team's current depth chart in net must remain intact. If Price stays (and he will) and stays healthy (and he hopefully will), everyone else stays too. It's that simple.
---
Latest News & Highlights
---