The proverbial puck is on Montreal Canadiens general manager Marc Bergevin's stick, with the 2018 trade deadline approaching. February 26 is literally less than two weeks away, and, seeing as Bergevin has been one of the league's most active GMs over the course of the season, there's little reason why that would change now.
To go further with the metaphor, he's in close. Will he pull the trigger? And, if so, who on? It's at this point it's only prudent to remind you of Bergevin's most famous goal as an NHLer.
Here are the likeliest Canadiens to be on the move this NHL trade deadline:
5) Nicolas Deslauriers
There's no denying the Canadiens would love to keep grinder Nicolas Deslauriers around. He's already hit a career-high seven goals in a mere 35 games played and is just 5 points off the 15 he scored over a full season with the Buffalo Sabres in 2014-15.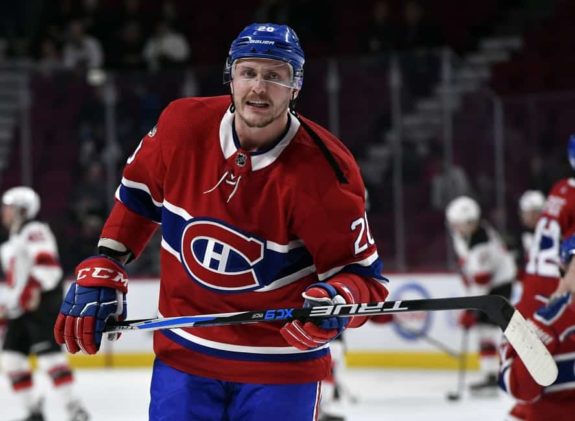 Taking all that into consideration, he could fetch at least a serviceable asset or two at the deadline. Even if he's a pending free agent, he's a local boy from LaSalle, who may very well re-sign come July 1 considering it seems to be a good fit. So, the Habs stand to theoretically gain without losing anything. Bergevin would be wise to consider moving him.
4) Jakub Jerabek
Defenseman Jakub Jerabek also falls into the pending-UFA category after having signed a one-year deal this past summer. That one year has admittedly been a bit of a mixed bag up to this point.
While the underlying statistics reveal a solid puck-moving talent who's more than earned his ice time, his point totals have left something to be desired, namely more points. His lone goal and three helpers in 25 games are likely the main culprit behind his failure to gain lasting traction with head coach Claude Julien.
Despite regularly hovering around the 20-minute mark, game-in, game-out recently, he's still averaging less overall ice time than depth defensemen Joe Morrow and David Schlemko. Surely Jerabek is worth more than either of those two?
3) David Schlemko
At the very least, Jerabek should be considered more valuable to the Canadiens than either one of Schlemko or Morrow. The latter has proven very little despite the pressure of this realistically being his last kick at the big-league can.
Meanwhile, Schlemko is looking a lot like his soon-to-be 31 years of age, unable to play above his career label of a journeyman depth defenseman and content to collect the steady paycheck he's got coming to him for the next few seasons. The problem with that is journeyman depth defensemen shouldn't be making an average of $2.1 million per year, especially if they're not contributing as expected.
He inked his current deal after scoring 19 points with the New Jersey Devils. The signing more than paid immediate dividends for the San Jose Sharks, who saw him tally 18 last season, before he was selected by the Las Vegas Golden Knights in the NHL Expansion Draft.
After being traded to the Habs, though? A meager three points. Hopefully Bergevin can get back the fifth-rounder he gave up to acquire him at the deadline and call it a wash.
2) Max Pacioretty
Logically speaking, captain Max Pacioretty should be untouchable. He's still got one more year left under contract after this one at a bargain price of $4.5 million (cap hit). Really, the only objective reason you wouldn't want to keep him around is because you don't want a perennial 30-goal scorer in your line-up.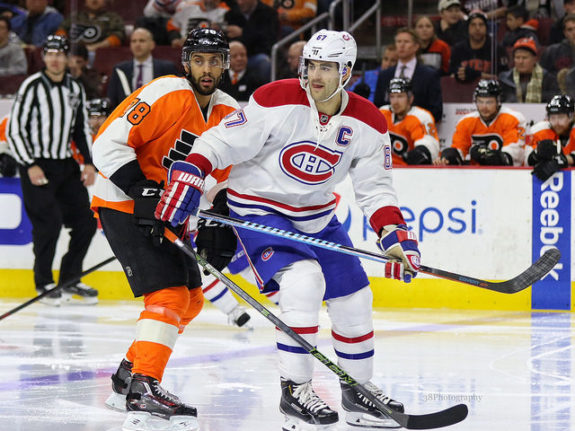 So, assuming the Habs are looking to tackle this rebuild head-on, blow it all up and suffer through a painful next couple of years (at least), maybe Pacioretty is really on his way out. The rumors would indicate as much. The only reason he's No. 2 on this list is because the reported asking price remains sky high.
Maybe no one bites, in which case there would be worse things in the world than hanging on to him for one more season and extracting just about as much from a buyer at around this time next year.
1) Tomas Plekanec
Tomas Plekanec is the textbook definition of a rental: a defensive stalwart you'd like in your line-up for the playoffs, but not over a full season at his $6 million cap hit. The fact that he's a pending unrestricted free agent is likely the only reason there is interest in Plekanec at this point.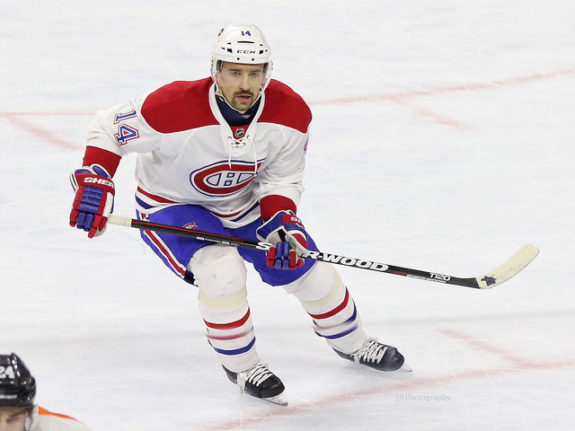 He can still be useful, though. As his recent milestone would dictate, he brings experience to the table along with his renowned defensive pedigree that led him to finish seventh in Frank J. Selke Trophy voting once upon a time. He may not be able to contribute as much in the offensive zone as he once did, but his play on the other side of the puck tells a different story.
In other words, it's just a matter of Bergevin tapping this one in. One would hope anyway.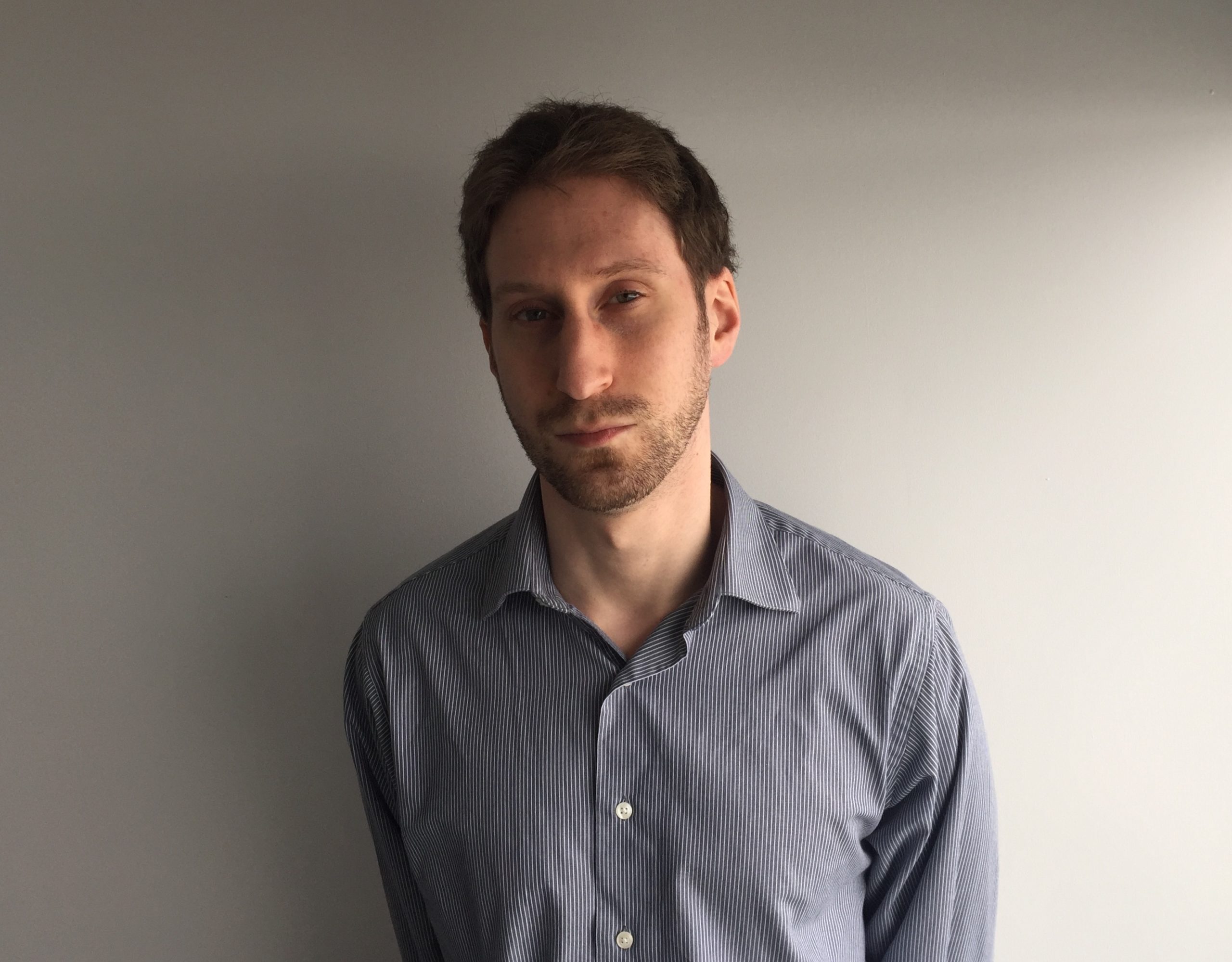 After 10 years of writing hockey, Ryan decided it was as good a time as any to actually join The Hockey Writers for the 2014-15 season. Having appeared as a guest on such programs as CBC Radio One's Daybreak, Ryan has also written for the Montreal Gazette and Bleacher Report and worked for the NHL itself and his hometown Montreal Canadiens. He currently writes about all things Habs for THW, with it being a career highlight for him to have covered the 2021 Stanley Cup Final as a credentialed member of the press.