Now that Alex Galchenyuk has graduated with the Montreal Canadiens, Habs fans have definitely turned their attention to the NHL. However, let's not forget all the quality prospects that Trevor Timmins and his excellent scouting staff drafted in recent years. Let's have a look at all the North American prospects that are worth watching in the CHL and the NCAA this season.
Olivier Archambault, Drummondville Voltigeurs (108th overall pick in 2011)
The 20 year-old Archambault has set career bests for goals (31), assists (34) and points (65) after a slow start with the surprising Drummondville Voltigeurs who are currently 9th in the QMJHL this season. After missing most of last season with a concussion, the 5'11", 190-lb left winger has managed to be more consistent in 2012-13 on a well-balanced offensive team and that bodes very well for his future with the organization..
In his last 10 contests, Archambault has been red-hot, notching 8 goals and 6 assists for 14 points with a -3 plus/minus rating. Blessed with great speed, a great hockey sense and soft hands, Archambault really needs to concentrate on the defensive aspect of his game as he is -31 in 172 junior games. The Le Gardeur native will need to get stronger physically over the summer and improve his defensive play without the puck if he hopes to graduate with the Hamilton Bulldogs of the AHL next season.
Charles Hudon, Chicoutimi Saguenéens (122th overall pick in 2012)
After missing the World Junior Hockey Championships due to a severe back injury, the talented left-winger came back to action stronger and has recorded 30 goals and 39 assists for 69 points in 54 games to go along with a solid +13 differential with Chicoutimi. The diminutive 18 year-old winger has shown flashes brilliance all season-long and has displayed a strong two-way play for the inconsistent Saguenéens.
In his past ten games, Hudon has been blazing hot with 5 goals and 12 assists for 17 points with a +5 differential! Hudon has also racked up 66 penalty minutes despite his smaller stature, proving that he is a combative competitor. The native of Alma, Quebec, will only turn 19 in June, so he will most likely play another year in junior before turning professional.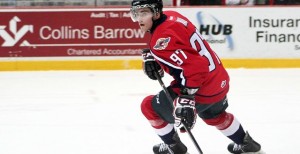 Brady Vail, Windsor Spitfires (94th overall pick in 2012)
The centreman who turned 19 years of age yesterday, has cooled down considerably after a strong start this season with the Windsor Spitfires. Through 65 games, Vail has scored 19 goals and 35 assists for 54 points to go along with a mediocre -20 plus/minus differential, after having recorded 27 points in first 29 games. Playing mainly on a shutdown line for most part of the year, Vail was recently given more offensive responsibilities and he answered the call by providing plenty of offense to his team.
In his last 10 match-ups, Vail has recorded 2 goals and 8 helpers for 10 points along with a -6 rating. After a good showing at the Habs rookie camp this past summer,  the 6'1", 195-lb prospect needs to be more consistent and pay a better attention to the details that made his game so good earlier this season. Since, the Spitfires will miss the playoffs this season, so we will not have the chance to follow Vail much longer as the season ends on March 17th.
Tim Bozon, Kamloops Blazers (64th overall pick in 2012)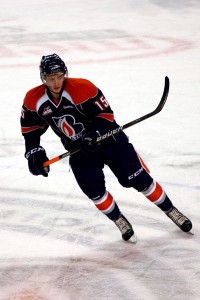 Playing for the #4th ranked team in the WHL, the Kamloops Blazers, Bozon has been fairly consistent on a team loaded with offensive weapons. After 67 games, Bozon has scored 33 goals and 51 assists for 84 points with an excellent +30 rating. His teammates JC Lipon and Colin Smith are currently ranked 3rd and 8th with 103 points and 89 points, respectively.
The hard-working Bozon has recorded 1 goal and 7 assists for 8 points in his last 10 games, posting an even rating in the process. Bozon will only turn 19 later this month, so he will most likely spend the next season in the WHL to polish his hockey skills even more before making the jump to the AHL.
Darren Dietz, Saskatoon Blades (138th overall pick in 2011)
The physical defenseman has been a physical and offensive force the powerful Saskatoon Blades this season. Dietz has recorded 23 goals and added 31 assists for 54 points in 64 contests, posting a +10 differential and receiving 98 penalty minutes. The 19 year-old rearguard really improved his defensive game after Christmas (he was -21 at the time), having an excellent month of February during which he recorded 7 goals and 12 assists for 19 points and posting an astounding +23 plus/minus differential in only 15 games!
In his last 10 games, the 6'1", 205-lb defenseman has potted 6 goals and 7 assists for 13 points with a +13 rating. An excellent power play specialist, Dietz is blessed with a Shea-Weber slapshot from the blue line and a great hockey sense to support the attack. Despite his inconsistent overall play, the Blades are relying on Dietz and Duncan Siemens to log big minutes and will certainly be a threat to win the 2013 Memorial Cup as the host team.
Dalton Thrower, Saskatoon Blades (51st overall pick in 2012)
A teammate of Dietz, Thrower, 19, has been a major disappointment this season for the Memorial Cup hosts. Suspended four games earlier this season, Thrower has only 5 goals and 20 assists for 25 points in 25 games with a +18 rating. The talented blue-liner missed some action earlier this season because of an upper-body injury.
In his last 10 contests, Dalton has a mere 1 goal and 3 assists for 4 points with a +3 rating. The most disappointing CHL prospect of the organization, Thrower will need to improve his work ethics and discipline if he wants to have a successful career in the NHL. Thrower should make the transition to the AHL next season, but expects a few bumps in the road for the North Vancouver native.
Danny Kristo, University of North Dakota Sioux (56th overall pick in 2008)
With the college season winding down the Habs will have to make an important decision regarding Kristo who is currently playing his 4th and last season with UND. Montreal really needs to sign in the next few weeks or months, or they risk losing him to free agency this summer. The 5'11", 180-lb right winger has recorded 21 goals and 24 assists for 45 points in 34 games this season with UND.
The speedy winger, who is blessed with soft hands and a great hockey sense, will be ready to make the transition to the NHL next season, as if the Habs decide to sign him in the upcoming weeks, he could even join the Bulldogs or the Canadiens when the Sioux are eliminated from the playoffs. Don't be surprised if the right-handed Kristo replaces Michael Ryder as a top-6 forward in 2013-14.
Danny Kristo Highlights
Mark MacMillan, University of North Dakota Sioux (113th overall pick in 2010)
One of the most unknown team prospects, MacMillan is certainly flying under the radar. Currently listed at 6'0" and 170 lbs, the speedy forward is a long-term project for the organization. In 36 games for UND, Kristo's teammate has scored 13 goals and 12 assists for a respectable 25 points. The 21 year-old native of Penticton, BC, is an excellent skater who blessed with a good vision on the ice.
MacMillan still has two more years at UND before transitioning to professional hockey, so he still has plenty of time to bulk up and increase his foot speed, while working on his defensive game to become an efficient third-line forward in the NHL.
Mac Bennett, University of Michigan Wolverines (79th overall pick in 2009)
The 6'0", 190-lb defenseman has recorded 6 goals and 11 assists for 17 points in 28 contests, playing his third year at UM. The puck-moving rearguard has great two-way instinct, excellent mobility, good hands and an ability to join the rush at the right moment. The 21 year-old blue-liner will need to improve his decision-making with and without the puck as well as add a few pounds of muscles to become a successful NHL defenseman.
Bennett will return for his final year at Michigan next season, so he is still a project for the Habs and a few years away before turning pro.
Follow me on Twitter for more updates on the Canadiens and hockey in general.