We're only a week away from the 2016 NHL Entry Draft and the Montreal Canadiens hold the ninth overall pick.
With that pick the Canadiens are expected to come away from the first round with a promising prospect that will hopefully one day be an everyday NHL player for them.
Before prospects in any organization make the jump to the National Hockey League, they have to (should) go through a developmental process. These processes are outlined team by team and are usually based around what the management views as the most successful way to help a prospect reach his full potential.
This process, regardless of the team, usually includes a stint in the American Hockey League and multiple development camps and preseason games. As some teams are better at drafting than others, some teams are better at developing players than others as well. For a recent example, the Tampa Bay Lighting have been a model franchise for development because of the strength of young prospects on their roster. Not to mention the long time success of the Detroit Red Wings, who continuously produce quality young players which keep their team competitive every year.
Back to the Canadiens, how does their developmental department look? Are they going in the right direction? Unfortunately, the Canadiens have a plethora of quality prospects, but an inadequate developmental system. Let's dive into it.
Prospect Overview
With regards to drafting players, the Canadiens have done a relatively good job. Based on where they are drafting each year (Average 16th overall from 2010-16) they have come out of the draft with some quality players. This would include; Alex Galchenyuk, Nathan Beaulieu, Michael McCarron and Nikita Scherbak. Last year the Canadiens took defence prospect Noah Juulesen, who is still young and it's hard to determine where he could end up as he's still developing in junior. Not to mention the player that will be selected ninth overall in this upcoming draft who is sure to be a high-end prospect.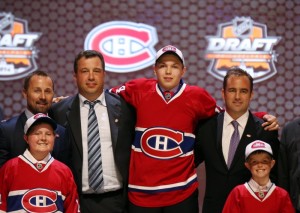 You could argue that the Canadiens have failed to secure elite talent when it comes to drafting. That's an opinion question. Currently in the system I would say that's a true statement as they don't have a player who I think can end up playing on the first line or in the top pairing for the Canadiens. With regards to recent history, however, the Canadiens have drafted players like Carey Price, Max Pacioretty and P.K. Subban, Brendan Gallagher in the later rounds, and all are now part of the team's young core.
I would say that the Canadiens have one of the more deep talent pools when it comes to prospects. If you throw in Sven Andrighetto and Daniel Carr, you could say that with the quality of players that the statement isn't unreasonable. With the fortune of drafting well and having many skilled prospects at their disposal, the question comes to how are they being developed, and is it working.
St. John Ice Caps
The Canadiens AHL affiliate team is St. John's Ice Caps. The Ice Caps had a disappointing season in 2015-16, finishing fifth in their division with 75 points. This result could have happened for many reasons. With the number of injuries at the National Hockey League level there was more player shuffling done than one would like. Or it could simply be that the team wasn't good enough. That falls on both the players and management.
The man behind the bench for the Ice Caps in Sylvain Lefebvre. Lefebvre has been criticized for his coaching in the past and this year it came back again with the lousy play of his team. With a team that has most of the organization's top prospects, the Ice Caps should have been more competitive. The main goal of an AHL team is to get their players ready for life as a Montreal Canadien. Judging by last seasons results, it's safe to say that the development isn't going as planned.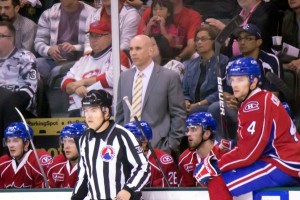 With all the injuries last season, the Canadiens had a unique opportunity to test some players out at the NHL level that probably wouldn't have gotten a chance had those injuries not happened. For the most part, I thought the prospects played well and held their own in the last half of the season. However, one thing did stand out as these players made their way up; the Canadiens don't have game changing talent in St. John's.
Judging by what I saw at the National Hockey League level, it is plain to see that none of the prospects brought up have the ability to change a game or are at that elite level talent. Some of them can be everyday NHL players, and some of them are specifically suited for the AHL game, like Bud Holloway.
Now some of these players we're first round picks for a reason, so why do they seem like they only have the potential to play on the third and fourth lines of an NHL hockey team? It all comes back to development, and a lack of development has always proved harmful to any team's future.
Overall Development
The lack of development in St. John's should be worrisome to Canadiens fans. Whether it's the coach, the management or simply the players is yet to be seen. The 2016-17 season will show a lot with regards to how St. John's and the players bounce back after a disappointing 2015-16 season. If better results aren't achieved, I find it hard to believe that Sylvain Lefebvre, and even some prospects, will be back for another season.