Marc Bergervin and the Montreal Canadiens have announced the club has re-signed forward Daniel Carr.
While it may not have been biggest signing the Habs made on the the opening day of NHL free agency, it certainly is a move that the Canadiens should be pleased with. Carr, 24, who signed to a two-year-deal with the Canadiens organization back in May of 2014, has grown into a pesky winger who can put up points.
#canadiens Daniel Carr contract: 2 years / $725 000 AAV (one way) #tvasports

— Renaud Lavoie (@renlavoietva) July 1, 2016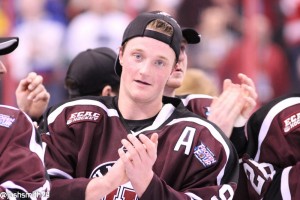 The 2015-16 season was Carr's first playing in the NHL, after he spent two seasons playing for Montreal's AHL affiliates in Hamilton and St. John's. Before seeing his season come to an abrupt end last year (lower-body injury), Carr was able to put up respectable numbers in a short time with the Canadiens. Carr was one of the only players who was producing for the Habs after players like Brendan Gallagher, Carey Price and Jeff Petry went down with significant injuries of their own. Although his 6 goals and 3 assists aren't all that flashy, at the time he was called up, the Canadiens were in the middle of their season-long downfall. Carr's number in the AHL are a lot more impressive, and is likely the reason the Canadiens want to see more of him for at least the next two seasons.
Here is a look at what Carr was able to accomplish with Montreal this season.

Before making the jump to the AHL and NHL, Carr was an effective point producer for Union College for four seasons in the NCAA, as he posted 157 points in 160 games. At the low cost of $725,000 over two seasons, this deal is a no-brainer for the Canadiens. Carr will potentially give the Habs the scoring depth that the team is desperately seeking. Carr plays a very similar game to that of Gallagher, and could be another Canadiens forward who will drive his opponents nuts, with the others being Gallagher, Andrew Shaw and Tomas Plekanec. He joins other Habs' hopeful prospects Philip Danault, Sven Andrighetto, Michael McCarron and Jacob De La Rose in landing a full-time spot on the Canadiens next season.
With Carr signed, the Habs now have one remaining restricted free agent left to sign in Danault.
I am a recent grad of the Journalism: Online, Print and Broadcast program at Loyalist College. Currently living in a small rural town in Quebec, but I will soon be relocating to London, ON where I will cover the London Knights and Ontario Hockey League prospects.