The Montreal Canadiens have added another depth-defenseman to their roster. Zach Redmond and Habs management came to terms on a two-year-deal, worth just over $1.2 million dollars. Redmond will earn an average of $612,500 over the next two seasons with Montreal.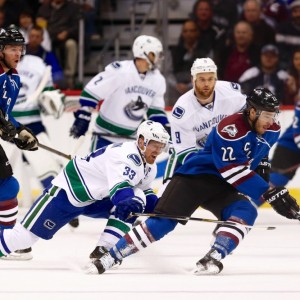 Redmond is a 6'2", 205-pound Texas-born defenseman who comes to the Canadiens after spending the majority of his career primarily as a depth-defenseman with two NHL organizations (Winnipeg and Colorado).
After being drafted by the Atlanta Thrashers in the 7th round of the 2008 NHL Draft, he began his NHL career with the Winnipeg Jets, where he split two seasons playing for the Jets and Winnipeg's minor league affiliate, the St. John's IceCaps (now Montreal's AHL affiliate).
At the end of the 2013-14 season Redmond signed a two-year-contract with the Colorado Avalanche. Although his time with the Avs was short lived, the 27-year-old defenseman posted respectable offensive numbers for a sixth/seventh defenseman. In 96 games with Colorado, Redmond was able to put up 26 points, 20 of which came in his first season with the club in 2014-15.
Now a part of the Montreal Canadiens, Redmond will most likely fill a 7th or 8th defenseman need on the Habs' depth chart. The Habs made a blockbuster move that shook their defense-core earlier this week by bringing in Shea Weber from the Nashville Predators – while P.K. Subban was sent the other way. The Habs now have eight defenders that will see NHL action next season in Weber, Andrei Markov, Nathan Beaulieu, Jeff Petry, Alexei Emelin, Mark Barberio, Greg Pateryn and Redmond. The addition of Redmond, to a somewhat deep Canadiens defense will give Montreal options moving forward.
Redmond is a decent offensive defenseman who can move the puck well, and had great possession number over the last two seasons with the Avs. He could potentially be called upon if the Habs have injuries this season or slide into a greater role if the Canadiens defense struggles like they did last season. The Redmond signing is a lot like the signing of Mark Barberio last year, that benefited the Habs greatly at the end of last season.
Here is what some of the media had to say about the Redmond signing.
Zach Redmond had the best possession numbers among Avalanche defensemen last season (37 GP)

— Аrpon Basu (@ArponBasu) July 1, 2016
Habs sign two-year deal with depth defenceman Zach Redmond. Redmond came from COL, spent time in WPG too.

— Eric Engels (@EricEngels) July 1, 2016
I am a recent grad of the Journalism: Online, Print and Broadcast program at Loyalist College. Currently living in a small rural town in Quebec, but I will soon be relocating to London, ON where I will cover the London Knights and Ontario Hockey League prospects.