Two games into the 2013 NHL season, the stalemate between the P.K. Subban and the Montreal Canadiens carries on. The negotiation between the parties has been a deadlock from the start for new general manager Marc Bergevin as Subban is looking for a long-term deal with big dollars, whereas the Bleu Blanc Rouge wants a short term pact with smaller dollars.  As a result, the controversial defenseman is still in Toronto away from the team and awaiting to finally sign his second NHL contract with the team that drafted him 43rd overall in the  2007 NHL Entry Draft.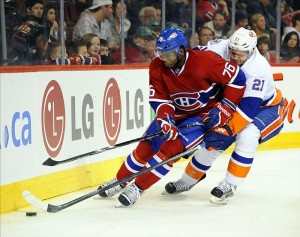 With the improved play of Raphael Diaz and a healthy Andrei Markov, the team is in no hurry to re-sign the 23-year-old defenseman to a long-term deal that the organization might regret later. Consequently, rumours are swirling in social media circles that the Habs would be better off trading Subban to a team in dire need of a young and talented defenseman in exchange for the big forward the team has been lacking for years.
Will Marc Bergevin have the guts to trade P.K. Subban or will he be patient and sign Subban under his own terms?
Circumstances have changed since last summer, as both parties don't want to budge on their initial position, and should the Canadiens lose a few games in a row, the pressure of the Montreal media and fans might force him to make a move sooner rather than later. As we all know, Subban is a unique talent, and is part of a very select group of NHL defencemen when you take into account his dynamic offensive skills, his excellent puck-handling and skating abilities.
Subban told the Montreal media that he wants to sign a fair deal and that he is not looking for a humongous deal similar to Drew Doughty's eight-year deal worth $56 million that he signed prior to last season. The question still remains, how much money is Subban really worth?
Comparable defensemen who recently signed long-term deals:
Cam Fowler, 21, Anaheim Ducks: 2011-12 stats: 5 goals and 24 assists for 29 points in 82 games -> five-year contract with an average value of $4 million

Tyler Myers, 22, Buffalo Sabres: 2011-12 stats: 8 goals and 15 assists for 23 points in 55 games -> seven-year contract with an average value of $5.5 million

Erik Johnson, 24, Colorado Avalanche: 2011-12 stats: 4 goals and 22 assists for 26 points in 73 games -> four-year contract with an average value of $3.75 million

Erik Karlsson, 22, Ottawa Senators: 2011-12 stats: 19 goals and 59 assists for 78 points in 81 games -> seven-year contract with an average value of $6.5 million

Victor Hedman, 22, Tampa Bay Lightning: 2011-12 stats: 5 goals and 18 assists for 23 points in 61 games -> five-year contract with an average value of $4 million

John Carlson, 22, Washington Capitals: 2011-12 stats: 9 goals and 23 assists for 32 points in 82 games -> six-year contract with an average value of $3.96 million

SOURCE: CAP GEEK

 
The problem with trading Subban is that you have to make sure you receive enough talent to justify not giving him a long-term pact, such as a young power forward like Bobby Ryan or a good young offensive defenseman like Jamie McBain. Bergevin will have to deal with the media and fans' scrutiny in the upcoming weeks as he ponders what to do with his prized defenseman. This will definitely be the biggest decision of his short tenure as the team's general manager, a decision that will be much more difficult than buying out the contract of under-performing center Scott Gomez.
The other problem Bergevin is facing is that another GM might decide to send a lucrative offer sheet to Subban, an offer that Subban would likely accept. As a result, Bergevin would be faced with an even tougher decision and decide to match the offer sheet or simply let Subban go and accept the draft picks as a compensation.
Bergevin also has to consider his cap landscape a few years down the road, when he will have to renegotiate with impending restricted free agents Alex Galchenyuk, Brendan Gallagher, Jarred Tinordi, Nathan Beaulieu, and Louis Leblanc, among others.
Getting rid of Gomez's contract off the salary cap and the fact that the team currently carries seven healthy defensemen on a one-way deal (Kaberle, Markov, Diaz, Bouillon, Emelin, Gorges and Weber) mean the organization can be patient and wait for Subban's agent, Don Meehan, to make the first move and accept a shorter term or a less expensive contract.
Personally, I believe the Canadiens must re-sign Subban long term despite his off-ice antics and his propensity to turn the puck over, as this kind of generational talent does not come often. Pundits will say Subban's peculiar personality and egocentric persona don't fit with the current roster and the vision of this centennial organisation, but let's be honest, who will compensate Subban's absence on the blue line? Nathan Beaulieu is still a project, Andrei Markov is one bad movement away from a career-ending injury and Raphael Diaz only has one season under his belt.
Several NHL teams are looking for help on defense, most notably the Detroit Red Wings, the New York Islanders, the San Jose Sharks, the Ottawa Senators, the Edmonton Oilers, the Carolina Hurricanes, the Dallas Stars and the Philadelphia Flyers.
The return for Subban would most likely be a power forward, a young and talented defenseman and a draft pick.
Hockey fans, what is your team's best offer for the "Subbanator"?