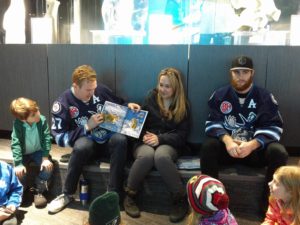 The Manitoba Moose, the Winnipeg Jets minor league affiliate, headed to the Assiniboine Park Zoo in Winnipeg to make a donation to their polar bear rescue program and sign autographs for fans.
"We're here today with our entire team," said Dan Hursh, Vice President of Operations with the Manitoba Moose. "We wore a polar bear jersey back on February 3. The entire team wore those jerseys, then we auctioned off the game-used jerseys with the net proceeds going towards the [Assiniboine Park Conservancy's Polar Bear Rescue Team]."
"We have a great partnership with Assiniboine Park Conservancy and one we are incredibly proud of."
Patrice Cormier was at the presentation ceremony, which involved handing the jerseys to the Assiniboine Park Zoo, as well as a ceremonial puck drop, which brought a few polar bears into the water around them.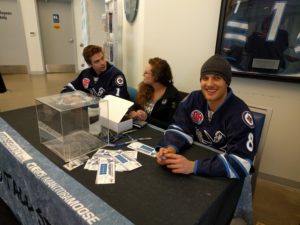 "It's fun, it's exciting," Cormier said. "Coming here and seeing the kids, seeing the animals, seeing the polar bear, it's pretty cool."
Cormier was named the captain of the Moose back in October and said it's no different than last season. "Now I have to do the interviews," Cormier joked.
"I think it's special for [the fans] because they always see us in our helmets on the ice," Cormier said about coming to these type of events. "They can finally meet us as a person and who we really are. For us, it's pretty cool to see fans at the rink and here, and that we are really well liked in the community."
They are fan favorites in the community. The Journey to Churchill exhibit, which opened in 2014, was packed with Moose jerseys, toques, and shirts. Players were signing autographs for 90 minutes and taking photos with kids and parents alike.
Along with the donation, the Manitoba Moose Hockey Club will be the presenting sponsor of Assiniboine Park Conservancy's Polar Bear Run being held at Assiniboine Park on February 26.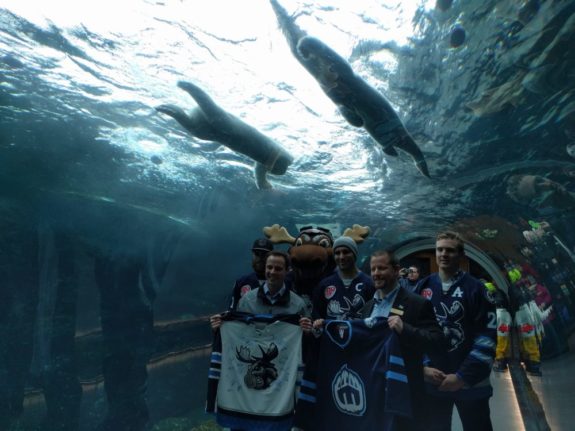 Home Stand Ahead for Moose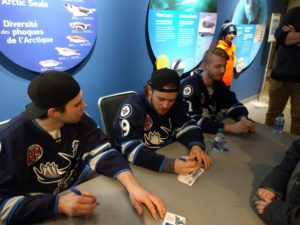 The Moose kick off a four-game home stand tonight as they take on the Rockford IceHogs. They have split their previous two games with the IceHogs, but this will be their first game at home. Their previous game got nasty, with three fights in the third period as the IceHogs won 4-2.
It's been a tough year for the Moose. They sit last in the Western Conference but have had a great season from the Jets 2015 first-round picks. Jack Roslovic has put up 27 points in 42 games as an AHL rookie, while Kyle Connor, after getting sent down from the Jets during his first pro season, has 18 points in just 30 games.
Judson Rempel was born and raised in the Great White North, skating on ponds and watching hockey every Saturday night in small town Manitoba. When he's not watching hockey, he's playing hockey with his son and daughter, and trying to convince his wife to let him watch more hockey.